Toy Fulfillment Services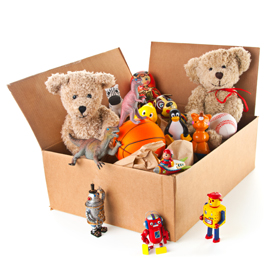 With award-winning service, speed, reliability and technology, eFulfillment Service (EFS) is the go-to order fulfillment center for numerous toy and game sellers across the globe.
A Fitting Toy Fulfillment Partner
At eFulfillment Service, we are properly set up to service toy and gift merchants like you. We offer complete product fulfillment services to meet your unique needs, including:
Inventory storage
Order processing
Pick & pack fulfillment
Product shipping
Returns processing
Unlike many product fulfillment companies, we do not have minimum order requirements. We do not charge "long-term" storage fees, nor do we have long-term contracts with tricky fees that wind up costing you in the end.
With EFS, there are no setup fees, and our clients pay as they go, making sure that we consistently deliver a superior level of service to you and your business. Since 2001, eFulfillment Service has offered reliability, affordability and honesty, pillars that have made us a trusted leader when it comes to toy, hobby and gift fulfillment.
Cost-Effectively Scale Your Operations
Many merchants in the toy, gift and hobby markets are accustomed to seasonality having a significant impact on their businesses and fulfillment center. While the holiday season often means an increase in sales, it can also bring with it an increase in expenses and a heightened level of stress from ramping up operations to prepare for higher demand.
eFulfillment Service allows toy and gift merchants the ability to easily and cost-effectively scale their operations throughout the year. Combining our experience and advanced technology, order processing is fast and fulfillment is accurate….when you need it most.
Maintain Control from Anywhere, Anytime
With our web-based technology, you maintain complete visibility into your fulfillment operations from anywhere, at anytime. Our in-house IT team quickly sets up EFS clients with our easy-to-use Fulfillment Control Panel (FCP), which includes:
Free integration with your shopping cart or platform
Real-time view of products, inventory, orders and shipments
Fast, secure, reliable access 24/7
Free support from the EFS technology team
Learn more about our fulfillment technology, including the level of integration we offer with a variety of shopping carts.
A Fulfillment Partner Test Drive
We think you'll like what eFulfillment Service can do for your business, but we'd like to prove it. That is why we offer a risk-free 30-Day Test Drive Program. Here's how it works:
You send some toys, games and other inventory to our fulfillment center
We integrate with your shopping cart for free
You place some test orders to see how our process and technology works
You work directly with our friendly team and monitor everything through the FCP
At the end of 30 days, if you're not convinced of the value that EFS represents, we refund all costs/fees you've incurred, up to $250
Learn more about our Test Drive Program, and discover why more toy and gift merchants trust eFulfillment Service.