U.S. Order Fulfillment for Canadian Sellers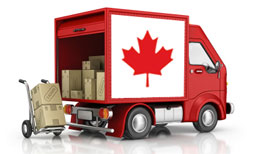 Why do so many Canadian-based online sellers choose eFulfillment Service (EFS) as their U.S. fulfillment partner? For a few reasons:
1. Location
Our U.S. fulfillment center is located near Canada, and is situated between the East and West coasts of the United States. This allows our Canadian clients to cost-effectively ship products to both their U.S. and Canadian customers from one fulfillment center, saving on inventory costs and management headaches.
2. Technology
eFulfillment Service allows our clients to maintain constant visibility over their fulfillment operations from anywhere in the world. With our web-based Fulfillment Control Panel (FCP), you are able to monitor orders in real time and keep track of the level of inventory in our U.S. fulfillment house.
3. Service
With eFulfillment Service, order fulfillment is made easy. There are no setup costs, no minimums, and no tricky or hidden fees. You pay only for the service you use, and there are no long-term commitments. Our fulfillment service is fast, proven and accurate, and our clients receive personal support from our in-house customer service and IT teams.
Risk-Free Trial Period
If you're considering outsourcing fulfillment to the U.S. for the first time, or are comparing eFulfillment Service to your current provider, our Test Drive program may be for you.
The EFS 30-Day Test Drive takes the risk out of testing a new U.S. fulfillment company. Here's how it works:
You send a portion of your inventory to our U.S. fulfillment center to see how receiving works (if you need assistance with freight, we can help)
You are introduced to our easy-to-use fulfillment technology to monitor inventory and track orders
You interact directly with our friendly customer service and IT teams
You get a feel for how our systems and processes work, and after 30 days, if you're not satisfied, we refund any fees you've incurred, up to $250 USD
For over a decade, we have helped Canadian-based online sellers to more efficiently and cost-effectively get products to their U.S. and Canadian customers. Allow us to prove why eFulfillment Service has become the trusted name in U.S. order fulfillment.
Request fulfillment pricing today and learn more about our Test Drive Program.
We look forward to hearing from you!