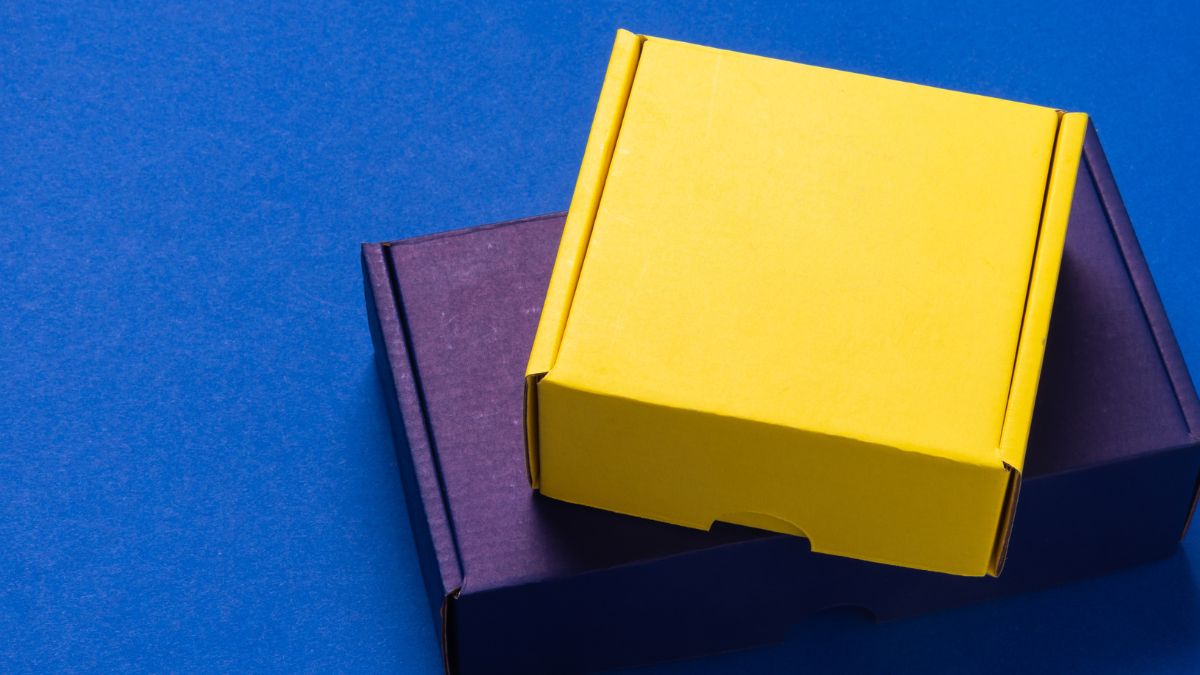 … And How Warehouses Can Help
Did you know that using a custom box for packaging has the potential to take a brand and its products to the next level? Custom packaging boxes for small business all the way up to massive-sized companies have the ability to set them apart from their competition. Read on to learn more about how using a custom box for packaging can bring many benefits to customers and businesses of all sizes. 
Printing a Customized Box
If you're looking to print custom packages, our photo gallery shows sample custom box designs from our partner, RBCPackaging.com. RBC Packaging prints mailer boxes, shipping boxes, folded carton boxes, box inserts, gift bags or tissue paper. All corrugated boxes are printed in quantities as low as 1, up to 5000. To get a custom box printing quote, email [email protected].
Keep reading to learn important custom packaging options in the fulfillment process for online orders that will influence your custom box printing and production choices.
Ecommerce Custom Box for Packaging … What is it?
Any type of packaging that displays an ecommerce brand in some form is considered custom packaging. This strategy can range from custom packaging bags to custom product boxes and marketing materials that are contained within a shippable box and can even include the shippable box itself. 
Custom boxes for packaging can range from a simple logo sticker placed on a plain box to packaging box designs that are tailored to the brand using materials, colors, shapes and messages that are all brand specific (i.e. Apple's approach to their product packaging).
Using custom boxes for packaging has the ability to help brands stand out and create a lasting impression on customers. On top of that, a custom box can also help prevent damage to products during transit.
Did you know … Bespoke Packaging versus Custom Packaging
Bespoke packaging means the same thing as custom packaging and is often used outside of the U.S.? If you're headquartered outside the U.S., and you're looking for fulfillment of bespoke packaging for online orders in America, then you're in the right spot!
Types of Custom Boxes for Packaging Online Orders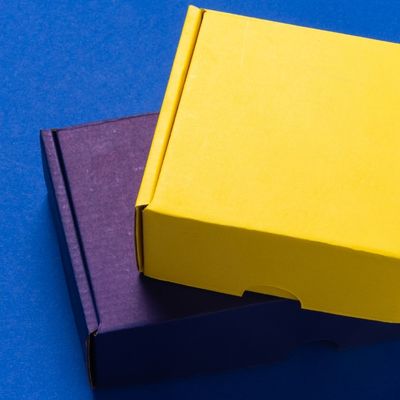 Ecommerce merchants often ask questions like can cardboard boxes be customized? Or, how do I personalize my packaging?
When considering custom boxes for packaging online orders it's important to understand the difference between shippables, kitted boxes, and custom packaging. Below is a quick breakdown of what each of these mean and how they can work for ecommerce businesses.
Shippables
When ecommerce merchants are considering using a custom box for shipping online orders they may find "shippable"custom boxes to be a great option. This means the outside box the product ships in has some sort of customization that reflects the brand and the box is able to withstand the shipping process. What's inside these boxes can vary depending on the product that is being shipped. Sometimes ecommerce companies need a custom box with a foam insert to provide added protection while other times simple kraft paper will do.
Oftentimes, shippable custom boxes are done by manufacturers. However, that's not always a good thing. For instance, if an ecommerce merchant's fulfillment company has concerns that their custom box won't stand up to the abuse of shipping, the fulfillment company may choose to pack the custom box inside another cardboard box to keep the product safe—and then the ecommerce merchant loses out on the benefits of utilizing a shippable custom box.
Essentially fulfillment companies are a better resource for shippable custom box specs than manufacturers. When considering a shippable custom box, be sure to consult with a professional fulfillment center … They'll review some of the following topics to ensure the best shippable custom box is being used for the job:
Box type

Box size

Box weight

Considerations for fragile/breakable products

Dunnage 
Kitted Boxes
Fulfillment companies often offer product kitting as a service. Kitting is a process where individual items are bundled together in ready-to-ship packages. That way when an order comes in, the kitted box is ready to ship out right away.
An alternative to a shippable custom box manufactured with only one product inside is to kit popular product combinations. A professional fulfillment warehouse can advise ecommerce merchants on the proper box sizes and combos for the kitted box.
One great benefit that comes with utilizing a kitted custom box is getting to choose the dunnage that is used on the inside. For instance, when normal orders run down the line, there are often limitations for what can be used as dunnage (i.e. no crinkle paper). However, when kitting, you have more freedom to choose what's used on the inside as long as it's boxed up at the end. 
Here are some of the benefits of kitting:
Faster assembly

Fewer shipping mistakes

Better packaging

Flexibility in dunnage
Efulfillment Service offers kitting services ranging from simple collating to multi-component product assembly. Learn more about custom kitting and its benefits.
Custom Packaging
Truly custom packaging at a fulfillment center is typically done at a special packaging station. When an online order is placed, that order gets sent to the special packaging station to get filled. 
Some ecommerce merchants will create two SKUs: one for the product itself and one for the custom box. In this case, if the box is easy to assemble, it can be done "one the line" (meaning the production line). 
Oftentimes, custom packaging requires some planning. A few things to watch out for is if the order contains multiple SKUs, will they fit in the custom box? For example, knowing whether or not an order with three small items will fit into one box or if the order contains a big item, then a bigger box SKU will need to be used. Your professional fulfillment center team should be able to guide you through logic that overrides one choice, when circumstances require it. 
Ecommerce Definition: Shippable Custom Box:
The definition of a shippable custom box is a box designed to withstand the abuse of shipping that also contains customization related to the brand. The customization on a shippable custom box can range from a simple sticker with a brand's logo to more detailed designs, colors, and messages displayed on the box.
Custom Box for Business Fulfillment: Kitting for Online Subscriptions
Many ecommerce companies sell subscription boxes. Enlisting a professional fulfillment warehouse to help maximize fulfillment efficiency can lead to greater success and also eliminate issues that come along with trying to handle subscription box fulfillment in house.
A fulfillment center can receive products in bulk from different suppliers, remove the packaging and kit together custom subscription boxes to the exact specifications of an online retailer. Oftentimes, ecommerce subscription box sellers will share photos and videos of exactly how they want their products packaged. At eFulfillment Service, we kit together custom subscription boxes for clients and follow their specific instructions closely … from folding the tissue in a special way to tying the ribbon exactly how our clients prefer.
It's also important to consider the complexity of subscription boxes. For instance, if an internet seller only has a couple of versions of a subscription box then it's a simpler job. Which translates to faster and less expensive fulfillment. Keep in mind that every version of a subscription box will have a set up time associated with it.
There are also instances where online merchants may need a kit within a kit. If every subscription box has a common set of elements, kitting those items into one box or bag which can be included as a part of a subscription box might make sense.
Consider partnering with a professional fulfillment company, like eFulfillment Service, who knows the ins and out of kitting custom boxes for online subscriptions. Not only can eFulfillment Service streamline subscription fulfillment, we also provide flexibility. We work with ecommerce merchants to customize their packaging and help manage their diverse product inventory.
Additional benefits eFulfillment Service can bring to subscription box fulfillment:
Low-cost inventory storage

Accurate/affordable/customizable fulfillment services

Cost-effective shipping options

Returns processing

Custom Boxes for Kickstarter or Crowdfunding Campaigns
Creators with Kickstarter projects tend to offer their supporters 3-10 reward tiers that need to be fulfilled if the project succeeds in reaching the funding goal. These rewards can vary, but are usually some combination of physical and/or digital rewards and even experiences. The different levels of reward tiers may contain similar items. For example: reward tier #1 contains one book, reward tier #2 contains one book & one t-shirt, etc.
Kickstarters and crowdfunders have the option to utilize a fulfillment center or manufacturer to put together custom boxes for their reward tiers/orders. What's nice is usually they know what the demand is ahead of manufacturing. While kickstarters can use their manufacturer for their custom box, it's usually easier to have custom boxes built at their fulfillment center because oftentimes different manufacturers are being used for different products. 
For instance, the book in their custom box order is coming from a publisher, while the t-shirt that also needs to be included is coming from an apparel company in a different location, etc. But all those products need to ship at once, so utilizing a fulfillment center to build the custom box for kickstarter orders often makes more sense.
When choosing a fulfillment center to pack and ship rewards/orders to backers it's important to find a trusted partner that can offer the flexibility that's needed for a wide range of products and campaigns. eFulfillment Service can do that and more!
Here are a few reasons why kickstarters and crowdfunders choose eFulfillment Service for their custom box needs:
We work with kickstarters and crowdfunders from all over the world

We make order fulfillment easy

We integrate with more than 35 sales platforms

We do custom integrations

We offer straightforward service and pricing

We have a proven track record of success

We ship orders to consumers and businesses all over the world

We maintain an A+ rating with the U.S. Better Business Bureau
 Want to learn more? Check out our crowdfunding and kickstarter order fulfillment services which includes many helpful frequently asked questions. 
Ecommerce Definition: Ecommerce Subscription Box:
The definition of an ecommerce subscription box is a service ordered online in which a package is delivered on a regular basis and contains a variety of products or items which oftentimes follow some sort of a theme. Subscription boxes are a profitable strategy for merchants, providing a predictable revenue base and allowing fulfillment at a lower cost.
Why Use a Custom Box for Packaging Online Orders? 
Using custom boxes for packaging online orders helps to set brands apart from the competition and also reinforces a brand's personality. A custom box for products sets up a memorable experience at every touch point—from the moment the package arrives until it's unpacked and the product is revealed—it can be an exciting experience for customers that they want to share with others.
Which leads to another reason why using a custom box for packaging online orders is a great idea … The potential for free word-of-mouth advertising! Ever heard of unboxing videos? According to Google Trends, unboxing started in 2006 and has remained popular ever since. Nowadays, unboxing videos are posted on nearly every social media platform (YouTube, Instagram, TikTok, etc.) by influencers, creators, and even ordinary people. It's fun for everyone to share their unboxing experiences on social media and that means an opportunity for ecommerce merchant's brands to benefit from free word-of-mouth marketing.
Benefits of Using Custom Boxes for Packaging:
Support your brand

Capture the attention of customers right away

Create a full product experience

Elevate the perception of the product's overall value

Build brand awareness

Unboxing/word-of-mouth advertising via social media, etc.

Protect ecommerce products during shipping

Increase customer loyalty

Are custom boxes worth it?
Check out the article Holiday Prep: Toys Games Trends Tips & DIM Weight, for a side bar called Marketing Insight: a Full Product Experience Requires a Product Fulfillment Experience. and take a deep dive into full product experiences and how they can help businesses succeed.
Learn More About Online Order Fulfillment
How to Find Online Order Fulfillment that Scales with Growth
Questions Growing Online Retailers Should Ask About Shipping Fees, DIM Weight, Order Volume & More