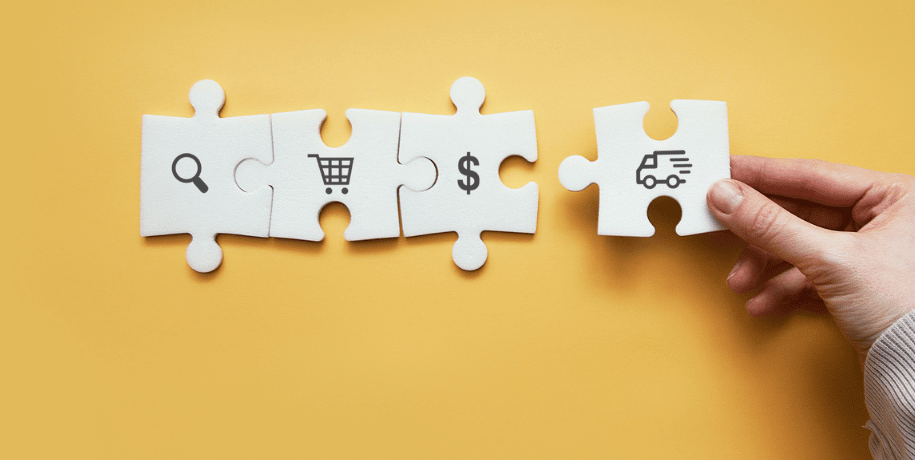 Questions Growing Online Retailers Should Ask About Shipping Fees, DIM Weight, Order Volume & More
Ecommerce merchants that are beyond the start-up point need online order fulfillment that can grow with the company and manage order volumes that can jump up with a promotion or during a high season. And not have to pay minimum invoices if sales settle at a lower level. 
Low shipping rates are just one piece of the puzzle. Internet retailers should also consider other important factors that make order fulfillment successful—flexibility, great service, dependable technology, no tricky fees, high accuracy rates, DIM weight formulas that serve you, etc.
These questions dig beyond simply determining if a fulfillment center can handle more orders, to determining if  the third-party logistics (3PL) company is sophisticated enough to automate benefits and accommodate expanded needs. Use these questions to find a fulfillment center that provides shipping flexibility for where your ecommerce business is now, and where it will be as you grow.
Ask how wide your choice of carriers is? 
Ecommerce merchants may develop a preference for one economy carrier over another. A luxury brand may feel a shipping company has more cache than others. Recent supply chain woes have taught ecommerce merchants the value of being able to work with many sources—when one company experiences a challenge, switch to another. So at the outset, merchants should ask for fulfillment partners providing choices in carriers.
Will you be able to fulfill international online orders, as well as domestic? 
At the beginning, retailers may only need to ship inside U.S. borders. But as the brand grows, can the warehouse shipping those U.S. orders grow with it? Companies headquartered overseas may initially launch in the U.S. and then realize that Canada and Mexico demand is growing. If a fulfillment company doesn't have experience shipping internationally, they may not be a good fit beyond today.
Can you offer a variety of shipping options?
As the holiday season draws to a close, merchants should be able to meet those holiday delivery dates with expedited shipping services. Others may have non-seasonal items that require the least expensive service possible—it's okay if it takes 10 days. Consumers want to choose, and so retailers should work with fulfillment partners that support those choices.
Are volume benefits automated?
Higher volume shippers often get discounts for that efficiency, when they ask for them. But should clients have to ask? Sophisticated fulfillment service providers have systems that automatically adjust, providing those clients with earned benefits as they occur.
Do packaging options help you manage dimensional weights?
Really big boxes with one small item inside is a sign of waste, probably most tragically of extra shipping fees charged to an internet retailer. Packages need to be big enough to properly protect the product, and no bigger, so that merchants aren't getting charged for dimensional weight. Learn more about dimensional (DIM) weight and check out our dimensional weight calculator.
Do they pass along DIM Weight Discounts?
Most fulfillment centers don't help clients minimize fees for orders in big boxes that qualify for dimensional or DIM weight. As you grow, the difference between shipping fees charged for 6 lbs. of DIM weight and 3 lbs. of DIM weight have a massive impact on a growing company's bottomline. Learn more by using our DIM weight calculator.
Shipping Order Volume Flexibility
Ecommerce products that enjoy a high-volume season, a company that is launching a product in the U.S. that has a strong customer base internationally, or products that have volume swings because of advertising and promotions require flexibility. Sometimes online order volumes are high, other times internet retailers are comfortable at lower volumes.
While those retailers should enjoy the benefits of high-volume shipping discounts when appropriate, their fulfillment center shouldn't penalize them for the off-season. And invoice minimums can do that. 
Some fulfillment centers set invoice minimums that require clients to pay $1k, $5k, or even $10k per month. In the case of invoice minimums, when a client's invoices amount to less than the required amount, they're still expected to pay the difference. Oftentimes, this approach makes it too expensive for smaller clients to stay (and that's by design).
EXAMPLE:
A fulfillment center requires an invoice minimum of $5,000/month.
A client's invoices only amount to $3,000.
$5,000 – $3,000 = $2,000
That means the client owes the additional $2,000 to make up the difference.
eFulfillment Service is not like those other fulfillment centers. No order minimums, no long-term contracts or long-term storage fees, and no hidden fees. We simplify order fulfillment for merchants and are here to help startups and smaller clients succeed by offering great deals on shipping.
Some online order fulfillment centers set invoice minimums that require clients to pay $1k, $5k, or even $10k per month …
Shortcuts to finding online order fulfillment centers without invoice minimums
Check out the handy table in our Order Fulfillment Pricing Overview for a list of online order fulfillment centers that charge invoice minimums. 
Another hint is to look for fulfillment center specifications that increase overall operational costs or add complexity. Here are hints that a 3PL isn't designed for startups, entrepreneurs, small or mid-sized businesses or might have a minimum invoice amount: 
Warehouses and distribution centers are in urban or coastal locations
High real estate costs get passed along to clients, and cities and coastline properties have higher values and higher rents, taxes and other expenses. 
Logistics company is working out of multiple warehouse locations
The more warehouses, the more operational expenses are required to coordinate between them. For example, each location requires a warehouse manager, where a single location with twice the space only needs one. Even if your inventory is located in only one warehouse, the fulfillment center needs to recoup the cost of the additional warehouses, spread across all the clients. 
Fulfillment company is using a fulfillment network, or is a software company working with separate warehouses
Similar to multiple warehouse locations, many fulfillment software companies expanded growth by working with existing warehouses. The network gains locations by essentially renting the space and staff at an existing warehouse, paying a margin for those resources. That rented staff uses the new software only for orders coming from network clients, which may lead to errors. The processes and team have varying engagement with the network's clients, and may prioritize their company's fulfillment customers over the network's. 
Fulfillment center is geared primarily for business-to-business distribution
When a fulfillment company is designed to ship very large freight quantities, working with startups shipping directly to consumers can be a challenge. If their website touts large brands, and they promote their expertise shipping to retail locations, that may be a sign that you're in for some hefty invoice minimums. And it may mean they aren't geared for online order fulfillment. 
We'd be honored to have you work with our sales team. eFulfillment Service was designed to work with ecommerce merchants, shipping directly to customers, and working with multiple sales channels. Additionally, our services scale with internet retailers as they grow.
eFulfillment Service partners with sellers in a unique way: 
No long-term contracts
No order or invoice minimums
No SKU maximums
Low shipping rates
To find out more about how we work with entrepreneurs, startups, small to mid-size companies and overseas companies looking to launch in the U.S., please fill out our quote form.