Traverse City, MI (June 11, 2019)—eFulfillment Service announced today that Mike Claycomb has been promoted to Warehouse Manager, from Production Supervisor, filling the role left vacant by Mike Brown's recent retirement. In his new position, Claycomb will oversee all areas of the warehouse including kitting, production, receiving and inventory control, and coordinate with supervisors and management.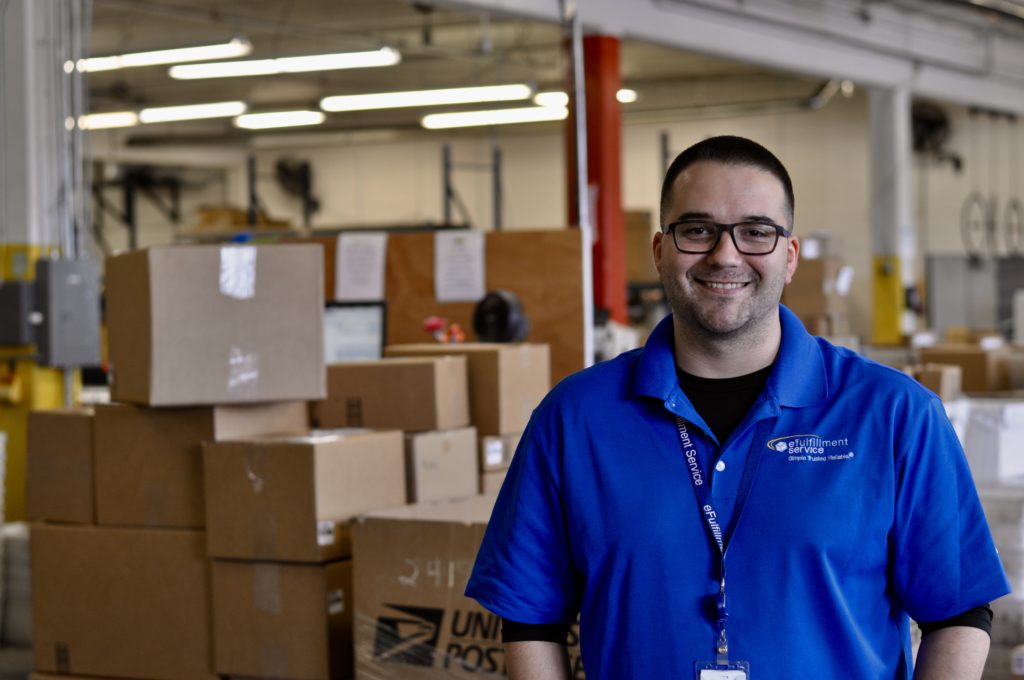 "All the top candidates for the Warehouse Manager position were already current eFulfillment Service employees," says Steve Bulger, COO. "We are passionate believers in building careers. Through this interview process, we discovered ways to leverage the skills of the whole team with new responsibilities and modifications to our organization—as we often do. We came out of the process stronger and more efficient.
"
Claycomb has served eFulfillment Service in many capacities, since his start in 2013, working on the kitting line. During his tenure, he's had experience in maintenance, inventory control and receiving, taking on his first leadership role managing the holiday season for a key client. With that success he earned the Production Lead position for the second shift.
Claycomb is also Lean Certified, a discipline that encourages increasing efficiency, reducing waste and creatively solving problems. It's that training that he credits for his successful oversight of the merge of the second shift into the day shift.
"Moving forward, our goals will be to fine tune our processes now, especially our velocity-driven inventory management," says Claycomb. He wants to maintain the traditions that have served the staff well, and implement the technology that keeps eFulfillment Service a top third-party logistics company.
eFulfillment Service has many challenges on the horizon, including a warehouse re-design, the addition of new locations and the implementation of new software systems, which will put Claycomb's problem-solving skills to work. There are even day-to-day challenges, like finding space and staff to receive and store shipping containers of products from new clients and unusual inventory requirements like hanging wetsuits.
"With the department heads working together, we'll easily be able bridge the gap between what we're doing now and what's coming," says Claycomb.
Looking for a career in the growing field of online order fulfillment with eFulfillment Service?
About eFulfillment Service
eFulfillment Service (EFS), a family-owned ecommerce fulfillment company since 2001, has more than 120 employees. The company provides ecommerce businesses with inventory storage, order processing, shipping, returns and Fulfillment by Amazon (FBA) Prep Service. Using our web-based system, ecommerce professionals can manage their business from anywhere: view inventory, send orders, check shipment status, request additional services, generate reports, and get support from our experienced team. Visit www.efulfillmentservice.com to learn more.
###