eFulfillment Service Management Takes Aggressive Steps On Top of Robust Current Programs
April 04 Update: Staff Screening Added:
As soon as eFulfillment Service received tools and materials, and those shipments passed a 72-hour hold, our team began screening employees as they arrived to work, April 4th. Screening includes:
Touch-free temperature taking
Screening questions as recommended by CDC and Grand Traverse County Executive Order
Recorded results
All of eFulfillment Service offices and warehouse space have been disinfected with a comprehensive process, designed to adhere to all surfaces, even minute cracks. eFulfillment Service maintains all distancing and sanitation procedures outlined below, as well as dividing warehouse staff into two shifts.
---
eFulfillment Service has taken aggressive measures, beyond its already robust germ management program, to protect its abilities to serve clients and safeguard its workforce at this time when COVID-19, a coronavirus, threatens our community and economy. eFulfillment Service's programs meet or exceed the recommendations from state, federal and health organizations, while maintaining core services of storing inventory, picking and packing online orders, and helping clients manage ecommerce fulfillment including preparing shipments to Amazon.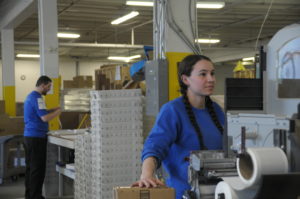 Since before the start of this year's typical flu season, eFulfillment Service has had a robust hand-washing communication campaign, regular sanitation of the order fulfillment plant and ongoing cold and flu awareness training—including free flu shots on site. With the onset of the coronavirus, eFulfillment Service has implemented the following additional procedures, leading the ecommerce fulfillment industry:
All employees that can work at home, were sent home Friday, March 13th. The company is providing them with IT support, software and hardware to facilitate business as usual.
No company travel, internal meetings or visitors from outside the order fulfillment company. The company is using technology to collaborate.
Twice a day, heightened disinfection processes on every tool and surface in use, including handles, door knobs, screens, levers, radios, bins, ladders, carts, etc. Empty offices are thoroughly disinfected and closed off.
The workforce now uses a set of tools specific to them, marked with their names to prevent sharing, including box cutters, tape dispensers, fork trucks, pallet jacks, carts, etc.
More lunch tables, but fewer chairs, to encourage distance during breaks. Bulk containers, like hot cocoa containers, have been replaced by individual servings.
Employees have been strongly encouraged to be responsible personally, and to protect the company's abilities to serve our clients.
March 25 Update: Additional Precautions Added
Additional COVID-19 Prevention Precautions Being Deployed by eFulfillment Service
Inventory received at eFulfillment Service will be held for 72 hours before being processed. Recent studies show that COVID-19 is viable on plastic (like shrink-wrap, bubble wrap, etc.) for three days. Cardboard is 24 hours. The CDC has not indicated any risk from packages and we consider this action above standards required.

Start times are staggered to allow more distance between staff as they clock-in, hang up coats, collect tools, etc.

Sanitization processes allow for one minute drying time on surfaces.

Visual markers on the floor and with furniture placement identify safe 6-foot distances, so staff can communicate while maintaining safe distances.

Warehouse staff divided into 2 shifts with cleaning between the shifts and giving essential staff extended periods away from the fulfillment center.
eFulfillment will be adding more procedures as tools and materials become available.
"We share these practices to inform our clients and inspire our industry," says Jordan Lindberg, Executive Vice President at eFulfillment Service and CEO or Stardust Memorials, a seven-figure online provider of cremation urns. "eFulfillment Service is providing much needed service and economic strength to the entrepreneurs, small businesses and start up companies depending on uninterrupted fulfillment of their orders. It is a mission we take very seriously."
Because the size of the primary warehouse is 200,000+ sq. ft., there is a natural distance between pickers, the people collecting the items requested in an order. eFulfillment Service is also using holiday strategies developed to organize orders in a way that put pickers in an area of the warehouse without overlapping other pickers. Traditionally used to reduce picking time and get orders out faster, this approach now means that one picker has all the orders for a section of the warehouse. Finally, the production line uses long conveyors already, keeping staff an average of 10 – 15 ft. apart, explains Steve Bulger, Chief Operations Officer.
"We get daily, even hourly reports from the shipping companies we use on whether shipping to affected areas is causing any delays," says Bulger. Currently, only international shipments have been affected, primarily to China and in European countries where the coronavirus has caused area closures. There have been some delays, but shipping continues and the US Postal Service, FedEx and DHL are committed to continuing service, responding to regional challenges as they occur. eFulfillment Service is also able to change orders to other carriers, if necessary.
The ecommerce company also helps Amazon sellers ship inventory to Amazon warehouses, for a program called Fulfillment By Amazon. As part of the ongoing FBA Prep expertise offered to ecommerce companies working with the behemoth, eFulfillment Service keeps up-to-date with changes in Amazon's requirements. For example, Amazon has recently stalled FBA inventory orders, except for household goods, so that Amazon can focus on restocking items that the COVID-19 crisis has made popular, like toilet paper.
"Among other outcomes of the COVID-19 environment, we are taking advantage of staffers being at home to perform maintenance projects that would be disruptive during a normal workday, like office remodeling," says Bulger. "We're evaluating the coronavirus disruption from every angle, not only to continue to work, and to revise plans to adapt to the changing environment, but also to leap forward when our home-located staff returns to the fulfillment center."
eFulfillment Service's workforce has a strong bench, according to Merry Hawley, Human Resources Manager, demonstrating another benefit of its resiliency. "Because we have a well-trained, reliable seasonal team that pitches in during our busy holiday season, we can draw from those personnel now, especially if some of our workforce needs to stay at home to self quarantine or get better from the virus. We're also expecting growth in online ordering. We've been able to offer two staffers, who have been laid off from their full-time positions elsewhere in our community, additional hours working here."
"At eFulfillment Service, we shoulder a great responsibility everyday and especially in these extraordinary times to serve our clients reliably and with integrity," says Lindberg.  "And of course, we can't effectively perform our services without protecting our team and creating a safe environment for the teams and suppliers that help us store and ship our clients' online retail orders to consumers."
"At eFulfillment Service, we fulfill the dreams of our clients, every day," says founder and President John Lindberg. "We're taking all the steps necessary to continue our work."