At eFulfillment Service our clients can get our best, lowest rate for shipping on every order and they can get it automatically, because they have access to eFulfillment Service's Smart Rate Selector, our proprietary automatic shipping service selector. And now, we've added DHL services to the choices available to ecommerce retailers using the Smart Rate Selector for order fulfillment.
eFulfillment Service clients choose appropriate shipping methods based on the service expectation of their customer. If ground rates are acceptable to the end consumer, our client can choose to get the lowest rate from a group of shipping methods, including U.S. Postal Service Priority Mail, FedEx Home Delivery and FedEx Ground—and now, DHL Expedited Max.
"During our onboarding process, we share the benefits of our Smart Rate Selector," says Linda Sorna, Client Care Manager. "It's a service that streamlines and automates the shipping methods for clients, so they can focus on other things and know they are getting the right rates for the right services for their customers."
For lightweight packages where economy is the preference, our clients can get the best rate from U.S. Postal Service's First Class or Priority Mail, FedEx Home Delivery, FedEx Ground or FedEx SmartPost—automatically. eFulfillment Service may upgrade the shipping method within a group, but our client always gets our lowest shipping rate. For example, if our client has specified the Economy_Lightweight_Post group, we may ship a package using FedEx Home Delivery and our client is billed at the SmartPost rate. Our Smart Rate Selector always bills the client our lowest rate.
---
The Smart Rate Selector even accommodates the recent holiday season surcharges added by the USPS, which also affect DHL and FedEx Smartpost during the holidays.
---
The Smart Rate Selector shipping method groups allow clients to choose the right service options, whether with or without SmartPost and with or without DHL. Below, are the seven shipping method options available to ecommerce retailers:
Additionally, the Smart Rate Selector chooses the right service based on product weight. In the Economy Lightweight Post shipping method group, if the package is too heavy for USPS First Class, that service is excluded.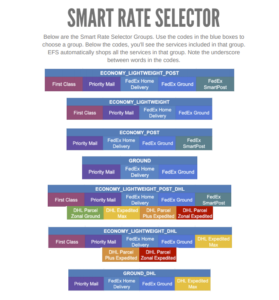 The Smart Rate Selector is available to eFulfillment Service clients regardless of the client's monthly order volume. The service was designed to help start-ups, entrepreneurs and small ecommerce retailers, be assured of getting the right rate for the right service. Additionally, international companies launching their products in the U.S. find that the Smart Rate Selector helps them streamline their fulfillment processes.
Internet retailers using the Smart Rate Selector don't have to sort through spreadsheets comparing rates, or guess which provider will give them the right service at the lowest rate, eFulfillment Service's Smart Rate Selector does the work for them, regardless of where the order is being shipped.