eFulfillment Service, launched in 2001, prepares to celebrate its 20th anniversary with a new brand and plans on updating internal and external communications to better reflect its current market position. The company was designed in 2001 to work with internet retailers, at that time an emerging market segment, with the special needs of fulfilling ecommerce orders for shipment directly to consumers.

Tech Savvy, Friendly, Time-Tested & Founded on Family Values
"We are a modern, time-tested and customer-focused organization with leading tech designed for the work we do," says Jordan Lindberg, Executive Vice President and son of the founder and CEO, John Lindberg. "And we realized our brand presentation hadn't kept pace in representing our growing expertise. At the same time, we didn't want to lose our foundation as a family business and our reputation for dependability and approachability."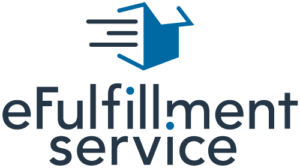 eFulfillment Service shared the new logo internally for the first time with managers mid-September, and has rolled it out internally on company emails, internal slide presentations and a new virtual job fair "booth."
eFulfillment Service Ready for Market Growth
With ecommerce order volume increasing 20% to 40% over normal spring and summer volumes, eFulfillment Service has added staff and expanded schedules to accommodate both new and current clients. As many brick-and-mortar retailers are discovering, the pivot from strictly business-to-business (B2B) to direct-to-consumer (D2C) fulfillment requires a fulfillment center with the proper technology, and a team nimble enough to respond to integration and onboarding procedures.
"While we offer B2B distribution services as well," says Steve Bulger, Chief Operating Officer, "it's the ecommerce fulfillment services that we've honed over two decades that are attracting more and more clients."
eFulfillment Service integrates easily with incoming multi-channel order systems, having taken 20 years to develop technology that works well with Shopify, Amazon Seller Central, eBay, Walmart.com and more than 40 other shopping cart platforms that have developed over the last two decades. Additionally, eFulfillment Service tech interacts with shipper systems at the U.S. Postal Service, DHL and FedEx, as well as the precise requirements of Fulfillment By Amazon.
"To manage online orders, inventory and storage for startups, crowdfunders and other business-to-consumer companies, a third party logistics (3PL) company must master sophisticated processes as well as extraordinary client service," says Bulger. "We wanted our logo to speak to both skill sets: tech and people.
"Our new brand needed to feel friendly and accessible, as well as skilled and reliable, to capture some of our most important brand assets," says Bulger. The combination of a blue chip color palette with a friendly mark helps the brand lean forward, while building on the tradition of strengths that support eFulfillment Service's vision for the next 20 years.
Global Reach & Growth for eFulfillment Service
International companies make up more than 50% of eFulfillment Service's client list, which is an additional audience for the new branding. Not only is simplicity part of the internal values for eFulfillment Service, but it's one reason the company does well with offshore businesses looking to fulfill orders in the U.S. The new logo gives a nod to the last 20 years by maintaining the box and swoosh, while giving those elements a fresh, global look and feel.
eFulfillment Service's New Logo—The Story Behind the Updated Brand
Dark blue, a blue-chip blue, is a nod to the reliability, accountability of two decades of successfully serving ecommerce retailers. It is the color of trustworthiness.
Medium blue, the friendly color, speaks to our foundation as family-owned business. Our friendly blue recognizes the longevity of the customer service team and their passion to put clients first.
The icon is a box in motion, moving forward. The box icon has been part of eFulfillment Service's previous marks. The yellow ellipse or curve in those previous marks has been updated to the three swooshes, representing three pillars of eFulfillment Service's reputation and its trademarked tagline: Simple. Trusted. Reliable.
In the mark, the letter "i" has a different colored dot over it to draw attention to eFulfillment Service's precision and creativity. It's a little dash of color that represents our nimble problem-solving. And it's a nod to our abilities to dot the "i"s and cross the "t"s.
Additionally, the "i" in "Service" connects Service to eFulfillment, in the same way that service is an integral part of our process, and our approach to business. Service to our clients is at the core of our business and cannot be pulled away from it.
We maintain an emphasis on our "e" in eFulfillment. John Lindberg designed our company expressly to serve internet retailers and our systems and processes have been honed intentionally across two decades to serve ecommerce businesses. eFulfillment Service evolves as ecommerce does.