It's no secret that the COVID-19 pandemic plays a role in why this holiday season will be the busiest one yet for global ecommerce fulfillment center, eFulfillment Service (eFS). The operations team within the warehouse walls in Northern Michigan has been putting in hard work and extra hours to ensure the thousands of online orders being placed each day via online retailers, are fulfilled and out the door as soon as possible.
eFulfillment Service has kept orders flowing for its client Merchline, all year, despite challenges caused by high-volumes of online orders stressing fulfillment centers and shipping carriers, alike. Merchline said thank you with a tasty token of appreciation, pizza! The operations team, which exceeds 100 team members who pick and pack online orders, was surprised with an abundance of options including BBQ, pepperoni, meat bomb and more. Not only was this gift of appreciation in support of eFS, but it also benefited the local pizzeria, Paesano's.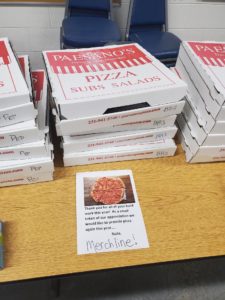 "Every holiday season is busy for us, but this year busy doesn't even begin to describe the demand we're seeing," says Merry Hawley, eFulfillment Service HR Manager. "We're always grateful for our clients and especially when they recognize the value our team provides. Gestures like a pizza lunch that can be shared with everyone here really do keep spirits high during this time."
eFulfillment Service staffed up to handle the anticipated 40% increase in online order volume for the holiday season. So far, the 2020 holiday gift buying season has delivered on eFS predictions. Trends in consumer orders ramped up earlier, and eFS has seen a shift towards multiple items per order, as retailers offer promotions to increase profit per order, and consumers take advantage. Peaks on Black Friday and Cyber Monday aren't as prevalent this year, and eFS processed record levels of online orders across the entire Thanksgiving weekend.