A while back, I wrote a post on how to calculate dimensional weight. Starting in 2015, the dimensional weight rules changed for FedEx and UPS, so I felt a new post was necessary. Now, here in late 2016, FedEx just recently announced that, starting in 2017, their dimensional weight rules will be changing again.

Starting on January 2, 2017, FedEx will change its dimensional weight divisor to 139 for U.S. Ground and Express shipments. Currently, the dimensional weight divisor is 166, as is outlined in the calculations below. Because UPS has not yet followed suit, meaning their DIM rules currently remain in place for 2017, I have not altered the calculations below. However, when calculating what the dimensional weight will be for FedEx next year, please use 139 as your DIM divisor for U.S. shipments.
How Dimensional Weight Works
Currently, as an ecommerce seller, you only have to worry about dimensional weight when you're shipping large packages, or when shipping via air or internationally.

For any package that's staying on the ground, dimensional weight is only triggered if the package is over 3 cubic feet, or 5,184 cubic inches.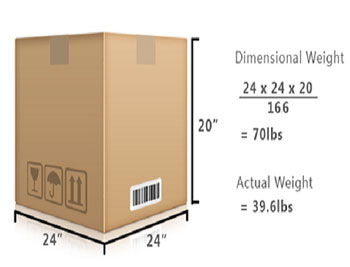 For example, let's say you have a box that measures 24" x 24" x 20". Multiplying those dimensions together gives you 11,520 cubic inches. Because that box is larger than 5,184 cubic inches, dimensional weight is triggered.

To determine the dimensional weight, you simply divide the total cubic dimensions by 166. So in this case, the dimensional weight is….11,520 / 166 = 69.4 lbs.

What this means is that, when shipping this box, you'll be billed at a minimum of 70 lbs (the carriers round up to the nearest pound). If the package happens to weigh more than 70 lbs., then you'll be billed for shipping at the actual weight. If the actual weight is less than 70 lbs….for example, let's say it's 39.6 lbs….then the dimensional weight will apply and you'll be billed at 70 lbs.

I know, it's a little confusing at first. To add to the complexity, if your package is being shipped via air or internationally, then the divisor is 139 instead of 166, which basically means that the dimensional weight is greater when shipping via air.
Why Do Carriers Apply Dimensional Weight?
For years, FedEx and UPS did not charge dimensional weight, which meant that packages, regardless of size, were only billed based on the actual weight.

Let's say you sold those foam swim noodles online. If you ship one of those things, it would take up a big chunk of space in the FedEx truck. But, since it weighs next to nothing, your shipping cost would also be next to nothing.

So, shipping carriers started charging dimensional weight to help ensure that the costs they incur to deliver a package more closely aligned with the fee they charge to the shipper. Basically, FedEx and UPS wanted to be paid for the space that was occupied on their trucks and planes for big, lightweight packages.

When they implemented dimensional weight, it was a big deal. But, since it only applied to packages over 3 cubic feet, that meant that it did not apply for the majority of parcels. That's now changing, and it's an even bigger deal.
How Dimensional Weight Will Work in 2015
FedEx and UPS recently announced that, starting in 2015, ALL packages are subject to dimensional weight, which will result in the largest cumulative shipping fee increase in history.

What this means is that, next year, you'll have to divide the dimensions of every package by 166 to determine the minimum billable shipping weight. If, for example, you have a box that measures 8" x 8" x 8", the total cubic inches equals 512, meaning the minimum shipping weight will be at least 4 lbs.

This package is much smaller than 3 cubic feet, so right now shippers don't have to worry about dimensional weight. Let's say they're shipping a lightweight product in an 8" x 8" x 8" box and it's currently shipping out at 2 lbs.. Next year, their ship weight will double!

You can understand why a lot of online sellers aren't too happy about this upcoming change. But, before you panic, there are some things you can do to help mitigate the impact of this significant change.
How to Reduce the Impact of the New Dim Rules
There are a number of things that sellers can do to help keep their overall order fulfillment costs low in the wake of these changes.

1. Minimize Wasted Space

FedEx and UPS implemented these new rules for a simple reason….they want to receive what they feel is adequate compensation for the space being utilized in their vehicles.

These carriers have found over the years that shippers aren't too concerned with minimizing the wasted space in their packages, so long as they're under the 3 cubic foot mark. Because up until this point, it hasn't mattered much.

Starting in 2015, it will be in the shipper's best interest to analyze their shipments and do what needs to be done to reduce any wasted space in their packages.

Getting back to the example above, maybe the shipper using the 8" x 8" x 8" box has used that size simply as a matter of convenience. Upon further investigation, he finds that the product can actually fit in a 6" x 6" x 6" box. So, rather than his billable shipping weight doubling next year, he could keep it the same at 2 lbs!

2. Look at Alternative Delivery Options

You've noticed that throughout this post only two carriers have been mentioned….FedEx and UPS. These are the only two carriers that are implementing these new dim rules, and while they're two of the largest parcel delivery companies in the world, they're not the only ones.

One obvious alternative is the U.S. Postal Service (USPS). USPS wants more ecommerce business, which means they're in direct competition with FedEx and UPS, and they see these new dim rules as an opportunity to get more of that business.

The current dimensional weight rules for USPS are different than FedEx and UPS. For USPS, if the package is over 1 cubic foot, it is subject to dim weight, but only when shipping to a zone 5 or higher. Additionally, USPS has a dim divisor of 194, not 166, which means the dimensional weight is lower. Check out our Online Seller's Guide to Dimensional Weight for a quick overview of how dim rules differ between USPS and FedEx.

Next year, USPS can expect to get more of the parcel delivery business that UPS and FedEx once had, as they have no plans to change their existing dim rules. If you sell big items that are fairly lightweight, USPS is going to be the way to go. But the Postal Service isn't the only alternative to consider, as some merchants are looking into regional carriers to handle at least a portion of their shipments.

3. Try to Negotiate

FedEx and UPS do negotiate their dim rules, but generally it requires that a merchant is doing big order volume. The negotiation that these carriers will typically make is increasing the dim divisor from 166 to a higher number.

If your order volume is substantial, it is worth reaching out to FedEx and UPS to see if you can get a deal. If your order volume isn't yet substantial, you can also look to outsource order fulfillment to take advantage of ship rates, software and expertise that you may not be able to get on your own.

Dimensional weight rules can be a headache, especially for certain types of merchandise. And while the headache is seemingly going to grow stronger next year, merchants should view this as an opportunity to be more strategic and tighten things up with their order fulfillment and shipping operations.

And if it's something you don't want to have to deal with, give us a shout. We'd love to take the hassles of shipping off your plate.
Summary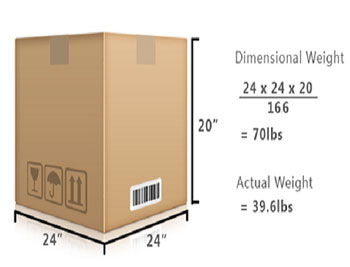 Article Name
New FedEx & UPS Dimensional Weight Rules
Description
UPS and FedEx recently announced new dimensional weight rules for 2015. Here's how to protect yourself as an online seller.
Author
Tags: dimensional weight, ecommerce tips, faqs, order fulfillment