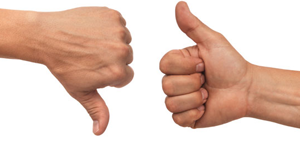 Did you know that, according to various studies, including those by Jupiter Research and iPerceptions, nearly 80% of consumers read product reviews when shopping online? On top of that, over 60% of consumers say they're more likely to make a purchase from a website with ratings and reviews.

Those are big numbers. And what they ultimately mean is that, as an eCommerce merchant, if you don't have ratings or reviews of your products, you're likely missing out on sales.

The reason for this is that reviews build trust from a consumer perspective. And an important part of that trust building is to not filter reviews, including the bad ones. Consider these stats from research done by a social commerce company called Reevoo:

68% of online shoppers trust reviews more when they see both good and bad ratings, and 30% suspect faked reviews or censorship when they don't see anything negative at all.

Consumers who go out of their way to read bad reviews convert a whopping 67% more than the average shopper.
SEO Benefits of Product Reviews
So, we've got the likelihood of increased sales as a big benefit of having reviews. Here's another one……more search engine presence!

How's that work, you say? Well, with reviews comes content. Unique content. And as we've discussed, having unique content is critical for online sellers, especially since many eCommerce websites have the same product descriptions supplied by manufacturers, which makes it tough for Google and Bing to differentiate certain sites or find value in them.

When consumers write reviews, good or bad, it's creating beneficial user-generated content, which will not only help with those particular product pages, but the site overall. They can also indirectly lead to more sales by increasing your presence in the search engines for longer-tail searches.
Better Exposure with Seller Ratings
Do you do pay-per-click advertising with Google? If so, another benefit of encouraging reviews is the ability to use the seller rating ad extension for AdWords.

This extension shows customer-supplied ratings for sellers, not individual products, which are pulled and aggregated by Google from a number of places, including Bizrate, Viewpoints and Reseller Ratings.

The benefits of seller ratings is that they can appear alongside your ads on Google.com and their search partners, increasing your click-thru-rates and getting more trusted buyers to your site.
5 Ways to Get More Reviews
So we've talked about the benefits of ratings and reviews, but how do you get them? Here are 5 tips for generating more reviews of your business and your products.

1. Make It Easy

First off, make it possible to review products on your website. This is something not all merchants do. Secondly, make it easy by NOT requiring customers to provide a ton of information in order to review a product. You may also consider a product rating system, which makes it even easier for consumers to review products, while still getting the benefits of customer feedback.

2. Email Follow Ups

The first step with this one is getting customers' emails at the point of purchase. Then, after they buy something, follow up with an email asking for feedback. You'll see better results by personalizing those emails based on the product purchased, and by making it easy, such as linking to your website or other places that they can review your business and products. It's also not a bad idea to test various incentives. Just make sure you encourage honest feedback….not just positive reviews.

3. Free Samples

The more people that use your products, the better chance you'll get reviews. When it comes to free samples, there are a few options. You can give them away to your past customers as a way to thank them for their business. You can also announce a giveaway on your website, such as free samples to the first 1,000 customers. Or you could be more selective by providing free samples to bloggers and product reviewers, asking them to try out your products and give their feedback.

4. Link to Outside Reviews

There are a ton of blogs and review sites out there, including those that may be highly relevant to your industry. Do some research to find people talking about your business and products. When you do, link to them.

5. Seek Out Reviewers

Many people are happy to write reviews. Some people even make a living out of it. Amazon actually has a hall of fame review list, where it lists it's most active reviewers of all time, including their email addresses. To find prospective reviewers that are perhaps more up your alley, you can research competitor websites to see who's reviewed their products, then reach out to see if they'd be willing to do the same for you.

If you want more reviews, the main thing is that you have to ask for them. And whether it's reviewing the product itself, your checkout process, or their experience with order fulfillment and shipping, the more feedback you get, the better.