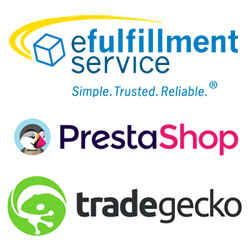 eFulfillment Service (EFS), the nation's leading provider of order fulfillment services for small and mid-sized businesses, is pleased to announce new integrations with PrestaShop and TradeGecko to automate and streamline the order fulfillment process for PrestaShop and TradeGecko users.

"PrestaShop is a shopping cart that we're hearing about quite a bit," says Steve Bulger, Sales & Marketing Manager at eFulfillment Service. "It's become a popular choice for online merchants, not only because it offers the seller a ton of features and thousands of templates, but PrestaShop is also unique in that it allows the seller to choose between a cloud or self-hosted option, both of which are free."

"TradeGecko is a great system that is able to manage inventory from multiple ecommerce sales channels," adds Bulger. "We have several clients that sell on marketplaces, such as Amazon, as well as on their own web store(s). With our TradeGecko integration, we've simplified the order fulfillment process for those multi-channel sellers that require a robust inventory management system."

PrestaShop and TradeGecko are part of a growing list of over 35 shopping cart and platform integrations offered from eFulfilllment Service.

"At EFS, we're known for providing a high-level of service and making things easy for our clients," says Bulger. "With these new integrations, it means that merchants using PrestaShop and TradeGecko can watch the orders flow in and ship out without having to lift a finger."

As part of these two integrations, eFulfillment Service will automatically retrieve orders from both platforms. Orders will enter into EFS's proprietary Fulfillment Control Panel, a web portal in which sellers can maintain ongoing visibility over their orders and stock levels. Once orders are picked, packed and shipped out of the fulfillment warehouse, eFulfillment Service will then send tracking numbers back to PrestaShop and TradeGecko automatically, closing out the order and triggering the tracking emails to be sent to the end customer.

"In addition to our company's track record and reputation, online sellers choose eFulfillment Service because they want automation," adds Bulger. "These sellers are outsourcing their order fulfillment for a reason, and that's generally so they can focus on other things. This means they don't want to be bogged down with manually placing orders or trying to get tracking information back to their customers. We automate all of that for them."

Click the following link to learn more about the PrestaShop and TradeGecko order fulfillment integrations, as well as other integrations offered from eFulfillment Service.