It's been a while since I've written a post on order fulfillment fees. Lately, though, I've been seeing a lot of different models related to how fulfillment companies, like ours, are pricing their services, so I thought it'd be a good time to revisit this topic.
Let's start with a few definitions…
What is a 3PL provider?
A 3PL (third-party logistics) provider is defined as any company that offers outsourced logistics services. The services offered from a 3PL may include procurement, production, warehousing, distribution, transportation, asset management, or any combination of those and other logistics-related services.
What is an order fulfillment provider?
While a 3PL covers a broad range of logistics services and providers, an order fulfillment provider is defined as a company that handles the tasks specifically associated with picking, packing, and shipping of customer orders.
An order fulfillment provider will typically warehouse goods on behalf of their customers. Once orders are received from their customers, the order fulfillment provider will pick the items from their warehouse shelves, pack them into a shipping container, and then prepare orders for pickup from shipping carriers, such as FedEx and UPS.
Order fulfillment providers can handle a range of order types, although, in the case of eFulfillment Service, we predominately work with ecommerce sellers and ship small parcels direct to consumers
Download The Complete Guide to FBA Prep Service
Download our free Amazon FBA Prep Service Whitepaper to learn more about penalties, fees, risks, and best practices associated with Fulfillment by Amazon.
What is an order fulfillment fee?
An order fulfillment fee is defined as the cost associated with a particular service that relates to the order fulfillment process, such as receiving, inventory storage, order processing (pick/pack), and returns processing.
What does cost per order mean?
Cost per order is defined as the total fee to be paid for all services associated with fulfilling a single order. The cost per order should factor in both variable costs, such as pick and pack, as well as fixed costs, such as inventory storage and any account management fees.
What is a "tricky" fulfillment fee?
Below I mention that ecommerce sellers may come across "tricky" fees when evaluating a fulfillment service provider. By tricky fee, I am referring to any fee that is either, a) difficult to understand, b) is listed in the fine print, and/or, c) is different than what was initially advertised.
As an ecommerce seller, figuring out your total cost per order is critical when evaluating order fulfillment companies, and the reason is that these companies all charge a bit differently. Below I've included a table that breaks down a few common order fulfillment pricing models.
3PL Order Fulfillment Pricing Models
Below is a chart that overviews common order fulfillment fees and pricing models used by various 3PLs and ecommerce fulfillment companies:
| Order Fulfillment Service | Pricing Model #1 | Example #1 | Pricing Model #2 | Example #2 |
| --- | --- | --- | --- | --- |
| Inventory storage cost | By the cubic foot | $0.30 per cu ft / month | By the pallet | $20 per pallet / month |
| Pick and pack cost | By the order | $2.00 per order | By the unit | $1.00 per unit |
| Receiving cost | By the shipment | $200 per shipment | By the unit | $0.05 per unit |
| Kitting cost | By the kit | $0.50 per kit | By the hour | $50 per hour |
| Customer support cost | Flat rate | $100 per month | By the hour | $50 per hour |
The table above overviews common order fulfillment pricing models, although fulfillment providers will often have stipulations or add-ons related to these services.
For example, some fulfillment companies will charge a "long-term storage fee" if your merchandise sits in their warehouse for too long. So, while that company may advertise one storage rate, for many of your products, you may get hit with their long-term storage fee, which is substantially more costly.
Another example relates to minimums that are often imposed by order fulfillment centers. The company may advertise a low pick/pack rate, although that rate is predicated on doing a certain volume of orders each month, so if you don't hit that volume, you are charged a minimum monthly fee, such as $500 or $1,000.
Because of the varying fulfillment pricing models out there, and because of these tricky fees that can be added on, it is important for merchants to get a firm handle on the total cost per order that they will pay based on their order volume, their products, and their requirements.
How to Calculate Fulfillment Cost Per Order
Below is a chart which serves as an order fulfillment cost calculator, taking multiple fees and breaking them down to a beneficial and easy-to-understand total cost per order:
| FULFILLMENT COST CALCULATOR | PROJECT ASSUMPTIONS |
| --- | --- |
| Number of pallets on hand each month | 5 |
| Number of orders per month | 500 |
| Number of units per order | 1.5 |
| Number of units received each month | 750 |
| | |
| FULFILLMENT SERVICE QUOTE | FULFILLMENT SERVICE FEE |
| Storage fee per pallet | $20.00 |
| Pick/pack fee per order | $1.50 |
| Pick/pack fee per unit | $0.50 |
| Receiving fee per unit | $0.05 |
| | |
| MONTHLY SERVICE | TOTAL MONTHLY FEE |
| Total storage fee | $100 |
| Total pick/pack fee | $1,125 |
| Total receiving fee | $37.50 |
| Total monthly fee | $1,262.50 |
| | |
| TOTAL FEE PER ORDER | $2.53 |
Fulfillment Cost Calculator Breakdown
Here is an overview of how the Total Monthly Fee section was calculated….
Total Storage Fee = number of pallets x storage fee per pallet
Total Pick/Pack Fee = (number of orders per month x pick/pack fee per order) + (number of units per month x pick/pack fee per unit)
Total Receiving Fee = number of units received each month x receiving fee per unit
Total Monthly Fee = total storage fee + total pick/pack fee + total receiving fee
TOTAL FEE PER ORDER = total monthly fee / number of orders per month
Given all of the different fulfillment pricing models, putting together this type of calculator helps ecommerce sellers to break down their fulfillment cost per order. And if you are receiving fulfillment quotes from multiple providers, it will allow you to better compare apples to apples. As you are doing so, remember to factor in any fixed costs or tricky fees that may apply to your situation.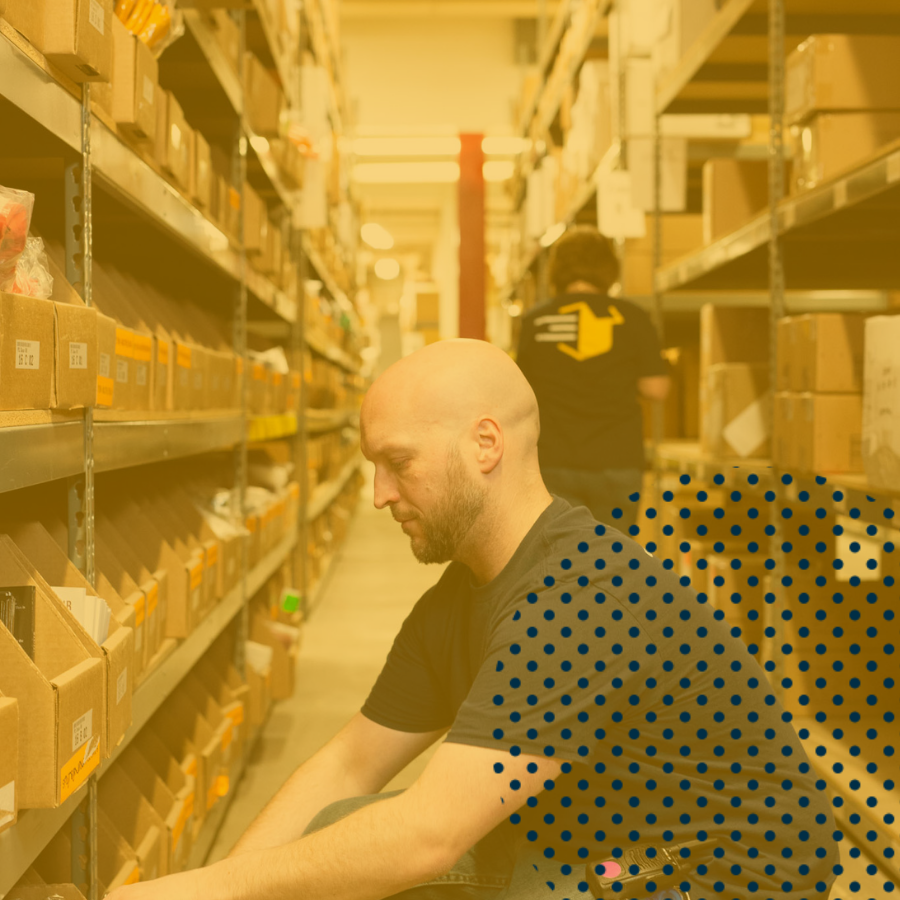 When evaluating fulfillment companies, cost is certainly a consideration. However, it's also important to keep in mind that there are several other things to consider aside from price. For more on that topic, here's a post I wrote on evaluating the best fulfillment companies.