Entrepreneurs are used to making do. In start-up mode, when businesses are counting every Kickstarter penny, they rely on Google searches for tips and best practices to handle lots of responsibilities. And as the business grows, and its needs become more complicated, it makes sense to call in professionals to handle website design, accounting and especially order fulfillment.
Why is it especially important to outsource order fulfillment? It certainly doesn't seem hard to put items in a box and take them to the Post Office. Your current team has added those tasks on top of their job descriptions and it's been fine … well, sort of fine. Order fulfillment is your first chance to impress your customer, or let them down. If "time is money", and "running a tight ship" leads to success, then professional fulfillment services are vital: reducing costs, speeding delivery and facilitating growth.

Triggers that Inspire Sellers to Consider Professional Order Fulfillment
You've run out of space for your inventory. Or inventory has been damaged in poor storage facilities or lost.
You may remember when everything fit at the office. Now it's scattered among several facilities—and one of them is your garage. The temporary solutions have become permanent, although they don't have the proper climate control to maintain your level of quality. Perhaps you couldn't fill an order because your packaging got wet, or worse, the product was lost … somewhere.
A professional fulfillment service partner is part of your quality control team, reviewing each item and looking for damage. More than unloading a pallet off a truck, a professional receiving department counts, verifies and safely stores every item so that your inventory can be managed and tracked. And they will happily share the temperature parameters of the facilities they maintain when you ask.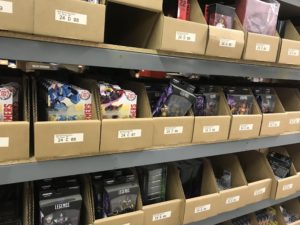 Your customers are asking for tracking information.
Your team has been emailing tracking numbers out when clients asked for them. Now, that seems to be every order and your admin team is buried. The IT/development team has told you it's possible to automate, but they can't estimate how much time that will take to build—which is never a good sign.
Look for a professional with a software system that works hand-in-hand with your shopping cart. Once an order leaves your fulfillment center partner, you should get an email confirmation of the shipment. And that same system should  email a ship confirmation, including a tracking number and your custom sales message, to your customer. Finally, it will update your inventory.
Your orders are shipping 2, 3, or more days after the order.
As hard as your team works, you can't ask them to come in on weekends, so a Friday evening order might not get shipped until Tuesday morning. Or your staff is doing double duty and filling orders has to wait until payroll is done. And how can you ask staff to skip their holiday vacations to come in and pack orders?
Customers expect order to ship within a day. If they order on a weekday morning, they expect their order will be shipped out the same day. Instead of polishing your brand, it tarnishes when you miss these deadlines and you risk being marked as "out-of-touch."
Professional shipping companies are staffed for weekend order packing as a standard procedure. Come Monday morning, your weekend orders are on their way. And holiday staffing? Let your team take their vacations, your ecommerce order packing department staffed up 2 months ahead to handle your peaks.
You'd like to hire fulfillment employees, but the prospect of hiring (and firing) and dealing with all that red tape is daunting.
If the idea of gearing up for a high-volume sales season makes you worry about interviewing, training, paying and managing an army of part-timers, then a professional fulfillment partner can help. Most businesses have an ebb and flow to order volume, a peak season and a slower season. Unless you're carefully managing staff, your per order fulfillment costs go up as order volumes go down. With an outsourced fulfillment provider, online sellers benefit from a fixed price.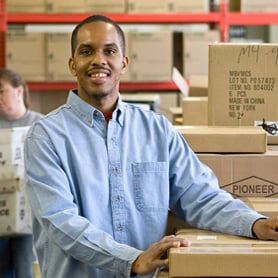 Not only can you avoid the headache of a team you may only use for 3 or 4 months, but you don't have to research the systems that they need to track inventory, integrate with your shopping cart or communicate with shipping companies. Our professional fulfillment team ships orders every day. We have streamlined processes that make sure the right item goes in the right sized box every time.
Your order returns are increasing; orders are arriving damaged.
You packed that box with the ceramic cups yourself. And two out of four had broken handles when they arrived at the customer. The P&L on that order, and too many like it, just fell through the floor.
It helps to have all the gizmos and gadgets necessary, like a fillpak or an auto-bagger, to pack a product so that it can arrive like it left—safe, sound and in one piece.  You won't have to invest in all that hardware when you work with someone who professionally picks and packs with care.
And if you worry that the pros won't wrap the tissue and tie the bow like you do, rest easy. There are specialized ecommerce fulfillment services that can set up a station to follow your steps, as if you were there watching.
You have a suspicion that you're paying too much in shipping because you don't have the right boxes.
The small box is too small, and the larger one is nearly empty, but it's all you have. You're pretty sure that empty box is also emptying your wallet.
An ecommerce fulfillment company has boxes, like a plumber has pipes. They are skilled at choosing the right box to not only save you money, but to also protect your product so that it looks as good on arrival as it did on the website. And not just boxes, but poly bags, plastic mailers, book mailers and recycled fillers to protect your products and the environment. Search for a company that has several options available, and offers standard sizes at no additional cost.
You're wondering if your competitors are getting better shipping rates than you.
About that shipping? … It's true, the more you ship, the lower your rates. And your professional order fulfillment partner, who ships thousands of orders daily, may be able to offer you lower shipping rates than you're getting now. And ask if you can get discounts on shipping your inventory to them, if you use their shipping company.
Your company is on the brink of exponential growth if only you could spend more time on ______.
The best reason ever to let a professional fulfillment company handle shipping your ecommerce orders for you, is that you need time to do something else. Fulfillment is our profession, not yours. Leverage our experience, trained skilled labor force, hardware and technology, customer service and our freight buying power. Then spend your valuable experience and insight on the company and brands that you've so carefully built.
If any of these situations ring true for your company, get a free quote from eFulfillment Service and find out more about hiring a professional fulfillment service.