The Pros & Cons of Inventory Finance
Guest blogger: Andrew McCalister, CEO and Co-Founder of Kickpay
Note from eFulfillment Service: We invite our partners to write for our blog, introducing our audience to new ideas, tips, advice and different points of view. Kickpay.com is changing the way that ecommerce companies finance their businesses.
Why is inventory financing important?
For any company making and selling physical goods, financing inventory is core to the success of the business. Along with wages, purchasing inventory can be the largest cost to the business. Since inventory has to be purchased before a sale is made, companies can have significant capital locked up in inventory and not working for them.
Today, there are several ways to pay for inventory: three traditional, and one new way that is especially suited to ecommerce companies.
Traditional Banks
Traditional banks are often the first option people think of for any finance question. It's a smart route in many circumstances, since they can provide cheaper financing than many other options. However, there are a few drawbacks.
Along with being extremely conservative, declining a large number of applications and giving less capital, banks will often want to see many years of operating history and that the business is profitable, which can cut out many newer companies.
If you find a bank that is happy to provide financing, but you don't currently bank with them, you will likely have to move your banking relationship. This can be extremely burdensome, think about updating all your payments (Payroll, Insurance, Payment Processor, Amazon, etc), along with substantial paperwork.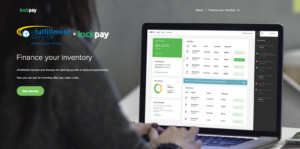 Equity Investors
So, you are a newer company and bank financing isn't a fit, how about raising equity from a venture capitalist or angel investor? These investors are happy to invest in extremely young companies (before a product even exists). In many cases, this type of investment isn't classified as a loan, so you don't have to pay it back like you would a term loan or credit line.
A major issue with using equity financing is the dilution. Simply put, you are selling a portion of your business, which can lead to a loss of control. Closing equity investors can also take a long time, often months.
Invoice Factoring
Companies with purchase orders from large customers (think Walmart, Best Buy, CVS, etc.) turn to invoice factors to finance their inventory. Once goods are delivered to your customer and an invoice is created, the invoice can be sold for a discount to a factor. The invoice is then paid in full to the factor on the expected payment date. Meaning you effectively get your invoice paid instantly…for a discount of course.
Bear in mind that invoice factoring works effectively for the tail end of the cash flow lifecycle (i.e. after invoices are sent to customers), but it isn't useful for covering earlier costs, like paying your manufacturer.
In addition, many companies are now focused on selling direct to the end consumer instead of to a wholesaler or retailer (and why not, you get to own your customer and increase your margins), which means you don't have access to this type of financing since you don't have any invoices from your customers.
So, you are a small company that sells direct to consumer and you don't want to lose control, now what?
A New Way of Financing Ecommerce Inventory: Kickpay
As Sean Watters and I reviewed the finance marketplace, we saw an opportunity to cover the entire cash flow lifecycle for companies that sell physical products direct to consumers. As we investigated this new financing niche, we realized that we can work with companies that are new and have 4+ months of sales history. We looked for companies with a large percentage of direct to consumer sales, and with management who wanted to keep control (we don't take any equity stake in the business or a personal guarantee).
By plugging into data sources like a fulfillment center, ecommerce channels and a company's bank, we can establish historic sales. Based on that history, we estimate how many units will be sold in 16 weeks and finance the manufacturing price for every unit that we think will be sold in that timeframe. We call our approach, Kickpay.
A company only pays Kickpay back when units are shipped from its fulfillment center. When a unit is shipped, Kickpay gets paid the manufacturing price + a fixed fee. Meaning you no longer have to pay for inventory before you sell it.
Kickpay works well for smaller companies, but if you are larger (over $20M in annual revenue) more traditional options like a bank, will be able to provide cheaper financing. Kickpay is also a loan, so unlike some equity deals where you don't pay the money back, since you are exchanging the money for equity in your business, the money will have to be paid back as the goods are sold.
We are extremely excited to announce our partnership with eFulfillment Service. With the partnership all eFulfillment Service clients can now have access to unlock the capital they have tied up in inventory and accelerate their growth. To find out more and get a quote head here.
Other Blogs, Services & Articles