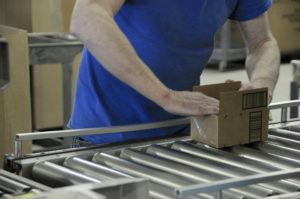 Here at eFulfillment Service we know that choosing a fulfillment company is a big decision, and we talk often with clients who stalled the decision and then wish they had made the move months, even years earlier … so we've come up with a program to help make the transition a little easier and give companies a reason to enjoy all the benefits of a professional fulfillment house and our stellar Customer Care team, in time for this year's holidays: 3 Months of Free Pick & Pack Services!

Interested? Fill out the form!

You may be experiencing issues with a current warehouse that's not delivering the service your customers demand (or that you need). Or maybe you've handled your order fulfillment in-house, and this year's holiday season will overwhelm your team. Or perhaps you're headquartered outside the US, and would like to have a fulfillment company that can deliver your company's level of quality to American customers.

Whatever is motivating you to look, we'd like to share some thoughts that should make the decision easier:
Easy Tech Integration
When you work with eFulfillment Service, integrating with most of the popular shopping carts is easy. There are more than 40 that we connect to.
You'll Save Money
eFulfillment Service is very competitively priced. We have low rates for storage. Plus you only pay for the space you occupy (not a full pallet when it's nearly empty). And if you've been hit with Amazon's $10/cu. ft. excessive storage fees, you're going to be relieved at our ability to replenish your FBA inventory, while keeping the balance safe and sound at great rates.
Standard-Setting Customer Care

eFulfillment Service assigns a Customer Care representative to walk you through the process. Here's what one of our clients said about our team:
"Your company's level of professionalism & customer service is extraordinary."
—Dan Newby, Emoli, An International Educational Materials Retailer
Multi-Channel? We Love That!
Of course we can fulfill your orders, whether they come from Walmart, eBay, Amazon or your own website.
Your Reason to Hire eFulfillment Service Now: Sign up by September 1, 2019 to get 3 months of free pick and pack services, up to a $1,500 value. Inventory must be received by December 31, 2019.
Four Easy Steps to Professional Order Fulfillment
We've designed our Free Pick & Pack program to be easy, transparent and well-timed for the marketplace:
Step 1: Fill out our form and let our sales team design a proposal for you. We'll review your needs, and determine if we're a good fit for your business goals. Sign up by September 1st to participate in the Free Pick & Pack promotion.
Step 2: Our Customer Care Team will walk you through loading your SKUs into our system and choosing the right options.
Step 3: Let us know when your inventory is on its way, and be sure to put a packing list inside. Send it to arrive before December 31, 2019. We'll handle the rest.
Step 4: Do whatever you need to do to get ready for the holidays. You'll get free pick and pack services for 90 days, or until you reach $1,500.
Ongoing Benefits of Working with eFulfillment Service
All our clients benefit from eFulfillment Service's generous policies:
No Order Minimums
No SKU Maximums
No Long-term Contracts
No Excessive Storage Fees
We Guarantee Our Work
At EFS, we quickly and carefully fill your orders each and every time, earning an industry-leading accuracy rate. And online sellers can rest easy knowing that in the rare case we do make a mistake, our fulfillment service guarantee means we'll make it right.

We honor the prices we quote you, get your orders right, ship your orders when promised, and respond quickly when you need support.

Start by September 1, 2019, and get 3 months of Free Pick & Pack Services! 
Other Blogs, Services & Articles
Get a New Fulfillment Center by The Holidays
Free Pick & Pack Interest Form
When to Hire a Professional Fulfillment Service
Best Fulfillment Centers & Services: Top 7 Traits
5 Signs You've Outgrown Your Fulfillment Center
*Not everyone will be a good fit for eFulfillment Service. For example, we don't work with hazardous, oversize or overweight items. And we don't have refrigeration. We allow one promotion at a time. Our Free Pick & Pack for 3 Months promotion is limited to $1,500 in value and available until September 1, 2019 and inventory must be received by December 31, 2019.