Supporting Reading, Dogs, Trails & Kids—Fulfillment Center Donates to The Community-
Every year eFulfillment Service, a fulfillment center in Traverse City, MI, allocates funds that our charitable giving committee oversees to help our local community. The committee narrows the many choices to several, changing the groups considered every year to a different mix. We leave the final choices of which three organizations get supported up to our team members. Through popular vote, the top 3 are chosen. Each of these 3 organizations are gifted a generous amount of $1,800 to help with their cause. Additionally, the online order fulfillment company was able to help Williams Syndrome this year.
For 2021 our team members chose:
Dolly Parton's Imagination Library (DPIL),

 

H.A.N.D.D.S to the Rescue (Helping Abused, Neglected, Disabled, Displaced Souls)
TART Trails Network (TART)
Williams Syndrome
Dolly Parton's Imagination Library (DPIL)
Betsy Moore (left), DPIL GTR's Grant Chair, and Bonnie Newhouse (middle), DPIL GTR's treasurer, accepted the check at the fulfillment company's warehouse from Rachel North (right), Marketing Manager.
Since 1995, this organization is dedicated to inspiring a love of reading by gifting books free of charge to children from birth to five years old. In 2020 this program gifted its 150 millionth book.
The Grand Traverse Region chapter of the DPIL provides books to children in our local area. Our regional director, Pam Hunsaker, will be able to provide children with more books due to our team member's voices and the generosity eFulfillment Service.
H.A.N.D.D.S to the Rescue (Helping Abused, Neglected, Disabled, Displaced Souls)
Dorothy DeCoeur (left), Co-founder of H.A.N.D.D.S to the Rescue, accepted our check from Linda Ricket (right), Customer Service Representative in the lobby of the fulfillment center. 
Joining the ladies are two dogs who were rescued and treated by H.A.N.D.D.S to the Rescue, having suffered broken legs. Hambone's leg was mended with surgery. To save Pearl, the beautiful grey and white dog on the right, H.A.N.D.D.S to the Rescue veterinarians removed a broken leg. Now she is doing great and loving life.
Established in 2009, co-founders Dorothy DeCoeur and Patti Goudey set out to help the dogs in need in our local area. H.A.N.D.D.S to the Rescue also offers assistance with low-cost spay and neuter to those in need.
This is a volunteer-based, nonprofit rescue for dogs that are hard to place in homes or that require extra care. This includes broken bones heartworms, and behavioral issues (usually stemming from abusive situations).
Traverse Area Recreation and Transportation Trails, Inc. (TART Trails Network or TART)
Kate Lewis (left), the TART Trails Network Community Engagement Manger, and Brian Beauchamp, Tart's Communications and Policy Manager (right), accepted eFulfillment Center's check from Merry Hawley (center), eFulfillment Service's Human Resources Manager. 
Formed in 1998, the TART Trails Network promotes a trail network that enriches people and communities throughout the greater Traverse region. There are 11 staff members and 14 volunteer board members that work to support this alternative transportation option for our local area.
The TART Trials Network consists of several multi-use trails in Grand Traverse and Leelanau county, as well as a cross-town bike route. These trails are usable year-round, as they make sure to groom them to provide a great winter trail experience.
Williams Syndrome
When eFulfillment Service team members need help, the team listens. Sara Hughes, a member of our client care department, informed the charity committee at eFulfillment Service that her granddaughter had been diagnosed with Williams Syndrome. The family hoped that eFulfillment Service would step up and support more research into the syndrome, that would ultimately help the family.  The online order fulfillment center's charity team donated $2,100 in their honor towards Williams Syndrome research and education.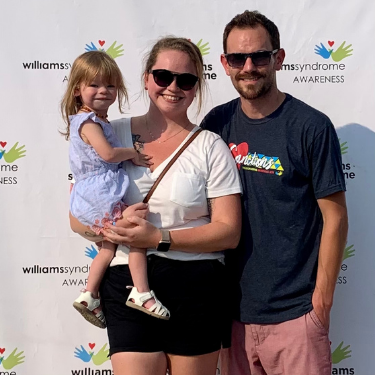 eFulfillment Service helps ecommerce entrepreneurs, start-ups and established retailers in the United States and abroad to fulfill online orders, shipping products directly to consumers. With more than 700 clients, in the U.S. and internationally, the team believes they are helping to fulfill the business dreams of thousands. These donations are just another way that eFulfillment Service teams support the dreams of the community.