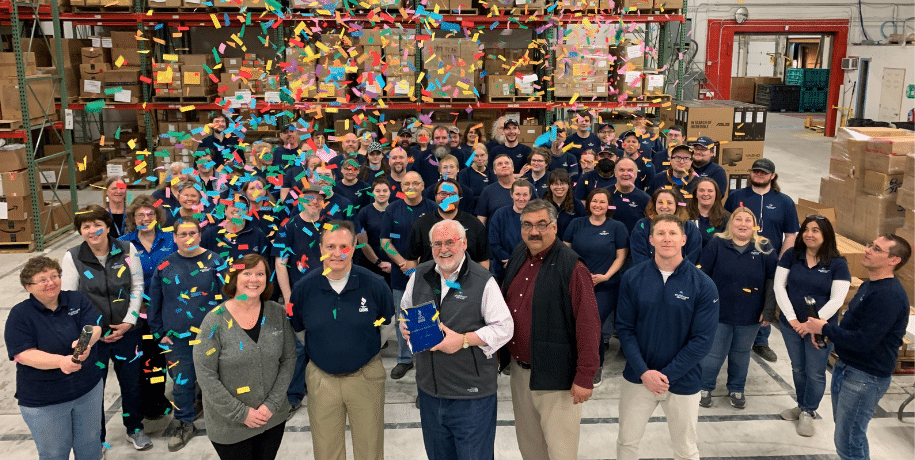 Celebrating eFulfillment Service's Decades of Trustworthy Online Order Fulfillment Work
On Thursday, April 14th, eFulfillment Service celebrated its 20 years with an A+ rating from the Better Business Bureau with a barbecue and an all team photo amid a shower of confetti. From its inception, eFulfillment Service has been dedicated to being a reliable fulfillment center for ecommerce merchants in the United States and worldwide. With more than 700 clients, the team works hard to make the technology, the changing regulations and the ever-challenging expectations of the marketplace easy for internet retailers. Getting, and keeping, an A+ Better Business Bureau rating for 20 years is an honor for the whole team.
When John Lindberg started eFulfillment Service in 2001, he had a warehouse and an idea that internet retailers would need some help packing and shipping orders that started online. Honesty, reliability and ethics were a natural part of his leadership. 
"I want to work with people I trust," says John. "I figure that my customers do too, and that's how you build something that works."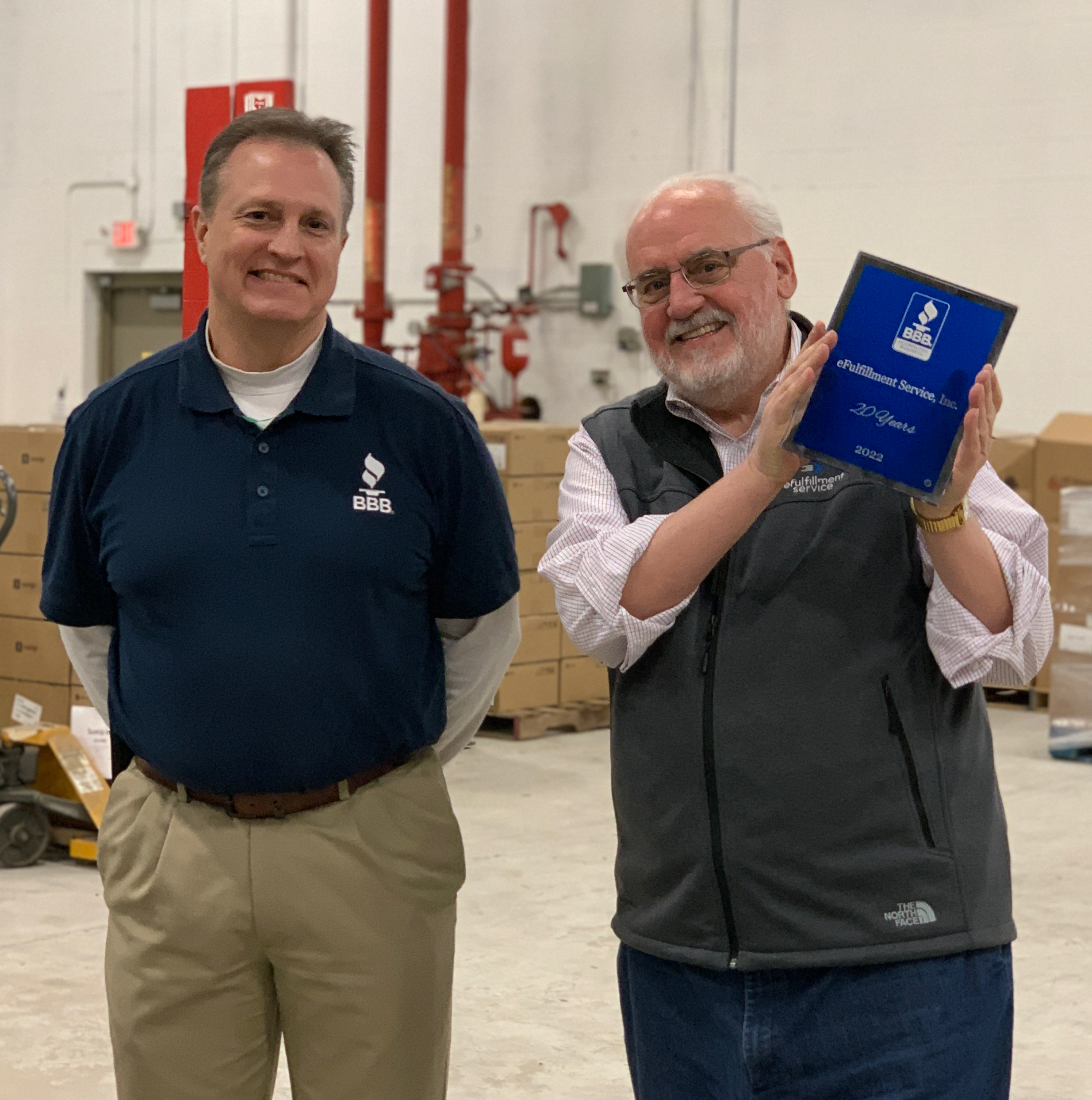 According to John, the secret to building a company that you can be proud of 20 years from now, is to build one that you're proud of today. Then do that every day. Pretty soon, you'll be standing under a shower of confetti, surrounded by a great team and holding up a plaque commemorating 20 years of reliability and an A+ rating from the Better Business Bureau.
We asked Better Business Bureau Regional Account Manager Randy Travis to put eFulfillment Service's accomplishment into perspective, asking what does two decades of integrity mean to the region?
"This year eFulfillment Service is one of five Traverse City businesses marking this anniversary," says Randy. "It makes our community a better place to live and do business." Across 38 Western Michigan counties, roughly 50 businesses per year will reach 20 years of accreditation with an A+ rating. 
eFulfillment Service now has more than 100 team members. Most are in operations, working at the fulfillment warehouse. Plus, there are support team members working from home or a hybrid schedule at home and in the office. Job roles are full and part-time, and many work flexible schedules. 
Clients include ecommerce merchants from all over the United States, with half headquartered overseas. The team routinely fulfills from 15,000 to 20,000 internet orders per week, with seasonal peak weeks exceeding 25,000 and as much 30,000 online orders. The 250,000 square feet of fulfillment warehousing space houses more than 60,000 products, with total inventory of nearly 4 million items. 
Randy went on to explain that longevity is the primary challenge for businesses hoping to achieve such a milestone. 
"We love to see businesses show a long track record of trust and ethics," continues Randy. "We see businesses not following the rules, the bad actors, that not only jeopardize customers, but are dishonest. And the BBB works to call out those bad actors, so that customers can make an informed decision." 

"We love to see businesses show a long track record of trust and ethics."
Randy Travis
Regional Account Manager
Better Business Bureau 
"We like to show off businesses like eFulfillment Service, with 20 years of being responsive to customers, handling things in a way that promotes trust and meeting—and exceeding—the high standards the BBB has been promoting for more than 100 years." 
eFulfillment Service is not only glad to receive acknowledgment from the BBB, but they are also supporting the organization. Executive Vice President of eFulfillment Service, Jordan Lindberg recently joined the board of directors of the Western Michigan region of the BBB. He works to represent the business community of not only Traverse City, but of area businesses doing work on a global scale. 
"Every team member, from unloading inventory to packing an order, to sending an invoice and designing the software that makes it all work, has a direct impact on the 700 businesses that trust us," says Jordan. "Our biggest honor is to continue to be trusted by our clients, every day. And we'd like to do that for another 20 years."