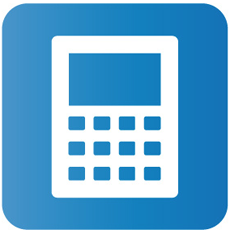 One of the most common questions that we get asked from online sellers is…."How much do your order fulfillment services cost?"

So, to make it easy, we have created a cool new cost calculator to help ecommerce sellers quickly and easily determine how much they will pay per order for fulfillment.

How it works is that the seller inputs their estimated order volume, their average number of items per order, and a couple of other assumptions, and our fulfillment calculator will show the total estimated cost per order based on the seller's criteria with each of our services included in that cost.

To receive our free pricing calculator, please fill out our quote form.
How Our Pricing Works
Here at eFulfillment Service, we have been shipping ecommerce orders for merchants since 2001, and our goal has always been to be 100% open and honest with all aspects of our fulfillment company, including pricing. It's also been our mission to make it possible for both large and small merchants to take advantage of our order fulfillment services, which means….
We do not charge any setup fees
We do not charge for integration with shopping carts
We do not have any big ongoing monthly retainer fees
We do not penalize clients if they do not reach a certain number of orders each month
We do not have long-term storage fees or other tricky fees
We do not have long-term contracts or high closeout fees
When online sellers choose to outsource their order fulfillment, it should not only save them time, it should also provide them with a more predictable cost per order. When handling fulfillment in house, sellers often have to deal with a greater number of fixed costs that have to be paid regardless of order volume, such as warehouse rent, which can cause their per order fulfillment costs to fluctuate throughout the year.

Because of this, many sellers choose to outsource their order fulfillment to help cut down on those fixed costs. Unfortunately, though, with many fulfillment companies, the seller may find that his or her per order cost isn't as predictable or consistent as they had hoped, as their provider has high monthly fixed costs that represent a substantial portion of their overall fulfillment costs, especially during slower sales months.

At EFS, we limit our fees to just a few areas, and our cost calculator allows sellers to easily see if and how their total cost per order will be impacted if their situation changes, such as if their order volume changes, their average number of items per order increases, or if they added more stock to our warehouse. Our calculator also makes it easy for merchants to compare what they currently pay per order for fulfillment.

We work with hundreds of online sellers around the world with varying needs, from a Kickstarter or crowdfunder that requires order fulfillment just for their rewards, to merchants that need ongoing fulfillment for multiple sales channels, including their own web store, eBay and Amazon.

We'd love to hear about your business and needs. Please give us a quick overview and we'll quickly send over a fitting quote along with our easy-to-use cost calculator.