Working with ecommerce sellers, I often get asked about the process associated with our order fulfillment services. So, I thought it'd be helpful to put together a process flow chart to show the steps taken once we receive orders from our clients.

Before we get to that, though, let's first take a step back and overview how we're able to get the orders. Here at eFulfillment Service (EFS), we can receive orders from ecommerce sellers a few different ways. The most common way we receive orders is by integrating our order fulfillment software directly with our client's shopping cart, or their Amazon and/or eBay stores.

Thanks to our in-house IT crew, integrating with our clients' selling channels is quick and easy. Most of our 35+ shopping cart integrations function via an application programming interface, or API.

The API works using a set of protocols, but basically, our software talks with our clients' shopping carts to retrieve orders as they come in. Once the order is picked, packed and shipped out, our software again talks with the cart to complete the order and send tracking information back to the cart. This level of automation and simplicity is a big factor that sellers consider when evaluating fulfillment companies.
The Flow Chart
Okay, so now we've retrieved the orders from our clients' shopping carts. What's next? To help visualize the workflow, here is an order fulfillment process flow chart I've put together….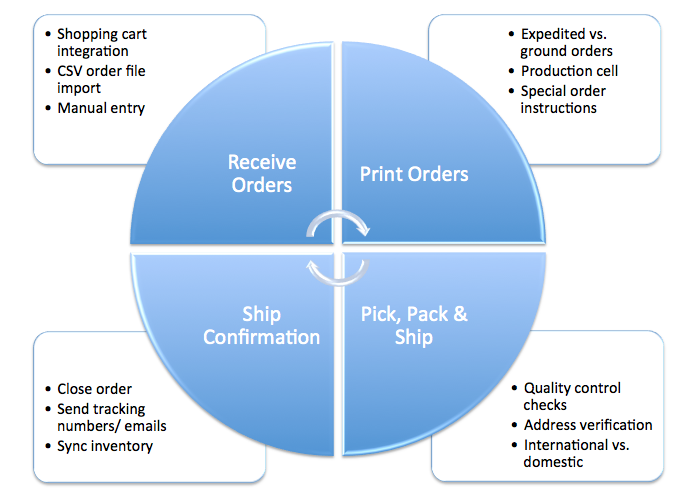 The Order Fulfillment Process Explained
Here's a quick breakdown of each of the steps outlined in the flow chart…

Receive Orders

Starting at the top left, you can see we first receive the orders. We've discussed shopping cart integrations, but there are actually 3 different ways we can receive orders from our clients…

— Via a shopping cart integration

— Via a CSV order file

— Via manual order entry

While direct integration with a shopping cart or inventory/order management system is generally most ideal, in some cases manual order entry is preferred, such as in cases of business-to-business orders.

With CSV files, they are often used as part of auto-ship or continuity programs, as part of which our clients submit an up-to-date subscriber list each month with their corresponding orders. This is common with nutraceuticals and health and beauty products.

Print Orders

Once we receive the orders in our Fulfillment Control Panel, our Operations crew then prints the pending orders. Order prints happen multiple times per day.

As orders are printed, they are sorted by ship method. Expedited orders, meaning guaranteed overnight and 2-day orders, are prioritized to ensure the fastest turnaround time.

Orders are also sorted by the production cell in which they will be processed within our facility. Because we work with thousands of different SKUs, we have optimized our warehouse to help ensure speed and efficiency with the many types of products and orders we fill.

Lastly, as orders print, we also identify any special picking or packing instructions that may be associated with the order. For example, we allow our clients to specify that they'd prefer certain items to be packed in a box as opposed to a plastic shipping mailer.

Pick, Pack & Ship

Once orders have been printed and sorted, the next step on the flow chart is picking, packing and shipping.

During this process, there are multiple quality control checks to ensure order fulfillment accuracy. The majority of units are picked in batches prior to moving to a sortation area. Once in the sortation area, units are then grouped into individual orders and are then moved to a packing station.

Our packers are trained to pack orders into the smallest box or package possible while making sure there's adequate protection. This helps to cut down on the dimensional weight of the package, ultimately saving our clients money.

Prior to shipping orders, addresses are verified using specialized software. We then split international and domestic orders and complete the proper customs paperwork for international orders. The packages are then labeled, palletized, and shipped.

Ship Confirmation

Once orders are shipped, we will then close the order within our Fulfillment Control Panel, which our clients are able to see.

Additionally, if we are integrated with a cart that allows for tracking number submissions, we will also send tracking numbers for each order back to our client's shopping cart automatically. This will trigger the orders to close out within their cart, and also trigger tracking emails to be sent to the end customers.

If our clients prefer, our system also has the ability to send tracking numbers to the end customer. Those tracking emails can be sent to our clients once the orders have been fulfilled.

Lastly, our FCP system also has the ability to sync inventory with many shopping carts and selling platforms. Once orders are shipped and closed out, the updated inventory counts will be sent back to the cart to adjust the inventory there.

While there are numerous intricacies involved in picking and packing thousands of units and getting orders out quickly and accurately on a regular basis while keeping our clients in the loop along the way, hopefully this flow chart provides a helpful overview of the basic steps involved in our order fulfillment process.