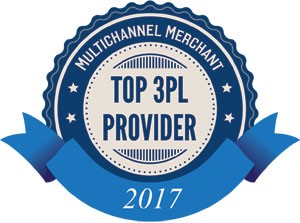 For the second year in a row, eFulfillment Service (EFS) is proud to be named a Top 3PL Provider by Multichannel Merchant, a leading publication offering a wide range of research, guides, and resources focused on the retail industry.

"Two years ago, Multichannel Merchant sought out to create a list of the top third party logistics providers (3PLs)," says Steve Bulger, VP of Sales, Marketing & Customer Service at eFulfillment Service. "As a rapidly-growing segment of the retail industry, the list of Top 3PLs has a strong emphasis on finding the best order fulfillment companies for ecommerce sellers."

While vetting the top ecommerce 3PLs for this list, Multichannel Merchant evaluated several criteria, which included….
The age and experience of the fulfillment company
Services offered from the fulfillment company
The number of active clients
Average order volume
Types of technologies utilized
Percentage of B2C vs. B2B orders
Product types that the fulfillment company typically works with
Product and service innovations that have been recently implemented
U.S. and international order fulfillment capabilities
Differentiators of the fulfillment company
"Multichannel Merchant asked a lot of smart questions," says Bulger. "They really seemed to know what to look for when evaluating 3PLs. I'm a big proponent of this list and the vetting process that went along with it, as I know that it can be tough for online sellers to find a reputable, experienced order fulfillment company that can meet all of their needs."

"We're very proud to again be named one of the best ecommerce order fulfillment companies within our industry," adds Bulger. "There are a lot of new 3PLs out there that see the growth of ecommerce so they're jumping on the bandwagon. We're unique in that we're a family-owned and operated company that's been shipping ecommerce orders longer than most 3PLs out there, so we know what it takes to consistently keep our clients' customers happy. And when our experience and reputation is recognized by a group like Multichannel Merchant, it's a nice honor."