For Amazon Sellers: Tips to Prepare for Prime Day 2019
Amazon Prime Day, July 15 – 16, is upon us, being promoted as a two-day parade of epic deals, starting at 3 AM Eastern time. And while you're gazing at that handsome $180 Toshiba FireTV already featured on the Prime Day home page, don't let it distract you from the business at hand. Here's how you can get your ecommerce store ready for Amazon Prime Day 2019:

How Can Amazon Sellers Prepare Every Platform For Prime Day?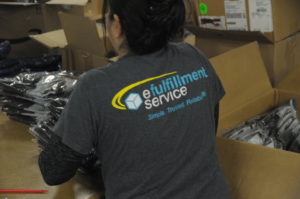 Amazon's self-generated five-year-old holiday has tempted several retailers to wade into the summer sales pool. Target, Kohl's, Best Buy and more retailers are expected to push out summer inventory and promote early, back-to-school sales, again this year. Walmart and eBay too are expected to take advantage of the traffic and have sales. Sellers using these platforms should form strategies to take advantage of increased shoppers internet-wide.

Learn More>> eFulfillment Service integrates with more than 40 shopping platforms.

Before Prime Day Inspect All Your Channels
Over the next few weeks, eFulfillment Service is gearing up to handle increased Fulfillment By Amazon Prep work for our clients, replenishing Amazon inventory to arrive smoothly in time for Prime Day sales. But that's not all. The swelling internet traffic increases activity across all platforms, as shoppers discover close-out deals on summer goods and pre-back-to-school sales. We're staffed and ready to fulfill peak client orders from any shopping carts throughout mid-July.

Learn More>> eFulfillment Service can provide you with FBA Prep Services

Dump Slow Movers? Or Let Amazon's Light Shine on Money-Makers?
There are two approaches to slow-moving inventory on Amazon's Prime Day, and which one is right for your company depends on strategic goals you're trying to solve.

The case for deeply discounting slow movers hinges on the desire to unload inventory that is costing more to keep, than the revenue loss of discounts. Key factors include whether that inventory has been suffering Amazon's long-term storage penalty fees of $6 per cu. ft. Or whether a company is using Fulfillment By Amazon, and have excessive-inventory penalty fees of $10 per cu. ft. If Prime Day discounts work, it might be less expensive to sell the inventory at a lower price, than to move to another facility or continue storage at Amazon with charges.

The opposing view is to put your best movers in the limelight on Prime Days. Use this strategy if your goal is to improve your Inventory Performance Index (IPI) score. Amazon indicates that excessive and long-term inventory doesn't hurt your IPI score, and so sellers haven't seen significant improvements once those inventories are cleared. However, lively sales will improve your scores, and the high Prime Day traffic is your best bet for your most attractive products.

How to Leverage Amazon's Promotion Options On Prime Day
Prime Day Lightening Deals allow Amazon sellers to pay to play … for $500 per product, you can be part of a special program that might put your discounted product front and center on Prime Day. The Amazon algorithm chooses the most popular combinations for the highest visibility and the longest promotion. But if you didn't apply in May, the deadline has passed.

There are other ways to attract attention …

Amazon Coupons: By tagging your products with coupons, either for dollars off or percentages, you get a bright-colored badge by your products on several pages, including a coupon sales page. Make sure you have coupons loaded by July 12th; they need to be loaded two days before they run.

Amazon Deal of the Day: Amazon vendors (not sellers) can participate on the Deal of the Day page for 24 hours. If you're eligible to participate, you might need to step up the discounts from the normal, 10 – 20 percent off sales, to compete with the offers all over the internet.

Sponsored Products, Sponsored Brands & Product Display Ads on Amazon: Now's the time to review your campaigns for effectiveness, optimizing your keyword selection, budgets and goals. Focus your ads on products that support your Prime Day strategies, testing them now so that you're putting the most effective creative online the week of July 15th.

Clean Up Your Product Detail Pages
Now is the time to review your product pages. Are your descriptions accurate, detailed and up to date? Do you have high-quality photos that show usage, as well as details?

Can you respond to and resolve any negative issues in reviews? If you can, gently get a customer to adjust or remove a bad review, or at least let your response demonstrate that the issue has been cleared up.

With planning, eFulfillment Service helps ecommerce businesses turn Amazon's epic parade of sales into a parade of orders, all efficiently moving down the line to customers.
Other Blogs, Services & Articles
Keep Prime Status & Reduce FBA Costs
Post Office Changes to Dimensional Weights & How It Affects You
Why Should Amazon Sellers Bundle Products