How Apparel Sellers Can Use Instagram, Influencers, Paid Ads to Sell
By Peter Peng, MangoRabbit
Note from eFulfillment Service: We invite our partners to write for our blog, introducing our audience to new ideas, tips, advice and different points of view. eFulfillment Service client, Peter Peng, who runs MangoRabbit, has been remarkably successful using social marketing to develop the reach of MangoRabbit apparel.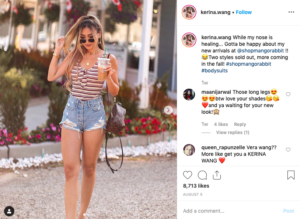 I run an ecommerce apparel store with my wife called Mango Rabbit. We've been marketing on Instagram (IG) for 5 years, growing our audience to 45k & 500k followers on the business and personal accounts respectively. We build strategies for our brand and our influencers, using Instagram to market our brand and fulfilling our online orders with eFulfillment Service.
Get More Out of Influencers
For our store, my wife, Kerina Wang, was our first influencer. We expanded our influencers, manually searching for additional relationships on IG, and we were able to add third-party credibility, expand our reach and take advantage of time and scalability issues. We started by fulfilling the orders ourselves, and brought eFulfillment Service on, allowing us to scale and focus on creating content.
Influencers can produce amazing outdoor fashion photos. Thus, we don't just ask for an IG post or story from influencer campaigns, we ask for extra photos of different outfits and pieces. This approach gets great value out of influencer deals. Even if the influencer post did not generate sales, your team can use those extra photos for PPC or other social marketing campaigns. Look for influencers that can create beautiful photos.
To show a bit of appreciation for our influencers, we let them have creative freedom. We also mention potential for repeat business if they generate good ROI. The result has been free stories and content, even detailed heartfelt video testimonials.
Affiliate Programs
Affiliate programs are a time-tested sales model. Affiliates get a commission for sales they recommended, generally a percentage of the revenue.
Tracking affiliate sales can be challenging. Instagram tends to erase the tracking mechanism. In addition, shoppers sometimes browse with their phones, but buy with their laptops and that also erases the tracking. Lastly, more people are using anti-tracking software for privacy reasons.
The affiliate influencer can never get full credit for his/her sales. To make up for this disparity, I suggest you increase the commission percentage of your top influencers, so he/she prioritizes your brand above the many other affiliated brands they likely have.
A mega store executed this strategy with my wife via ShareASale. As a result, she has generated over $100,000 in gross sales since January 2019. I would love to get those sales for our own store, but we do not have the wonderful range of inventory this mega store has.
In order of activity, we currently use ShareASale, RewardStyle/LikeToKNow.it, Awin and Commission Junction.
Paid Ads
You may have noticed rising ad costs for our industry, apparel—a top concern according to a recent Shopify+ survey of high-growth companies. To make sure that we aren't wasting ad dollars on people who'll never buy from us, we maximize our ad budget by focusing the spend on people who've already indicated an interest. You guessed it: retargeting campaigns.
Currently, we use a Shopify app that helps with retargeting ads, called "RetargetApp" which has a 14 day free trial and then goes to $19 per month. Our experience has been good, and I'm still working on improving our return on ad investment.  We did work with RetargetApp support to auto-crop the pictures properly for Instagram—photos are so important to apparel marketing.  We are still experimenting with the right pictures. Another service we've looked at is Shoelace; it makes Facebook ads much easier to manage. Both are for retargeting. The next step is to use Facebook lookalikes and bring the expertise in-house.
Insta-Niches
We use Instagram to learn about our own niche and see what our customers are up to. Beware of niches as well, if you do the "hire 300 micro influencers" strategy, you will get a lot of over-lapping engagement. In other words, the same cluster of influencers and micros complimenting each other, but never buying anything.
Agencies and Influencer Databases
We don't plan on using any agencies or influencer portals to market on Instagram. This is not to say we will never use them. We do love seeing anti-cheating databases like Fohr and HypeAuditor.
Other Blogs, Services & Articles
Why Should Amazon Sellers Bundle Products?
Amazon SEO: How to Rank Your Products Higher
Using YouTube for Apparel Marketing