Norte, A. C. Paw & Meals on Wheels Benefit from EFulfillment Service
Efulfillment Service employees used a discretionary fund to benefit three Northern Michigan charities, chosen by the staff, during the 2019 holiday season: Norte, Meals on Wheels and AC PAW. Each charity received more than $1,500 from eFulfillment Service.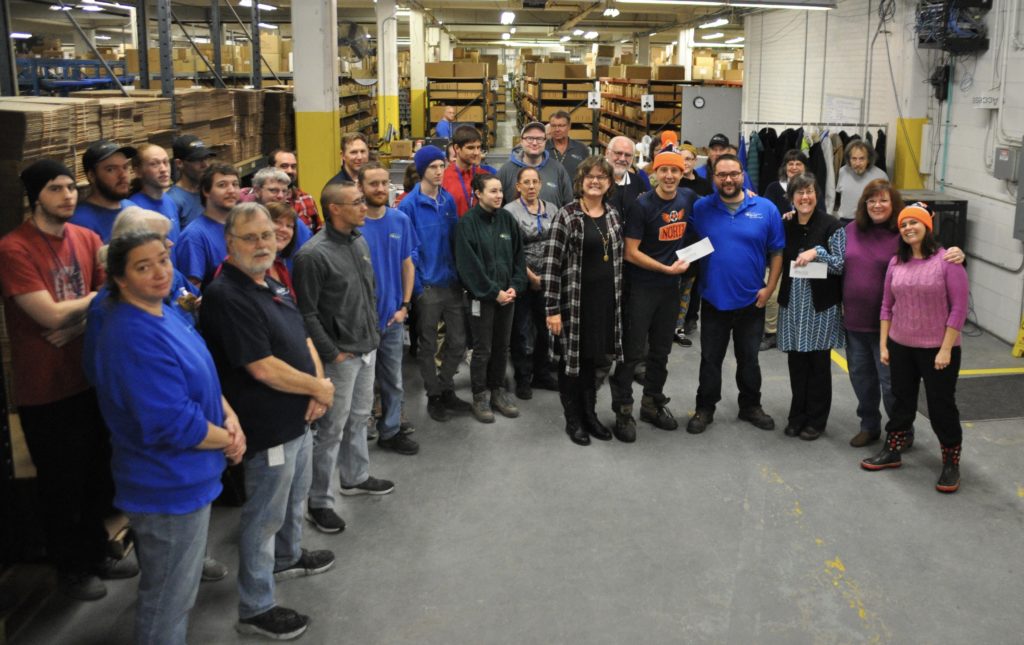 At a December reception in the eFulfillment warehouse, Linda Sorna, client care team manager and chairperson of the charitable giving committee and Mike Claycomb, warehouse manager and a member of the committee presented checks to representatives of Norte and Meals on Wheels.
"eFulfillment Service wanted to reflect the wishes of our entire organization in our giving this year," says John Lindberg, founder and president of eFulfillment Service. "So our committee developed a process to collect and prioritize the staff's wishes."
Ty Schmidt, executive director of Norte, thanked the employees and shared Norte's recent accomplishments and future goals, providing bikes for Northern Michigan's youth.
And Jennifer Watkins, program specialist for Meals on Wheels, explained that the donation would mean more than 200 meals to the area's senior citizens who not only are home bound and may not be able to cook nutritious meals for themselves, but are also isolated and look forward to daily contact.
With Santa and several adoptable pets on hand, Paula Batzer, eFulfillment Service controller, went to an AC PAWS adoption event at PetSmart to present the check to Renae Hanson, a volunteer at the organization.
Choosing the Organizations Involved All Staff
This fall, employees nominated a long list of groups that were important to them. The eFulfillment Service charity committee vetted the nominations. To be eligible, nominated organizations had to benefit the Northern Michigan community and be 501(c)(3) non-profit organization.
In November, the entire staff got together for pizza. Each employee voted for one organization in each category, reducing the list of 15 eligible organizations to 3 recipients. eFulfillment Service has more than 120 employees year-round in the Traverse City location and everyone was encouraged to participate.
About Norte
Norte is the Grand Traverse region's bike-centric, youth-focused advocacy organization. Its mission is to help build stronger, better connected and more walk/bike-friendly communities by empowering the young and young at heart.
About AC PAW
AC PAW was founded to give animals in northern Michigan a second chance at life. Since 1995, AC PAW has rescued more than 9,500 dogs and cats and has placed them into loving homes.
About Meals on Wheels
Meals on Wheels of Northwest Michigan delivers so much more than a nutritious daily meal to our frail, homebound seniors who are unable to prepare meals and often alone. Compassion, companionship and peace of mind is another kind of nourishment that we provide for seniors in Grand Traverse, Leelanau, Manistee, Missaukee and Wexford counties. Meals on Wheels enables folks to live with independence and dignity in their own homes.
Other Articles, Services & Blogs
eFulfilment Service Supports STEM & More
A Real Artist Ships: eFulfillment Service's Vision for Future
EFS First Responders Raise Safety Standards