Free Storage Offer from eFulfillment Service Is to Aid in COVID-19 Relief Efforts
Traverse City, MI (March 26, 2020) eFulfillment Service announced today that it will provide free storage to any producer of medical supplies to help the world overcome the COVID-19 pandemic, as long as the company has space available in its fulfillment center.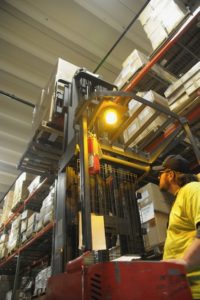 "Medical facilities everywhere are struggling to get what they need to fight the coronavirus, and shortly, manufacturing will respond with ramped up production," explains John Lindberg, founder and President of eFulfillment Service. "That new inventory will need to be quickly and efficiently shipped to the places that need it. And eFulfillment Service is well prepared with the processes, equipment, trained work force and available space to provide those order fulfillment services."
eFulfillment Service currently serves hundreds of ecommerce clients from warehouses in Northern Michigan with more than 250,000 square feet of space, optimized for pallet storage as well as inventory processes that fulfill orders of popular products quickly and efficiently.
"We have more than 10,000 square feet of available space, right now, that can be mobilized for any manufacturer providing medical equipment, and especially personal protective equipment," says Steve Bulger, Chief Operating Officer for eFulfillment Service. "We will waive our comprehensive client service fees and our inventory storage fees for a qualified manufacturer of medical supplies while the pandemic continues."
Medical manufacturers should email [email protected] for details and procedures for sending inventory to eFulfillment Service, or call Brett Driver, Sales Manager, at 866-922-6783.
Global Opportunity to Help
eFulfillment Service is in close proximity to Northern Michigan's health care facilities, operated by Munson Health Care. Additionally, with FedEx, DHL and the U.S. Post Office delivering and retrieving shipping trailers everyday, sometimes multiple times in a day, the offer is a global opportunity. During peak season, eFulfillment Service has been able to manage peak order volumes of 43,000 per week.
eFulfillment Service Team is Prepared
Already leading its industry, eFulfillment Service has a robust sanitization program to prevent absenteeism during the seasonal influenza season, and it has added aggressive measures beyond that program to lead the industry in protecting its ability to fulfill orders, especially for medical supplies, while safeguarding its labor force during the pandemic.
"We are looking to be part of the solution this world needs to heal," says Jordan Lindberg, executive vice president of eFulfillment Service. "We don't want any manufacturer to struggle with a business decision that would stall the production of medical products because the storage is too expensive. And to that end, we're encouraging our entire industry to step up and follow us."
Company management has expectations that Michigan's manufacturing community is already considering how to meet the needs of our medical community. With that in mind, eFulfillment Service stands ready, not only as a fulfillment center in a vital supply chain, but also to inspire others to seek out opportunities to serve.
About eFulfillment Service
eFulfillment Service (EFS) provides ecommerce businesses with inventory storage, order processing, shipping, Fulfillment by Merchant (FBM), Fulfillment by Amazon (FBA) Prep and returns service. Using our web-based system, ecommerce professionals can manage their business from anywhere: view inventory, send orders, check shipment status, request additional services, generate reports, and get support from our experienced team. Visit https://www.efulfillmentservice.com to learn more.