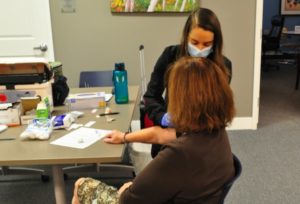 Traverse City, MI (October 27, 2020) – eFulfillment Service announced today that they successfully provided free flu shots, on-location at their fulfillment center warehouse and offices in Traverse City, to their entire staff and saw a 117 percent increase in participation from the previous year. eFulfillment Service intends to protect its workforce and the Northern Michigan community, preventing the flu from spreading from eFS team members to families at homes and then other workplaces.
eFulfillment Service has been providing free flu shots to its team for the past several years, in an effort to prevent absenteeism and maintain its service to clients. To encourage even more participation this year, the fulfillment center provided a free pizza lunch and $10 gift cards to participants at the fulfillment center. The incentives encouraged more than two times the participation over 2019's free flu shots.
Stardust Memorials shares building space with eFulfillment Service and is owned by eFulfillment Service's Executive Vice President, Jordan Lindberg. Stardust Memorials also offered free flu shots, protecting its workforce and the community, even further. The Stardust team also enjoyed the same incentives and saw more than half of their staff participate.
The two companies protected more than 40 employees from the flu, in addition to a handful that had already been vaccinated, bringing the total closer to 50 people.
"Working through an illness is no longer an option. In the midst of the COVID-19 pandemic, anyone who becomes ill must stay home and they must stay home longer than they may have in previous flu seasons. Our goal is to eliminate that stress on our workforce by providing prevention on-site, at no cost and with added incentives," says Lindberg.
"In these times we've learned how important health is to the workforce. Having to work around the absence that's created by illness is inefficient and that's why preventing it is so essential," explains Lindberg.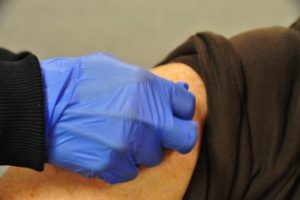 "We're also actively encouraging other local businesses to do the same. Stopping the flu from entering the workplace also prevents it from going home to families and further impacting the community."
About eFulfillment Service
eFulfillment Service (EFS) is a third-party logistics provider (3PL) and provides ecommerce businesses with inventory storage, order processing, shipping, Fulfillment by Merchant (FBM), Fulfillment by Amazon (FBA) Prep and returns service. Founded in 2001 by John Lindberg, eFulfillment Service was designed for multi-channel merchants, allowing them to ship direct to consumers (D2C), and now integrates with more than 40 popular shopping cart platforms and online marketplaces, including Amazon, Walmart, Shopify and WooCommerce. Using our web-based system, internet retailers can manage their business from anywhere: view inventory, send orders, check shipment status, request additional services, generate reports, and get support from our experienced team. Visit https://www.efulfillmentservice.com to learn more.