Traverse City, MI (December 10, 2020) – eFulfillment Service (eFS) announces today the second date of COVID-19 testing for its staff will be Monday, December 21st and is planned to be a regular process until there is widespread vaccine available. eFS is providing free, on-location COVID-19 testing to their ecommerce operations team of more than 120 people. eFulfillment Service intends to protect its workforce and the Northern Michigan community by offering testing every other week; the goal is to catch any COVID-19 cases early and to get those who may test positive quarantined so fulfillment center employees remain safe along with their friends, family and the greater community.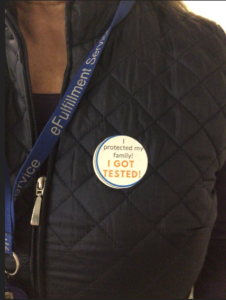 President of eFulfillment Service, John Lindberg has been working diligently to keep up a COVID-free warehouse. "Our team has been told for the past several months to stay home if they're sick. Now, employees who could present as asymptomatic can access COVID testing, on the clock, for free," says Lindberg. "Having coordinated the partners and test kits to be able to provide this benefit is something we're very proud of and we intend to set an example for other businesses."
The first round of testing took place on the afternoon of Wednesday, December 9th. More than half of the online order operations team voluntarily participated in the COVID-19 test which was an easy nasal swab. The process, from check-in to "I protected my family" sticker, was 3-5 minutes.
A few seconds of discomfort and a few minutes out of their day, provides peace of mind to not only the team members, but also to the family and loved ones at home. Test results are processed by a Vibra Health Lab in Troy, Michigan which allows for a quick turn around of results of 5-48 hours.
The holiday season is the busiest time of year for the Northern Michigan fulfillment center, as thousands of internet orders come in and out of the ecommerce fulfillment warehouse daily, providing consumers with what they need in time for holiday celebrations. The high volume of online orders requires a large team to pick, pack and ship those orders to consumers. "We added more than 40% more staff than we usually hire to handle holiday peak volumes, in anticipation of higher numbers of ecommerce orders, caused by the pandemic," shares eFulfillment Service's Chief Operations Officer, Steve Bulger.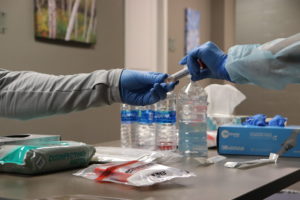 While social distancing, face masks, and a robust sanitation program, have been practiced in eFS operations since March, testing provides more assurance that COVID-19 stays out of the eFulfillment Service warehouse and out of Northern Michigan homes.
About eFulfillment Service
eFulfillment Service (eFS) is a third-party logistics provider (3PL) and provides ecommerce businesses with inventory storage, order processing, shipping, Fulfillment by Merchant (FBM), Fulfillment by Amazon (FBA) Prep and returns service. Founded in 2001 by John Lindberg, eFulfillment Service was designed for multi-channel merchants, allowing them to ship direct to consumers (D2C), and now integrates with more than 40 popular shopping cart platforms and online marketplaces, including Amazon, Walmart, Shopify and WooCommerce. Using our web-based system, internet retailers can manage their business from anywhere: view inventory, send orders, check shipment status, request additional services, generate reports, and get support from our experienced team. Visit https://www.efulfillmentservice.com to learn more.