Fragile Items: A Guide for FBA Prep and Ship
Amazon isn't known for being easy to work with. There are a multitude of specific FBA packaging and prep requirements Amazon expects internet retailers or their fulfillment partners to meet. If sellers fail, they risk costly penalties and fees. FBA prep and ship requirements for fragile items are no different—there are many rules sellers should know (and adhere to) in order to find success as a merchant utilizing Fulfillment by Amazon (FBA).
Note: Some Amazon sellers have success by working with a professional FBA Prep services partner, a third-party logistics (3PL) company that is an expert in keeping up-to-date with Amazon's rules and industry best practices. For sellers considering such a partnership, make sure your fulfillment service gives you good advice on how to make sure your products stay intact after bouncing around Amazon's warehouse conveyors and robots.
What Makes a Product Fragile?
Obviously, fragile items are those that are easily broken or damaged. Brittle products, too, have the ability to get damaged when not handled properly. Beyond glass, porcelain and ceramics, look at items that can be scratched, bent or scuffed. They might be common everyday items or unique items such as antiques or collectables. But even sturdy materials, like wire that can be crushed  or high-gloss surfaces that can be scratched are fragile in the wrong package.
Ecommerce Definition: Amazon Fragile Packaging Requirement:
The definition of an Amazon fragile packaging requirement is a specific rule Amazon Sellers must follow when storing and shipping fragile products through Amazon. These requirements vary depending on the category the fragile product falls under and are in place to ensure human safety and prevent product damage. Failure to comply with Amazon fragile packaging requirements can result in costly delays and devastating fees. Examples of Amazon fragile packaging requirements include tightly enclosing fragile items in bubble wrap and/or a six solid-sided box without any part of the product being exposed and making sure properly packaged products can pass Amazon's 3-foot drop test.
Not all fragile items are made from the obvious breakable materials. It's also important to consider delicate items made from materials that are easily crushed or damaged when heavy items are stacked on top of them. Imagine a situation where a product is being shipped in a plastic mailer and it's sitting at the bottom of a bin with boxes of bowling balls on top—will it survive unharmed? If the answer is no, then it's fragile and it needs to be packaged accordingly.
Examples of fragile items:
Glassware
Pottery/ceramics (vases, mugs, bowls, flower pots, etc.)
Notebooks with wire binders
Laboratory equipment
Computer equipment
TVs
Picture frames
Glass coffee carafes
Tiles
Sports memorabilia
Musical instruments
Porcelain figurines
Books with high gloss covers that can scratch
Leather items that can be scuffed
Ecommerce Definition: FBA Prep & Ship Services:
The definition of FBA prep and ship services are those services that help Amazon Sellers meet the inflexible rules Amazon imposes on merchants selling online products via Fulfillment by Amazon. These services are offered by professional fulfillment centers, like eFulfillment Service, that know how to navigate the FBA system in order to ensure Amazon Sellers avoid costly penalties and fees. FBA prep and ship services vary by 3PL, but can include any combination of the following: inspection, storage, labeling, kitting, packing, and shipping.
Amazon FBA Shipping Requirements for Fragile Items
Aside from following Amazon's packaging rules to avoid penalties and Amazon FBA fees, properly packaging fragile items will help keep your customers happy by ensuring they receive their online order in prime condition (no pun intended) and don't have to worry about returning something because it's damaged.
Keep in mind if you are constantly receiving returns and buyer complaints due to product condition issues, that could negatively impact your Amazon Seller account and potentially result in a poor reputation and removal of Amazon selling privileges.
If a unit is considered fragile, it must be completely enclosed in bubble wrap or packaged in a six solid-sided box to ensure safety during storage, prep, and shipping.
Download The Complete Guide to FBA Prep Service
Download our free Amazon FBA Prep Service Whitepaper to learn more about penalties, fees, risks, and best practices associated with Fulfillment by Amazon.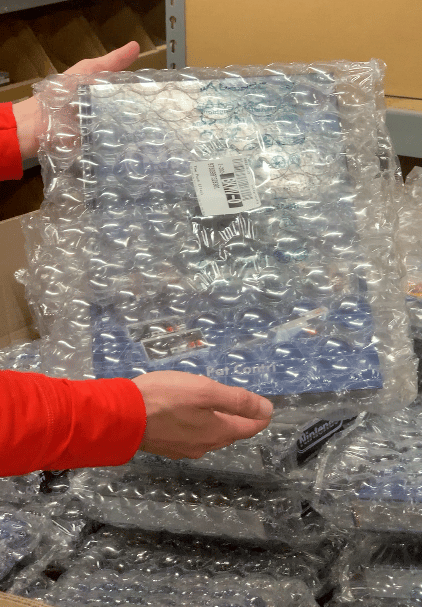 Bubble Wrap
All you need to do is throw some bubble wrap on that fragile item and you're good to go, right? WRONG … If using bubble wrap to ship a fragile item, do the following:
Wrap it tightly! Use tape to help secure bubble wrap around the item and be sure none of the item is exposed—it should be completely covered in bubble wrap.
Place a scannable barcode label on the OUTSIDE of the bubble wrap. If it's not easily visible and scannable you're in trouble.
Make sure the bubble wrapped item can pass Amazon's 3-foot drop test without breaking. If your product cannot pass this test after being bubble wrapped, then you'll need to place it in a box for extra protection (commonly referred to as over-boxing).
What is Amazon's 3-foot drop test? This is a test where an item is dropped on a hard surface in a variety of ways to see if the contents are secure or if they'll break. In order to pass this test, the item needs to survive multiple 3-foot drops from five different angles: flat on base, flat on top, flat on longest side, flat on shortest side, and on a corner.
Six Solid-Sided Box
If using a six solid-sided box, make sure the fragile item is completely enclosed and not exposed at all. Use infill inside the box to ensure there isn't any empty space around the fragile item—this practice will help prevent the item from getting damaged. Keep in mind when using a six solid-sided box, it must also pass Amazon's 3-foot drop test. 
If you or your professional fulfillment partner have concerns about your box popping open after a fall, the best practice may be to consider repackaging your product in another shipper. Oftentimes 3PLs will set up a kitting project to protect all your inventory at once, putting barcodes on the outside of the shippers. 
Your content goes here. Edit or remove this text inline or in the module Content settings. You can also style every aspect of this content in the module Design settings and even apply custom CSS to this text in the module Advanced settings.
Acceptable Packaging Materials for Breakable Items
In addition to using boxes and proper labeling, make sure you or your FBA Prep service partner understands what types of dunnage are permitted and not permitted by Amazon:
Keep in mind you can use packing peanuts, shredded paper, or grass as dunnage inside a box IF you are certain Amazon will not open the box inside their warehouse.
However, if you decide to use those materials and Amazon does open your box inside their warehouses, like during the receiving process, then beware because your shipments could end up in Amazon's problem-solving area and that's a nightmare you should try to avoid if possible.
Packaging Multiples of Fragile Items for Amazon
If the product you're selling contains multiple fragile items (i.e. sets of drinking glasses, wine glasses, ceramic bowls, etc.), be sure to wrap or box each item individually to ensure they don't damage each other during the fulfillment process. It's also a good idea to ensure there isn't any empty space in the package—you'll want to make sure the items can pass a vigorous shake test without anything getting damaged.

Fulfilling Dangerous Goods & Other Special Handling Considerations
Aside from the fragile items discussed above, sellers or their fulfillment providers  should also keep in mind requirements for handling sharp, liquid, and smelly items. While they may or may not be considered fragile and/or hazardous, these types of items tend to have the ability to cause damage and pose risks during the fulfillment process.
Exposed blades, especially those with points, can damage equipment while moving along conveyors, or worse injure warehouse staff if they fall or in the packing process.
Packing Sharp Items: Knives, Blades, Scissors, Metal/Pointed Edges, etc.
If you're selling a product that could potentially harm or injure someone, you need to make sure that those items are properly packaged to ensure safety. You can use bubble wrap and/or boxes to package sharp items—but you need to ensure that the item cannot cut or poke through the material you choose.
Amazon also suggests using blister packs. If you do this, make sure the blister pack covers any sharp edges and that they are fastened securely so that the sharp item doesn't move around within it.
Once the sharp item is prepared (bubble wrapped or boxed), you'll still need to place it in another box for added protection if it has the potential to puncture through packaging materials. Amazon calls this over-boxing and it's a requirement for these types of sharp items.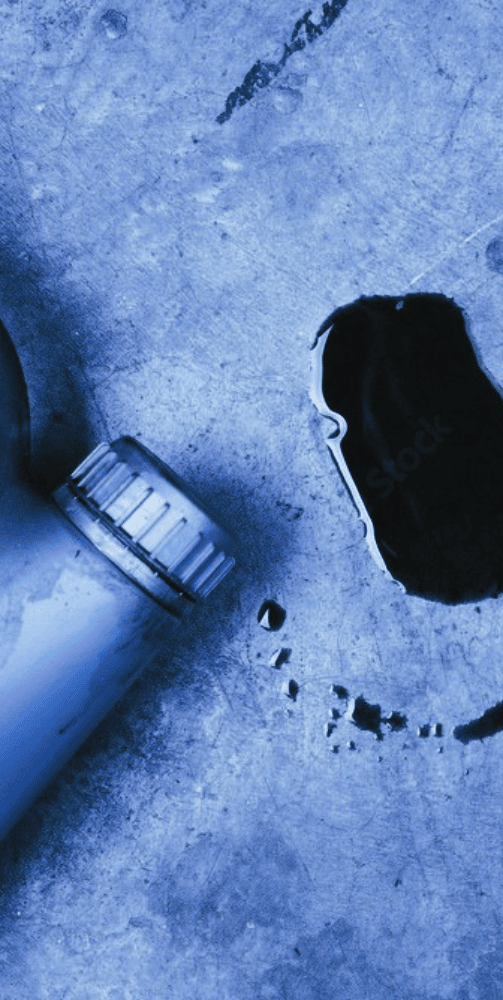 Sealing Liquids For Shipment—Including Pastes, Gels & Creams
Liquid items have the ability to cause damage to other products in the warehouse and need to be securely packaged to avoid leaking. Imagine your product being jostled as it travels through the hands of robots, on conveyor belts, and down slides or ramps. Pastes, gels, and creams also fall into this category. These items may or may not be considered hazardous and/or fragile.
Hazardous Liquids
Non-fragile container: Use a poly-bag.
Fragile container (4.2 oz or larger): Use a poly-bag, bubble wrap, and a box.
Fragile container (less than 4.2 oz): Use a poly-bag or bubble wrap.
Non-Hazardous Liquids
Non-fragile container: Use a poly-bag (NOTE: No bagging is required if it's double sealed and passes a drop test).
Fragile container (4.2 oz or larger): Use bubble wrap.
Fragile container (less than 4.2 oz): No prep required.
Packaging Smelly Items To Be Bearable
Anything that smells (whether hazardous, fragile, or not) needs to be wrapped properly to prevent potential harm to humans and damage to other products in the warehouse or during shipping.
Products that smell and aren't properly packaged can and will pose risks to other items sitting on the warehouse shelf around them.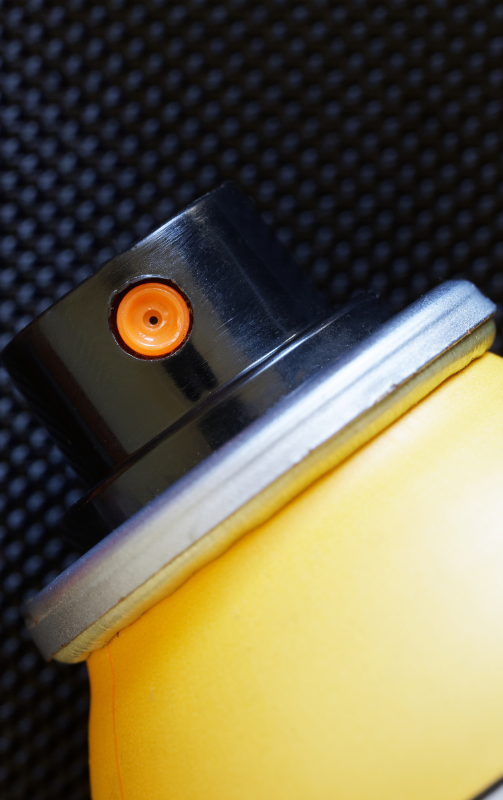 Strong odors from merchandise have the ability to permeate through many types of packaging materials and can potentially ruin other products that are nearby. Just like an onion in the refrigerator can make a cake taste off, consumers don't want their new socks smelling like pine cleaner, or their fishing vest to smell like vanilla candle.
It's all because of bears … No, really: bears. In the past, Amazon has had multiple incidents causing issues due to damaged or spilled products that were smelly and/or hazardous. Most notably, on multiple occasions, there were instances where Amazon workers were sickened after exposure to harmful fumes from damaged cans of bear repellent.
How to Get Help Packaging Fragile Items For Amazon
Need Help? Consider A Professional FBA Prep and Ship Center
If you're feeling overwhelmed by Amazon's rules, a third party logistics company (3PL) that specializes in FBA prep and ship services might be just what you need.
3PL's offer many beneficial Amazon FBA Prep Services that can provide peace of mind and free up valuable time necessary to maintain or grow your business. An FBA Prep and Ship Service Center can provide you with many options, including:
Kitting services (services ranging from simple collating to multi-component product assembly).
Amazon labeling service (3PL's know the proper Amazon FBA label size and placement requirements to satisfy FBA requirements).
Amazon inventory management  (3PL's can warehouse and manage your products, which can help you avoid long-term storage fees).
3PL's can help simplify the pick, pack, and ship process and offer valuable FBA expertise to help ensure you're following FBA prep and ship best practices. They can even help you figure out the best strategy to tackle Prime Day—check out our Tips for a Successful Prime Day 2022.
At eFulfillment Service we specialize in all things fulfillment including FBA Prep and Ship Services.  We make order fulfillment easy for our clients. We offer dependable technology, plus we back our first-rate service by our 100% satisfaction guarantee.
Most importantly, we provide our clients with straightforward easy-to-understand pricing:
Low Shipping
NO setup fees
NO order minimums
NO long-term storage fees
NO integration fees
NO tricky or hidden fees
NO long-term contracts
Reach out today to find out how we can help or to get a quote for FBA Prep Services. You can email, call (1-866-922-6783), or fill out our Free Quote Form.
Learn More About FBA Prep Services
Fulfillment by Amazon Penalty Fees Explained 
Includes info on weight limits, polybagging, labels and barcode penalties.