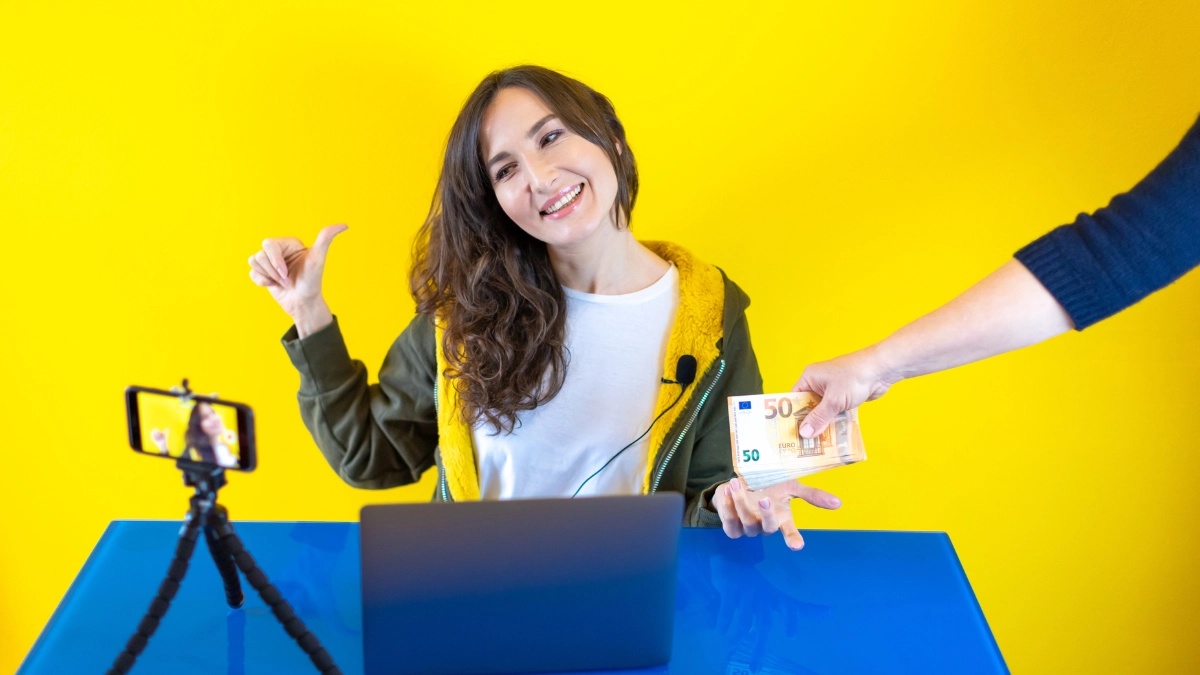 Influencers and content creators who wear their merchandise in promotional content tend to see their sales increase by 6x! That's just one reason why it makes sense (and cents) for creators to sell merchandise on YouTube, Instagram, TikTok, Twitch, etc. Selling creator merch allows influencers the ability to increase their revenue while also creating a stronger connection with their fanbase—a real win-win situation for all involved. Read on to learn more about the best merch companies for YouTubers, plus learn some helpful info for merch creators.
Best Merchandise for YouTube, Instagram, TikTok, Twitch, etc.

When it comes to YouTube merch there are many types of products out there that influencers and creators can use to sell their brand. However, not all are created equal. So, which YouTuber merch is the best?
Some of the best YouTuber merch are products that people use on a daily basis. Here's a list of some of the most popular merch examples YouTuber brands and others can customize and sell:
T-shirts

Hoodies

Sweatshirts

Sweaters

Hats

Socks

Cell phone cases

Pin buttons
Coffee mugs

Backpacks/Bags

Posters

Children's clothing

Underwear

Stickers
12 Best Merch Companies for YouTubers and Other Creators
What merchandise companies do YouTubers use? With plenty of merch vendors out there ready to sell custom YouTube merchandise, it can often be hard to decide which YouTube merchandise maker is the best fit. 
Below is a list of some of the best merch companies for influencers detailing their services and types of products they offer. These merchandise vendors know how to make merch for YouTube and understand what it takes to produce the coolest merch for creators.
Website: www.threadscustomgear.com
One of the best merch companies for YouTubers that eFulfillment Service has worked with is Threads. Having over 50 years of collective experience in the garment printing industry, Threads is a custom merchandise maker that offers a wide selection of products from well-known merch brands. Threads is on a mission to provide high-quality custom solutions while crushing industry average turnaround times. 
Services:
Screen printing

Digital printing

Custom embroidery

Branding services

Graphic design support

Warehouse

services
Merch Categories:
T-shirts (¾, crew, long sleeve, v-neck, etc.)

Outerwear (fleece, jackets, puffers, etc.)

Wovens/dress shirts

Polos/sports shirts

Sweatshirts/sweatpants

Accessories (aprons, bags, blankets, chairs, gloves, socks, underwear, etc.)

Personal protection (face coverings, vests, workwear, etc.)

Headwear (beanies, visors, fitted, etc.)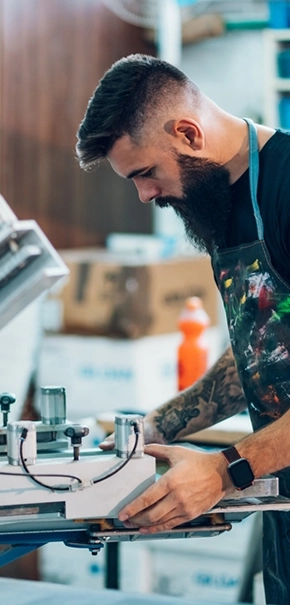 ​What is the best company for merch? 
Since there are so many YouTube merch maker companies out there, it can often be challenging to figure out which is best. Consider utilizing a company like Threads that knows how to create the best YouTube merch paired with a professional award-winning fulfillment center like eFulfillment Service.
eFulfillment Service has a partnership with Threads which allows us to get special pricing on merch for YouTubers. Plus, since Threads is located nearby, there's no real cost for inbound freight.
Fill out our free quote form to find out how Threads + eFulfillment Service can up your YouTube merch game!

Website: www.designashirt.com
With its origins dating back to the early '80s, DesignAShirt eventually came to be at the hands of John Anton who started out selling t-shirts at Arizona State University events. Over the years, his merch business has evolved and now offers a variety of custom products and services.
Services:
Digital printing

Screen printing

Embroidery

Heat transfers
Merch Categories:
T-shirts

Outerwear 

Athleticwear

Businesswear

Specialty (aprons, bags, totes, hats, towels, etc.)

Website: www.uberprints.com
Based out of Georgia, UberPrints is a merchandise company that has been in the custom products industry since 2005. They back their work with a money back guarantee and make creating custom t-shirts easy with their online interactive design studio. 
Services:
Screen printing

Digital printing

Embroidery
Merch Categories:
T-shirts

Sweats & hoodies

Hats / beanies

Polos

Bags

Aprons

Dog t-shirts

Face masks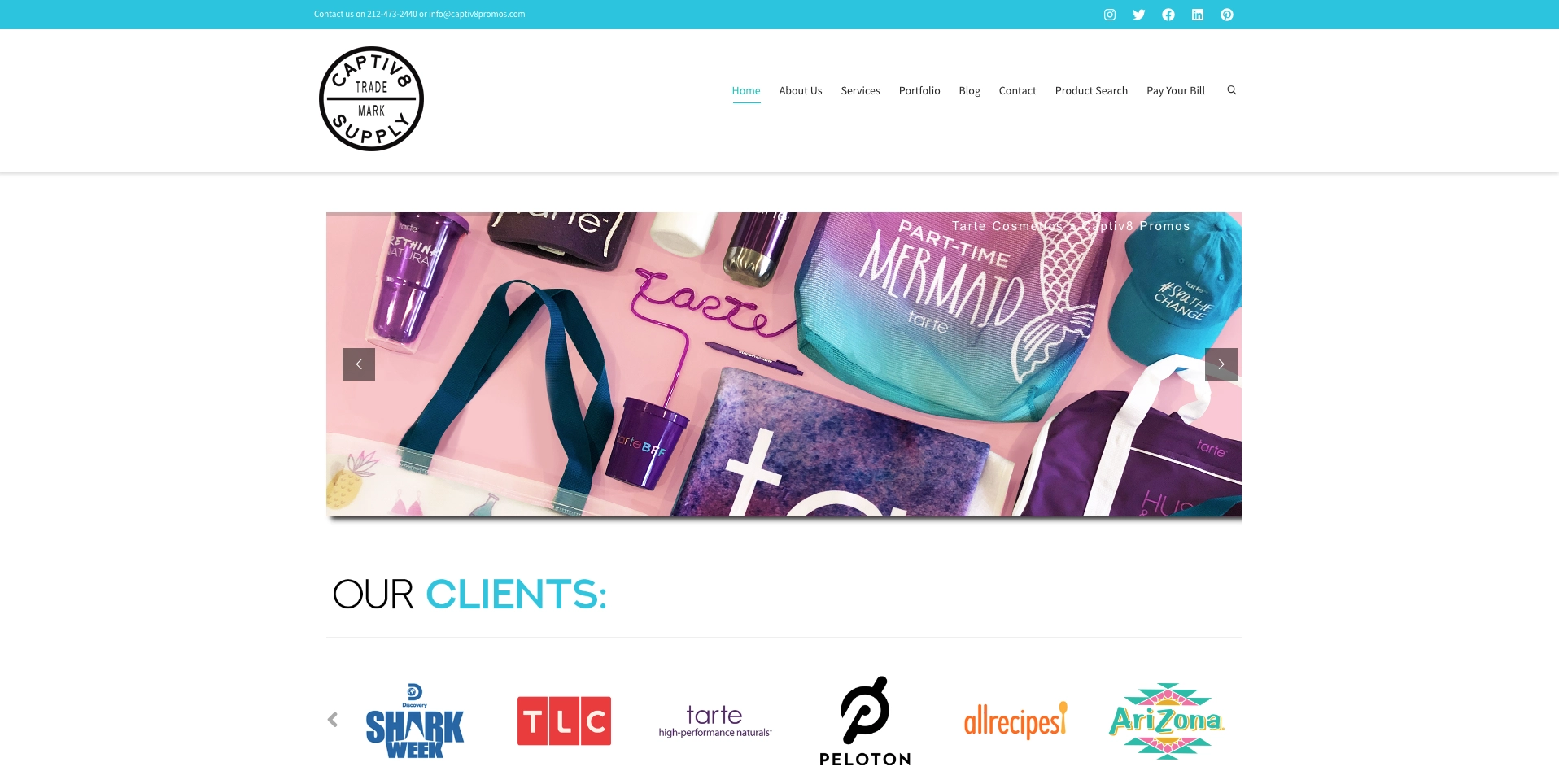 Website: captiv8supply.com
Known as an industry leader among branded merchandise companies, Captiv8 Promotions strives to create fairly-priced quality products while at the same time providing top-notch customer service. They boast a selection of over a million different products and recommend customers contact them directly for help with choosing the best product for their brand.
Services:
Silk screening

Embroidery

Logo creation

Domestic/overseas sourcing

Safety testing/compliance

Company webstores

Warehousing services

Website: www.awesomemerchandise.com
Awesome Merchandise is a custom merch maker that operates from two locations (one in Leeds, UK, and one in Austin, TX) and are composed of over 100 print and merch experts. One thing to note is that they require payment prior to their creative team accepting artwork/designs. 
Services:
Custom merch, print, and clothing
Merch Categories:
T-shirts

Bags & totes

Business cards

Stickers

Posters

Flyers & leaflets

Art prints

Postcards

Koozies

Notebooks

Greeting Cards

Mugs

Etc.
What is a Merch Maker?
The definition of a merch maker is a company that provides software that allows people to design and create their own custom merchandise. Oftentimes, creators and influencers use merch makers to produce products related to their brand to market and sell to their fanbase.

Website: www.promodirect.com
Founded in 1991, Promo Direct's headquarters is located in the United States and they also have global offices in China, India, and the Philippines. They offer huge discounts on many high-quality brand name products and will beat any competitor's advertised price. 
Services:
Screen printing

Embroidery
Merch Categories:
Apparel (t-shirts, sweatshirts, caps, etc.)

Auto, Home & Tools (flashlights, keychains, kitchen items, etc.)

Bags (backpacks, duffels, cooler bags, etc.)

Calendars

Food

Drinkware (bottles, mugs, tumblers, etc.)

Health & Wellness (face coverings, lip balm, stress balls, etc.)

Office & Gifts (magnets, desk accessories, stickers, etc.)

Outdoor & Leisure (sunglasses, umbrellas, chairs, etc.)

Stationery & Folders (notebooks, journals, signs, etc.)

Tech & Electronics (tech bags, cell phone accessories, mouse pads, etc.)

Toys & Novelties (fidget spinners, bracelets, balloons, etc.)

And more!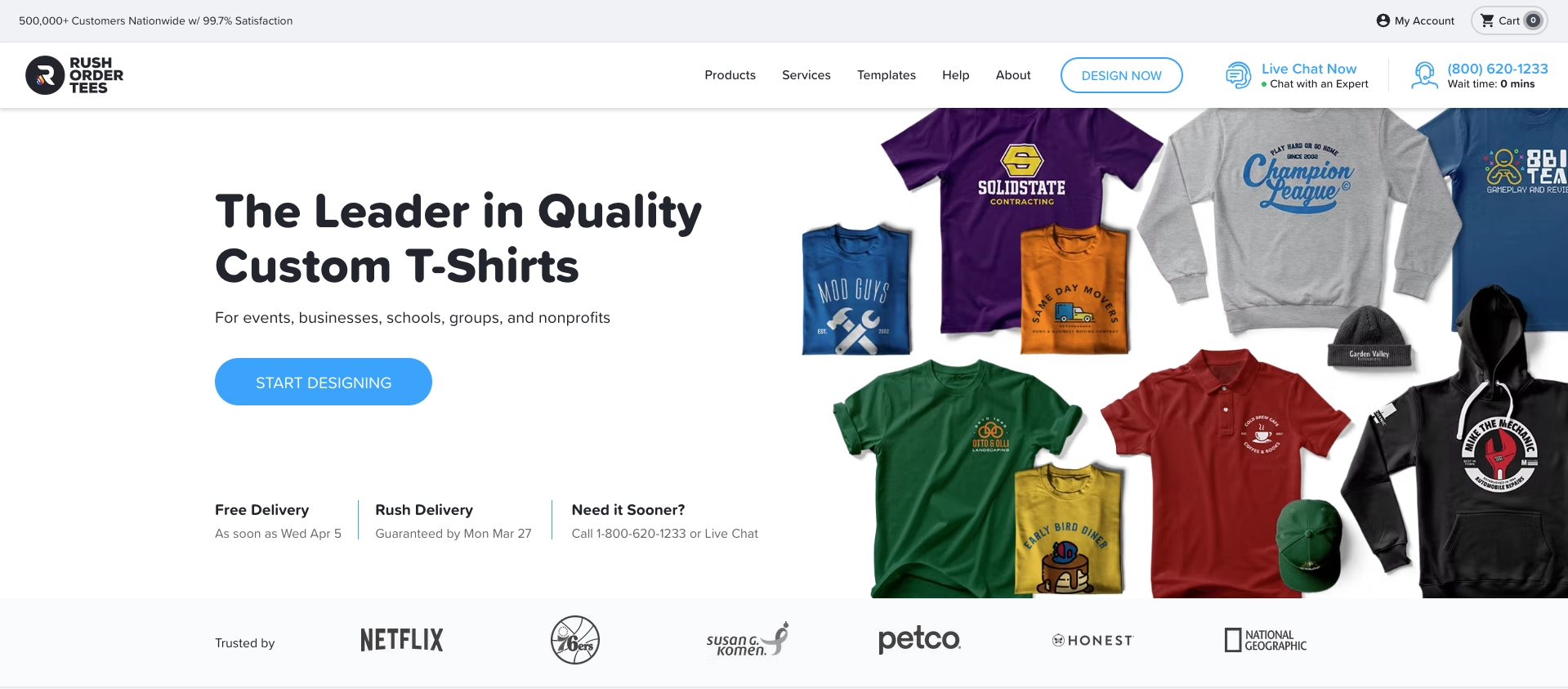 Website: www.rushordertees.com
Started out of a garage in 2002 by three siblings, RushOrderTees has evolved into a business that boasts their ability to create and deliver high-quality custom products fast. Their team of 225+ are made up of artists, print experts, and embroidery experts. 
Services:
Screen printing

Embroidery

Digital printing 

Tackle twill

Vinyl services (PermaPress printed, foil, etc.)

Design review & repair
Merch Categories:
T-shirts

Sweatshirts & hoodies

Hats

Drinkware

Tech accessories

Bags

Towels

Patches

Jackets

Activewear

Business apparel

Polo shirts

And more!

Website: www.spreadshirt.com
Founded in 2002 in Germany, Spreadshirt has branch offices in the USA and Germany and production sites located in the USA, Germany, Poland, and the Czech Republic. In addition to offering many different print types—Silkscreen, Digital-Direct, Flex, Flock, Thermo—they also do custom embroidery. 
Services:
Design services

Bulk orders
Merch Categories:
Clothing (t-shirts, hoodies, sweatshirts, polos, jackets, PJs, etc.)

Accessories (hats, bags, phone cases, bandanas, neck gaiters, etc.)

Home & living (mouse pads, water bottles, mugs, stickers, magnets, etc.)
Website: www.brokenarrowwear.com
Broken Arrow Wear has been creating custom apparel since 1989. They offer free 6-day standard delivery, no setup or digitizing fees, 100% money back guarantee, and a customer service team that cares.
Services:
Screen printing 

Digital printing

Special effect printing

All over printing

Rhinestones

Embroidery

Relabeling/tagless labels

Folding & bagging

Custom art service

Fundraising
Merch Categories:
Koozies

Towels

Bags

Aprons

Bandanas

Blankets

Coolers

Scarves

And more!
What is Merch Fulfillment?
The definition of merch fulfillment is the process involved from start to finish to deliver merchandise to a customer after they've placed an online order. Merch fulfillment steps include picking merchandise from inventory, packing (including labeling with tracking info), and shipping merchandise to fans. On top of that, the merch fulfillment process also includes customer service and return management.

Website: www.clothes2order.us
Clothes2order is a merch company in the UK that launched in 2000. They ship custom merchandise to the UK, a wide range of European countries, as well as the USA, Australia, Canada, Dubai, New Zealand, Thailand, and South Africa.
Services:
Embroidery

Direct-to-garment printing

Vinyl printing 

Screen printing

Versacamm transfer printing

Direct to film printing
Merch Categories:
Clothing (t-shirts, polos, hoodies, etc.)

Jackets & fleeces 

Hi-vis workwear

Caps & hats

Bags

Accessories (Bathrobes, scarves, towels, soft toys, etc.)

And more!

Website: www.everythingbranded.com
They claim their business name says it all … They literally brand everything! Boasting a catalog of over 100,000 different products that can be customized, creators shouldn't have any problems finding exactly what they're looking for to best represent their brand.
Services:
Merch Categories:
Writing (pens, pencils, etc.)

Drinkware (mugs, water bottles, etc.)

Bags (backpacks, shopping, laptop, beach, etc.)

Keychains

Tech (phone/tablet cases, phone accessories, PC accessories, etc.)

Exhibitions (stress balls, lanyards, wristbands, etc.)

Paper & Desk (notebooks, calendars, desk items, etc.)

Apparel (tops, bottoms, jackets, caps & hats, etc.)

Lifestyle (umbrellas, homeware, pets, garden, sports, etc.) 

Eco (outdoor, desk items, bags, etc.)

And More!

Website: www.vistaprint.com
Most notably known for business cards, VistaPrint actually offers a wide variety of customizable products. They make it easy to quickly create the right product depending on the needs of the customer.
Services:
Custom merch

Design services

Websites & digital marketing
Merch Categories:
Business cards

Clothing & bags

Signage

Marketing materials

Calendars

Labels & stickers

Packaging

Drinkware

Household (beauty, bath, blankets, keychains, lighters, etc.)

Leisure (Beach items, chairs, games & toys, sunglasses, towels, etc.)

Snacks

Technology (cell phone accessories, mouse pads, USB drives, etc.)

Writing & office (lanyards, clocks, magnets, pens/pencils, etc.)

And more!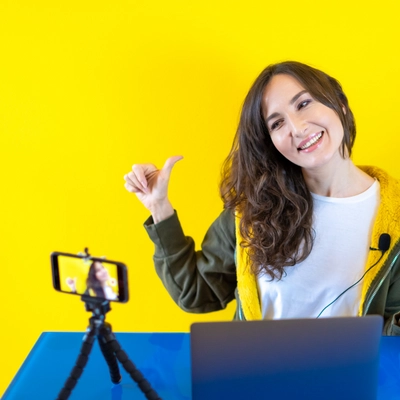 Want to learn about how to increase merch sales?
On top of partnering with one of the best merchandising companies to source cool YouTuber merch, there are other ways for YouTubers with merch to grow their brand and increase profits.
Utilize a 3PL: Mix & Match Merch Suppliers to Create the Ultimate Store
Influencers and creators are often busy making and sharing content on a regular basis which means they usually don't have much time to put towards selling merchandise on YouTube. That's where a reputable third-party logistics (3PL) partner can step in and help out with merch fulfillment.
On top of offering many valuable merch fulfillment services (i.e. pick and pack, shipping, tracking, returns processing, etc.), utilizing a professional fulfillment center also allows influencers to gain more flexibility around the creator merchandise they sell. When looking for merch companies for YouTubers, creators can mix and match suppliers if fulfillment is done through a 3PL which allows them to build the best offering of the coolest YouTuber merch for their fanbase. 
Find a 3PL Partner That Knows YouTuber Merchandise
Consider partnering with an experienced professional 3PL company like eFulfillment Service that knows how to work with merch companies for YouTubers. Having worked with many up and coming content creators as well as some of the biggest names on the internet, we know what it takes to help our clients find success selling merch on YouTube.
 eFulfillment Service offers everything needed to create merch and monetize content, including:
Product sourcing

Print on demand

Screen printing

Warehousing and storage

Pick and ship

Returns
Merch Fulfillment in 4 Simple Steps
At eFulfillment Service, we make slinging swag easy for influencers and content creators. Not only do we offer a variety of helpful fulfillment services, we also make the merch fulfillment process simple for our clients. 
STEP #1 – Easy Tech Integration: Our free shopping cart integration allows our clients the ability to view their inventory, orders, and shipments in real time.
STEP #2 – Ship Swag to Us: Gather all the good merch that needs to get to fans and send it to our warehouses.
STEP #3 – Relax While Our Team Handles Merch Fulfillment: Sit back while our trusted team receives and organizes the merch into our warehouses. On top of that, we take care of processing, packing, shipping, and tracking all customer orders.
STEP #4 – Start Promoting Merch in Content: Put on that merch and make content to promote it to fans. Be sure to show what it looks like, explain why the designs were chosen, and how purchasing the swag supports future content.
Learn more about how we can help with content creator and influencer merch fulfillment

.
Screen Printing vs. Print On Demand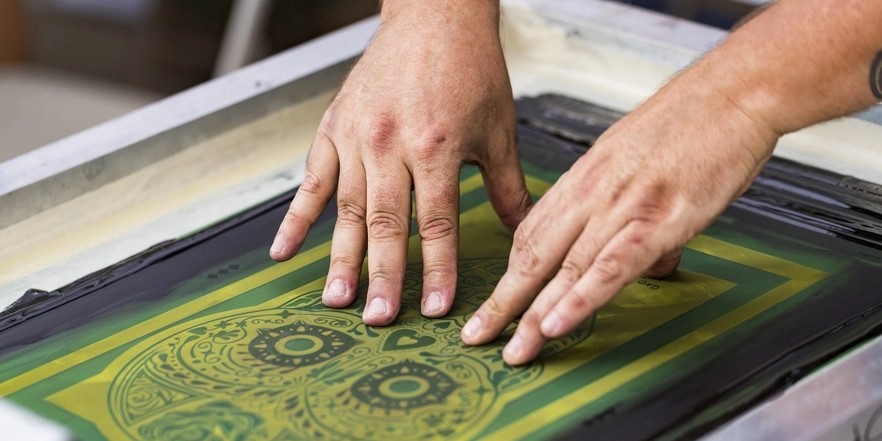 Two of the most popular printing methods are screen printing and print on demand (POD). Merchandise makers use either of these methods to print designs on fabric, glass, paper, plastic, wood, metal, etc. 
Screen printing is a process that uses a mesh screen and layers of thick ink to transfer a design onto a surface (similar to a stencil). In today's world, many internet sellers and retailers utilize silk screen printers which have automated systems that can produce high-quality, long-lasting designs. On the flip side, POD is a process that uses a direct-to-garment printer to transfer designs onto a surface. POD operates similarly to an ink-jet printer. 
While merch companies are often tempted to use POD because of the ability to order in small quantities with little up-front investment, screen printing tends to be the better option for a multitude of reasons:
Screen printing yields higher-quality products and is better at exact color matching (which is good for

online merchants

as this tends to yield happier customers). 

Screen printing can be used to print on a wider variety of materials than POD. 

YouTubers who have merch

that use screen printing can get better pricing when ordering in bulk.

Screen printing is better at exact color matching and producing more vibrant colors/contrast. This can help

merch from YouTubers

stand out among their competition.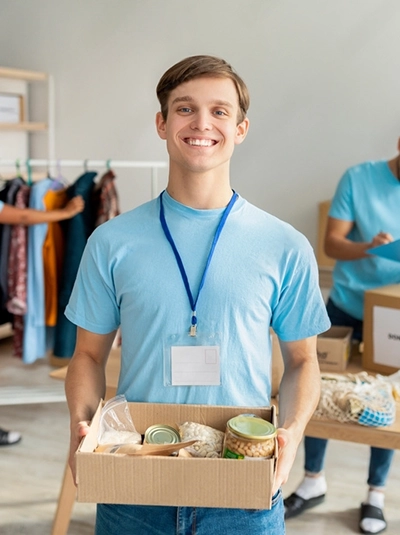 Consider This: Merchandise Creators with a Cause
There are many kinds of creators out there which can make it hard to stand out from the crowd. That's where creators who have a cause behind them can really set themselves apart from their competitors. 
Some brands make merch and sell it to their fanbase via an online merchandise store to support a cause that means something to them. Fans love to purchase influencer merchandise and they feel even better about it when they know their purchase helps support something important.
Do you have other recommendations or tips for creating awesome YouTuber merch? Let us know in the comments below! We'd love to hear from you.