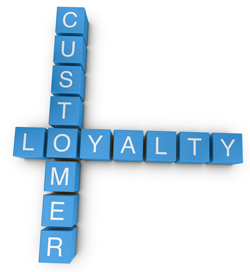 As an online seller, you know how important order fulfillment is. It's the last hurdle you have to overcome in order to satisfy your customer, a customer that probably had at least a dozen options when shopping online, and they chose you.

Product fulfillment can separate you from your competition. It can mean the difference between a good seller rating and a poor seller rating within various sales channels. And, perhaps most important of all, it's an opportunity to leave a positive impression and take advantage of a rare moment when you have your customer's undivided attention.

In this post, we'll cover a few different ways that online retailers can use order fulfillment as a way to gain repeat customers and improve loyalty, starting with something that may seem obvious….
Coupons
Coupons can be a great way to incentivize repeat purchases. Of course, you could always email your customers coupons, or put them on your website, or maybe even place them on one of the countless coupon sites out there.

But with order fulfillment, it's different. All of the clutter and noise has been removed. For a few brief seconds, when your customer is opening your package, they are locked in to your brand, and your products.

As an online seller, there are a variety of coupons you could try. And that's the important part….try, test, analyze, change it up, retest. See what works best. There are a lot of different types of coupons you can use, and here are a few basic examples:
$5 off your next purchase
10% off your next purchase
Free shipping with your next purchase
You can of course get more creative, such as tailoring the coupon to the items purchased, but that adds complexity. Here are a few other things to remember with coupons…..
Make them short, sweet, and easy to understand
Make them special, meaning it's not something they can find on your website at any time
Track them using codes and even dedicated landing pages that aren't part of your other marketing efforts
If you don't think coupons are the way to go, then another option is to showcase more of your products with catalogs and/or brochures.
Catalogs
Chances are, when your customer purchased from you, they were on a mission to find a particular product, which means they probably overlooked a big part of your inventory.

It's safe to assume, however, that your customer liked something about your business, whether it was price, selection, or service. So by including product catalogs as part of your order fulfillment strategy, you're basically telling your customers…."Hey, there's more where that came from!"

Of course, catalogs aren't that cheap to produce, which is why, instead of full catalogs, many retailers will instead choose to insert brochures that feature certain products into their orders, and maybe even combine those brochures with coupons. It's cheaper, and often as effective.

If you have a big catalog, though, it's important to know your audience, as you don't want to be marketing irrelevant products. So, just like with coupons, the more creative and relevant you are, the more complex it becomes.
Samples
Who doesn't love free samples?

Product samples are a great way to introduce products to your customers. They may not work for every eCommerce seller, like if say you only sell home theater equipment, but even then, you can get creative and come up with a way provide some type of example of your product.

Product samples can be pertinent to the season or time of year. They can be used to promote new products. They can be used to promote products related to those that were purchased by your customers. You can even include samples of the same items purchased by your customer, with the intent that they'll share with friends and family.

Again, with personalization comes added complexity, so it's a good idea to look at your historical order data, factor in your inventory and future sales goals, and come up with a plan that makes sense for you.

In today's hectic, fast-paced world, it's not easy to grab your customers' attention. But with the right eCommerce fulfillment strategy, you have that opportunity. Make the most of it.

If you're in need of a dependable order fulfillment center and would like to talk with us about your needs, let us know, we'd love to have a chat.