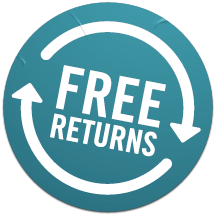 I recently wrote a post entitled, How Much to Charge for Shipping?

It's an important question for online sellers. But you know what's often as big of a deal for online shoppers that I feel doesn't get the attention it deserves? Free and easy returns.

I'm constantly bombarded with questions and content surrounding free shipping; however, I rarely come across anyone talking about the importance of a lenient returns policy.

Granted, returns is more significant with certain kinds of products, like apparel and footwear. It's also a bit more critical during the holidays. In general, though, online shoppers are becoming more savvy, they have more choices, and they're placing higher value on a convenient returns policy.
Let's Look at the Facts
Last year, comScore released a major study after surveying thousands of online shoppers. It found that a lenient returns policy is more important than free shipping when it comes to overall customer satisfaction.

I know, it may seem surprising at first, especially with as much attention as free shipping gets. But, when you think about it, the major drawback to online shopping is the inability to examine products before you buy, which is why "showrooming" has become so popular.

Even if an online retailer has great product photos and reviews, many times consumers aren't 100% sure if the product is exactly what they're expecting, so they roll the dice each time they make an online purchase. A lenient returns policy acts as a safety net of sorts.

Here are a few other significant findings from the comScore study….
63% of the respondents said they review a seller's returns policy before purchasing
48% said they would shop more often with an online seller if they had a lenient, easily understandable returns policy
Another 48% of respondents said they would recommend the retailer to a friend
What's the golden word when it comes to sales? Referrals! This study shows that not only do retailers have an opportunity to close more sales with a flexible, friendly returns policy, it's also a way for them to generate new referral business.
The eCommerce Boom = New (and Skeptical) Online Shoppers
Let's look at a stat from another study. According to an April 2013 study by eMarketer, ecommerce sales in the U.S. will grow nearly 15% per year over the next 5 years.

You know what that means? It means more people buying online for the first time. And a new online shopper is generally a wary online shopper, meaning that the safety net of a lenient returns policy is going to carry even more weight with those first-time buyers.
What Does "Lenient" Mean?
When shoppers say they want a more "lenient" returns policy, what exactly do they mean?

Well, according to the study, 62% of respondents said that including a return label with the original order is a big part of creating the best returns experience. 61% of consumers felt that being able to easily print a return label is important.

A growing expectation among consumers is that they'll be able to ship back a return or exchange at no charge to them. That's right. Now we're not just talking free shipping, but also free returns.
Yes, It Can Be Expensive
Depending on what you sell, offering free return shipping can be a pricey endeavour. Apparel and footwear sellers, for example, may see a return rate as high as 30%. For many other sellers, however, they experience closer to a 3-5% return rate.

Just like with other promotions, offering free return shipping would require you to first dig into your order history to estimate what it will cost you throughout the year. I'd recommend doing an aggregate of the whole year, and then also separate holiday returns so you can see those by themselves.

The next step would be to forecast the additional sales you may see from this type of promotion. That, of course, can be tough to do, and is based partly on your customer base, your competition, as well as how heavy you market such an offer. In the end, it simply requires testing.
It's a Trust Thing
As an avid online shopper, I can honestly say that when a retailer that has a lenient returns policy, it goes a long way. And here's why.

To me, a retailer with a consumer-friendly returns policy is one that stands behind their brand, and their products. I put a greater amount of trust and security in those retailers, and, as any seller knows, trust and security lead to sales.

I also believe that a lenient returns policy forces an online seller to step up their game. If they have low quality products, they'll get rid of those products. If they have poor product images, they'll get better ones. If they have a lot of errors with their order fulfillment, they'll fix it.
And based on the statistics above, it's clear I'm not the only one who thinks this way.
Tips for Implementing Free Return Shipping
For online sellers that want to implement a more lenient returns policy, including free return shipping, it's important to take steps to reduce the return rate. Here are some tips for doing so.

Analyze Returns

The first step is to analyze your returns over the past year. Were certain items returned at a much higher rate than others? If so, you need to figure out why.

Eliminating frequently-returned products and also gaining customer feedback as to why they return items will go a long way in helping you to reduce your return rate and eliminate costs associated with a free return shipping offer.

Set Guidelines

When you offer free return shipping (and with returns and exchanges, in general), it's important to set guidelines with timeframes as well as any product exceptions.

For example, how long do your customers have to return a product? Two weeks? 30 days? 60 days? One year?

Additionally, if you have a wide assortment of products, it may not be cost feasible to offer free return shipping on everything. Make sure your return policy clearly states any exceptions to free return shipping. An even more user-friendly option would be to also tag products on your website that are eligible for free shipping and/or free return shipping.

Photos & Videos

Great product photos sell. They also can help reduce your return rate. High quality imagery combined with multiple angle product shots will allow your customers to more closely inspect your items, and ensure they're getting what they expected.

While it can be more costly and time consuming, videos are another great way to help your customers become better acquainted with your products. It can be as simple as a compilation of photos showing a 360 degree view of your product, to a higher quality production with a script and even product demonstrations. Remember, nothing worth doing comes easy.

Detailed Descriptions

I can't tell you how many times I've been shopping online and found three or four-word descriptions of a product.

Having detailed product descriptions is one of the easiest ways to reduce your returns rate. Even very basic and straightforward products should come with descriptions that overview the specific style, material, color, size, weight and features.

Product Reviews

There are a lot of benefits of product reviews, and one of them is to help reduce returns.

One of the biggest advantages of product reviews is that your customers will give honest feedback on whether or not the product met their expectations. They'll point out if your product descriptions were misleading at all (allowing you to update them), and also if certain features were not inline with what they anticipated.

In a nutshell, product reviews will provide your customers with a better understanding of the product.

Order Fulfillment

If you have a lot of errors with your order fulfillment, you're going to get a lot of returns. Pretty simple.

Make sure that you document the frequency and cause of all order fulfillment errors. Over time, you'll be able to identify trends and come up with solutions to recurring problems.

Promote the Offer

Once you've taken steps to help reduce your return rate, don't forget to promote the offer, including in your advertising and on your website. While it seems obvious, all too often I've seen retailers apply the, "if you build it, they will come" methodology, which doesn't usually work.

You should only implement your free return shipping offer after you've developed a clear-cut, easy-to-understand returns policy, and have made that policy easily accessible on your website.

Online selling isn't easy, and it's not getting any easier anytime soon. But, in this booming and opportunistic world of ecommerce, there are still ways for sellers to stand out among the crowd. For the time being, a flexible, consumer-friendly approach to returns can be one such way.