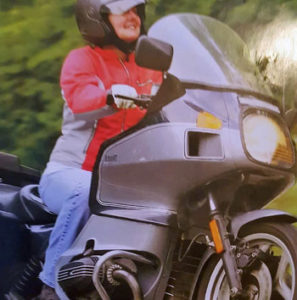 Meet Dawn Pelton!

Dawn grew up in southern Michigan on the Ohio border and lived close to Toledo as a young adult. After vacationing in the Traverse City area with her husband and two children, and after seeing the increase of crime in her community, they to make the move to northern Michigan!

Dawn has worked at eFulfillment Service for 13 years and has seen this company grow from under 15 employees to 120. Only 6 current employees have worked here longer than Dawn, which is truly amazing!

When Dawn is not at work, she loves to spend time with her husband of 39 years, Rick, two grown children and her 10-year-old
granddaughter Olivia Grace.

Dawn is quite adventurous and just completed a zip line adventure with her family! Dawn also spends her summers on her BMW motorcycle. She and Rick have been as far east as Maine and as far west as Wyoming on their bikes (the above photo was taken in Tennessee). Dawn also likes to kayak with friends and family, and, in the winter, she loves to bake, and anyone who has known Dawn for any length of time has experienced her famous Snickerdoodle cookies!

Dawn first started out at the original fulfillment center owned by eFulfillment Service, which was in Grawn, Michigan. At that time, eFulfillment Service was only shipping a couple thousand orders per week, and she's seen our fulfillment company grow to nearly 700 clients across the globe! Dawn has been a Lead for the last 11 of her 13 years here at EFS, and attributes her success as a leader to the fact that she is very well organized. Dawn currently runs the Kitting/Assembly Department.

Dawn is excited to see all of the positive changes over the last 13 years, and she is extremely excited about the warehouse management system implementation our company is currently undergoing.

The EFS family sincerely thanks Dawn for her years of hard work and dedication and looks forward to the years to come!