eFulfillment Service (EFS) provided a team in the first Traverse City Dodge for the Bay, a Boy Scouts of America fundraiser at the Traverse City Pit Spitters field. Under the moniker Boxed Set, 8 staffers took the field: Bill Bodine, Joe Dwyer, Nick Ernst, Taylor Gonyon, Rachelle Lauzon, Dave McNair, Adam Nagy and Derek Reid.
"Our team displayed so much enthusiasm," says Merry Hawley, eFulfillment Service HR Manager. "Not only was the event a lot of fun, it was great to see this group of people come together in a whole new way—such incredible camaraderie from different areas in our company." In addition to the team, spectators were invited to watch, play outdoor games like corn hole and enjoy ballpark food.
Z-93 Radio provided the play-by-play for the exciting matches like this one between rival team the Ankle Biters and eFulfillment Service. In this match, our team whittled the competition down to a single player, letting the clock run out on our opponent.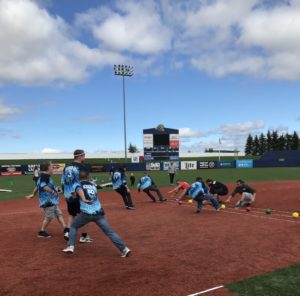 By the second match, the Boxed Set team settled into the tournament's play and began trying different strategies and plays. Clad in spiraling tie-dye shirts and wearing the red, white and blue headbands provided as swag from the Pit Spitters, Boxed Set team members hit the ground to protect the reputation of eFulfillment Service. Repeatedly. Again and again, diving and falling, attempting to dodge our opponent's throws, which seemed to rocket across the field.
There were moments of great sacrifice, as Boxed Set dodge-ballers raced to grab the brightly colored balls off the starting line, only to be pummeled by our challengers. Some of our Boxed Set appeared to be airborne for moments at a time, until abruptly returning to earth with a thud and a tumble.
"I can see our team challenging other Traverse City companies next year," said Jordan Lindberg, Executive Vice President of eFulfillment Service, smiling from the sidelines. Inspired by the day's events, Lindberg is already crafting strategies for next year.
Go Boxed Set!
Alas Boxed Set was not victorious. But undaunted, the team pledges to come back next year with a new playbook and some vigorous practice, after this year's bruises heal, of course.
Proceeds from the event support local Scouting programs including camps, STEAM programs, training and merit badge opportunities.
Other Blogs, Services & Articles
Turning Waste & Expense Into a Revenue Source
eFulfillment Service Supports STEM & More
Rodman Shares Branding Thoughts at Digital Summit