By Guest Blogger, Barrett Goss, Pop! Procurement
Note from eFulfillment Service: We invite our partners to write for our blog, introducing our audience to new ideas, expertise, tips and advice. Pop! Procurement has a reputation for providing online sellers with fast turnaround times for inventory manufacturing and delivery.
1 – Air Freight Pricing Is Opaque
The volatility of ocean freight has steadily increased throughout 2021, and heading into Q4 we're seeing market shifts more rapidly than ever before. Locating and securing container space is a challenge for ecommerce merchants without even considering the skyrocketing prices. The price of a shipping container from Shanghai to LA is nearly $10,500 according to Freightos Baltic Index, as of August 2021, a price increase of 500% from this time last year.
While air freight has also seen an increase in pricing, it comes at a fixed cost per kilo for the weight of your inventory being shipped. Air freight companies will use dimensional weight or actual weight, whichever is higher to calculate the weight of your inventory. Current prices for air freight from China to the US are holding steady between $8.50 and $9.00 per kilo, and have remained at the same levels since April.
In addition, online retailers should expect to pay 15-20% of the total costs in accessorial fees such as loading, security, clearance, and fuel charges. Anticipating and knowing these costs makes it much easier to calculate how much you'll pay to import your next shipment of goods.
Finally, note that your point of delivery can make all the difference; high volume areas like Los Angeles, Cincinnati, and Miami are seeing record incoming shipping volume while simultaneously experiencing labor shortages. As such, delivery into these regions could come with an increased cost per kilo.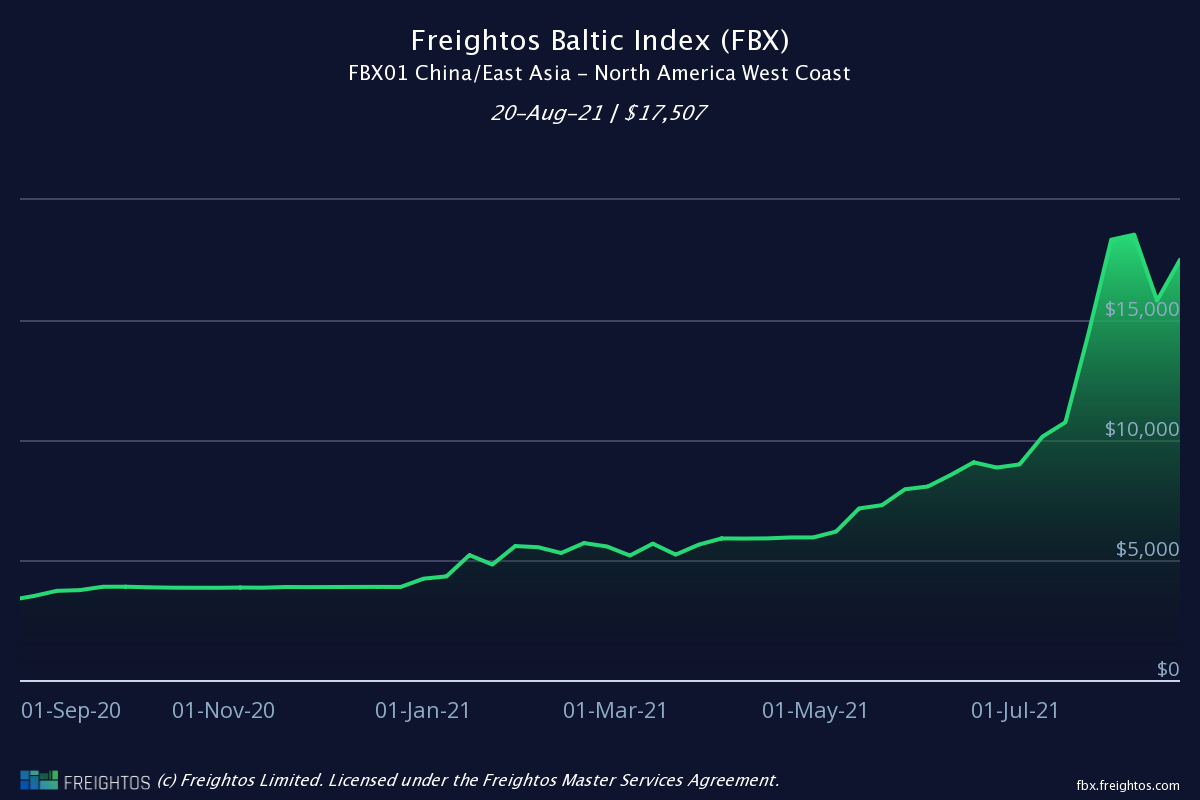 This graph, used with permission from Freightos Baltic Index, shows the rise of shipping container prices from Shanghai to Los Angeles, from September 2020 to August 2021. 
Rapid import is quickly becoming more appealing to any product category that can move goods in smaller packages.
2 – Air Freight Is Faster than Ocean Freight, And It Has Its Own Global Logistics Challenges
With ocean freight delivery times stretching beyond 60 days on many routes, the 5-to-7-day delivery time promised by air freight is an enticing alternative.
Due to an increase in air freight demand from ocean shipping backlogs and a reduction in capacity due to reduced international air passenger travel (50% of air freight travels in the belly of passenger flights!), most air freight shipping are seeing 7-to-10-day delivery times, almost double what is typically expected. And while that is a long time to someone who uses air freight regularly, ecommerce merchants who are concerned about getting inventory in time for the holiday season might consider that an express timeline compared to ocean shipping.
Ecommerce Definition: Dimensional Weight or DIM Weight in Air Frieght: Dimensional weight, abbreviated as DIM weight, is a formula for evaluating the size of a package to determine shipping rates. Also called volumetric weight, shipping companies use DIM weight to discourage large lightweight packages because they take up so much room in the airplane (or container or truck), yet because of the low weight, the big packages don't incur the fees of a heavier carton. The shipper can't collect enough fees for that space. Here's a good rule of thumb for ecommerce sellers to keep in mind when calculating dim weights: the shipping company will use whatever is heavier, actual weight or dim weight, because they make more money.
3 – Another Air Freight Option: Rapid Import
Many companies importing product by air use large palletized freight shipments. While this practice makes the logistics of moving large amounts of product on the ground easier, shortages in the air freight cargo space have lead to increasing delays for these bulky shipments while they vie for the same limited space on flights.
With rapid importing, cargo can be shipped in either large pallets or individual packages, allowing goods to fill any available cargo space. This form of import is most often used for lightweight consumer goods and electronics, but is quickly becoming more appealing to any product category that can move goods in smaller packages.
When considering rapid importing, the biggest challenge many online retailers will face is an increase in minor challenges for their logistics teams. Breaking shipments down into multiple pieces requires increased oversight to ensure goods are shipped, processed, and received properly.
About Pop! Procurement
Pop! Procurement is the pioneer of rapid import in the promotional products industry. For a decade Pop! Promos has utilized its deep supply chains and carrier relationships to rapidly import goods from Asia to the US, bypassing ocean freight entirely to get product delivered in 3 to 5 days. Pop! Procurement offers pricing 15% below traditional air freight consolidators and has US-based tracking and support in addition to customs clearance services. Best of all, you can lock in a fixed price for importing your products and pay on NET 30 terms.
To learn more about Pop! Procurement services and what they can do for you, email pr[email protected] today for a free 20-minute consultation.
If you're interested in becoming a partner with eFulfillment Service, please email our Marketing Manager, Rachel North ([email protected]).
Learn More About Fulfillment Shipping Options