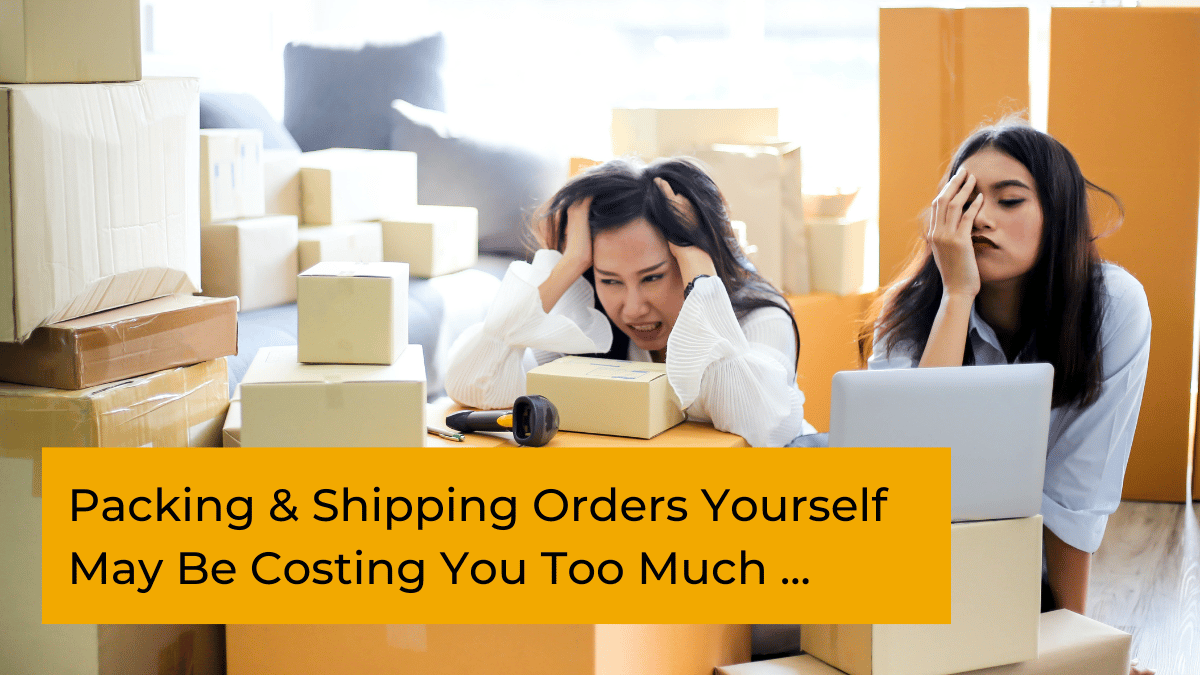 Is your ecommerce business too small for a fulfillment center? No … But you do need to find a reputable partner to help execute the right strategy and ensure costs stay low. Small business shipping discounts is where it starts. Partnering with an ecommerce fulfillment center that has experience working with startups and small businesses will not only unlock shipping discounts, but also other savings and benefits that will help your bottom line. 
Use Established Partnerships to Access Small Business Shipping Discounts, Exclusive Offers … And More!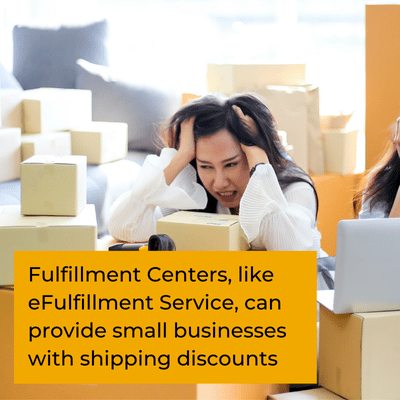 As an ecommerce merchant, one way to save time, money, and be more competitive is to take advantage of established shipping partnerships that come along with utilizing the right fulfillment center for small business. Since fulfillment centers ship orders for many clients they often get discounts on shipping rates because of their large shipping volumes. Some small business order fulfillment centers will pass along those savings to their clients in the form of low-cost small business shipping rates.
Another benefit that can come from these shipping partnerships is the ability to get packages delivered on time even during busy shipping seasons, like the holiday gift giving season. Oftentimes, businesses have agreements, top-end quotas, with carriers where they're given priority shipping on a certain number of packages. Once they hit that negotiated number, the remaining packages will sit on the loading dock, until the carrier has space for them on the truck.
Smaller businesses may not have the negotiating power to go above those shipping limits during the busy season, but a fulfillment center can negotiate much more flexibility. At eFulfillment Service, we've established great shipping partnerships which allow us to have volume capacity and keep packages moving for our clients during the busy season.
Find Fulfillment Centers Designed for Small Ecommerce Shippers to Get Discounts
Some fulfillment centers design pricing to discourage smaller ecommerce merchants. To make sure entrepreneurs or growing internet retailers don't work with them, they set high invoice minimums or order volume minimums. Some will even tell you on their website forms, "Make sure you're shipping 1,000 orders per month before you fill out this form." The tables in this post, Order Fulfillment Pricing Overview, outline several invoice minimums and order volume requirements from several fulfillment centers. 
Seek out tailored pricing to make sure your needs are met and you're not overpaying for services. Small businesses shouldn't be paying the same fees as larger businesses since their needs tend to be very different. Look for a small business fulfillment center that offers tiered fees, based on the size of your fulfillment usage and the order volume you're shipping. For instance, as a small business your client support fees should be less than larger businesses since you're not shipping as much volume and won't need as much client support. Also, small businesses can benefit from lower bin storage fees and lower overflow storage fees offered by fulfillment centers.
Best Shipping Locations to Fulfill Online Orders in the U.S.
Centrally located fulfillment centers in the U.S. are key to effectiveness because they can quickly ship products from coast to coast and everywhere in between. Many top-rated U.S. fulfillment centers are located away from coastlines and outside of urban areas, and they have the ability to cut your costs by offering lower storage rates due to real estate often being cheaper in those areas.
Given the locations of U.S. population centers, central locations are economically more favorable. Based on eFulfillment Service's aggregate order volume, we developed the following visual aid to help ecommerce merchants understand the viability of a Midwest fulfillment center for the U.S. market:
Order volume factors to consider:
More than 60% of the U.S. population lives East of the Mississipp River
A shipment going to Texas (29.53 million customers) is zone 6 from California or Michigan, so no difference in time or money.
A shipment going to Florida (21.78 million customers) is zone 6 from Michigan, but from California, Florida is zone 8.
Together, the states of New York (19.8 million customers), Pennslyvania (12.96 million customers) and Illinois (12.67 million customers) have a larger population than California (39.24 million customers). All are zones 3-4 from Michigan, but from California, those 45 million customers would be zone 8.
From Michigan, a typical merchant's orders average 4.5 zones; from California, a typical merchant's orders average 6.5 zones.

Want to see the cost savings associated with these factors? Use our Get a Free Quote form to reach out to our sales team for transit time savings and cost savings.
Source for population figures: Global Data, Most Populated States in the United States 2021.
Many top-rated U.S. fulfillment centers are located away from coastlines and outside of urban areas, and they have the ability to cut your costs by offering lower storage rates due to real estate often being cheaper in those areas.
Small Businesses Can Get Inbound Freight Shipping Discounts from Partner Fulfillment Centers
Check with your fulfillment center in the U.S. to see if they have programs that move freight from coastal ports to your chosen fulfillment center. Consider partnering with a 3PL that offers freight programs to help get your products to where they need to be. At eFulfillment Service, we take pride in the great relationships we have with freight services. So much so that we offer big discounts to our clients through our new freight program and we have the potential to save you thousands of dollars when moving your shipment out of the port. 
Example: 3 pallets arriving in Miami, FL weighing a total of 1,432 lbs., with a class code of 70 would normally ship for more than $5,000. Using eFulfillment Service discounts, shipping those pallets to eFulfillment Service's Midwest warehouse would be less than $1,000.
If you'd like to learn more about eFulfillment Service's discounted freight programs and how you could save, fill out our free quote form (add link to quote form) today!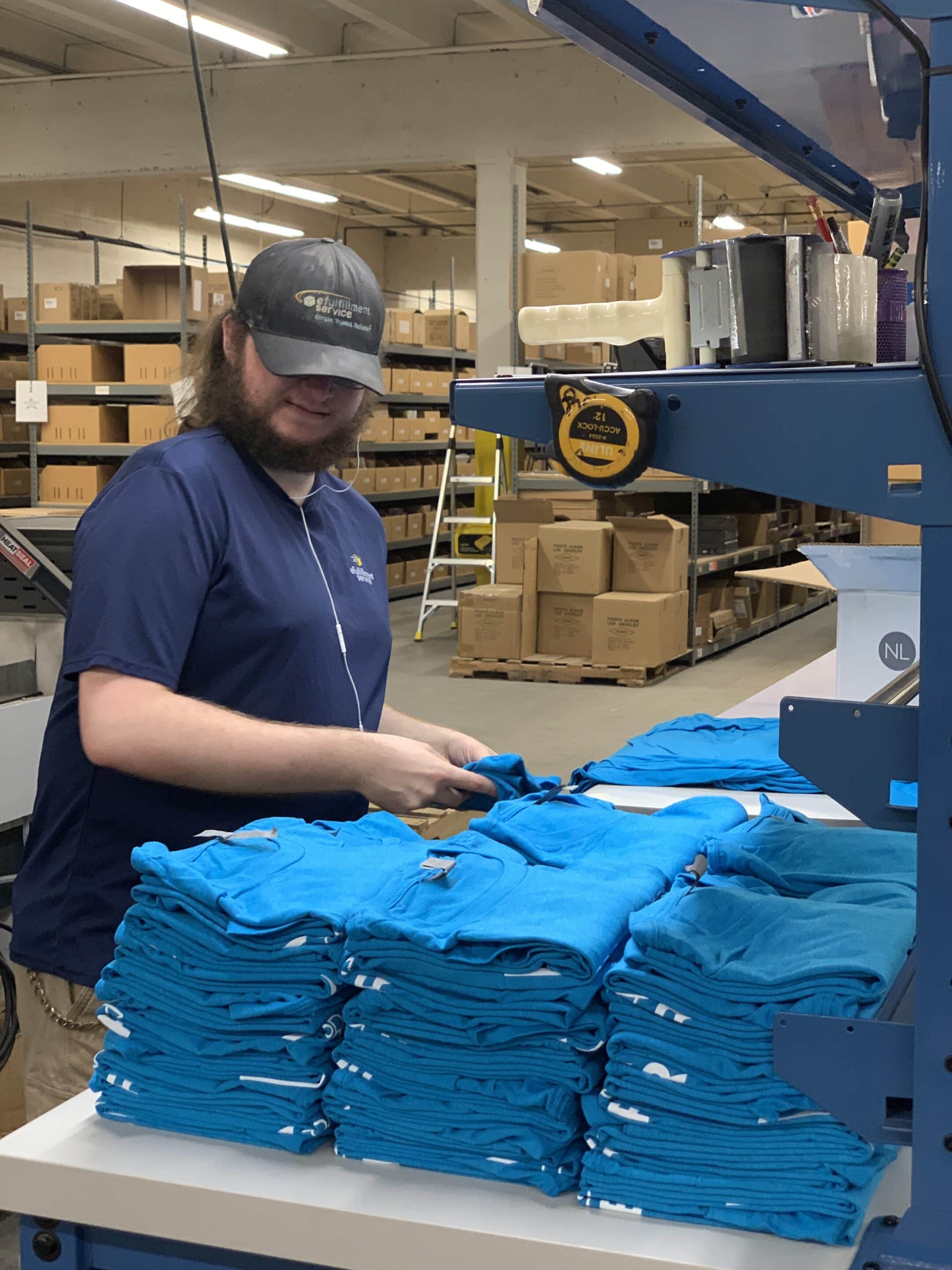 Best Shipping Options for Small Business
What is the best shipping method for small businesses? Well, that depends on the needs of your business and your customers. Keep your eye out for a fulfillment center that provides a variety of cheap shipping options for small businesses so you can choose the most affordable method that works best for your situation.
You may require overnight delivery or maybe you're satisfied with slower methods.
Either way, having a partner that offers a wide array of small business shipping discounts and methods will allow you to keep your costs low while also meeting the specific needs of your business.
Whether you're looking for ups discounts for small business, FedEx discounts for small business or want to explore available USPS shipping methods, consider a fulfillment center like eFulfillment Service that offers many affordable shipping rates for both domestic and international needs. Low shipping costs will not only help profits, they're also essential to keeping customers happy and may be the difference between converting a sale or not.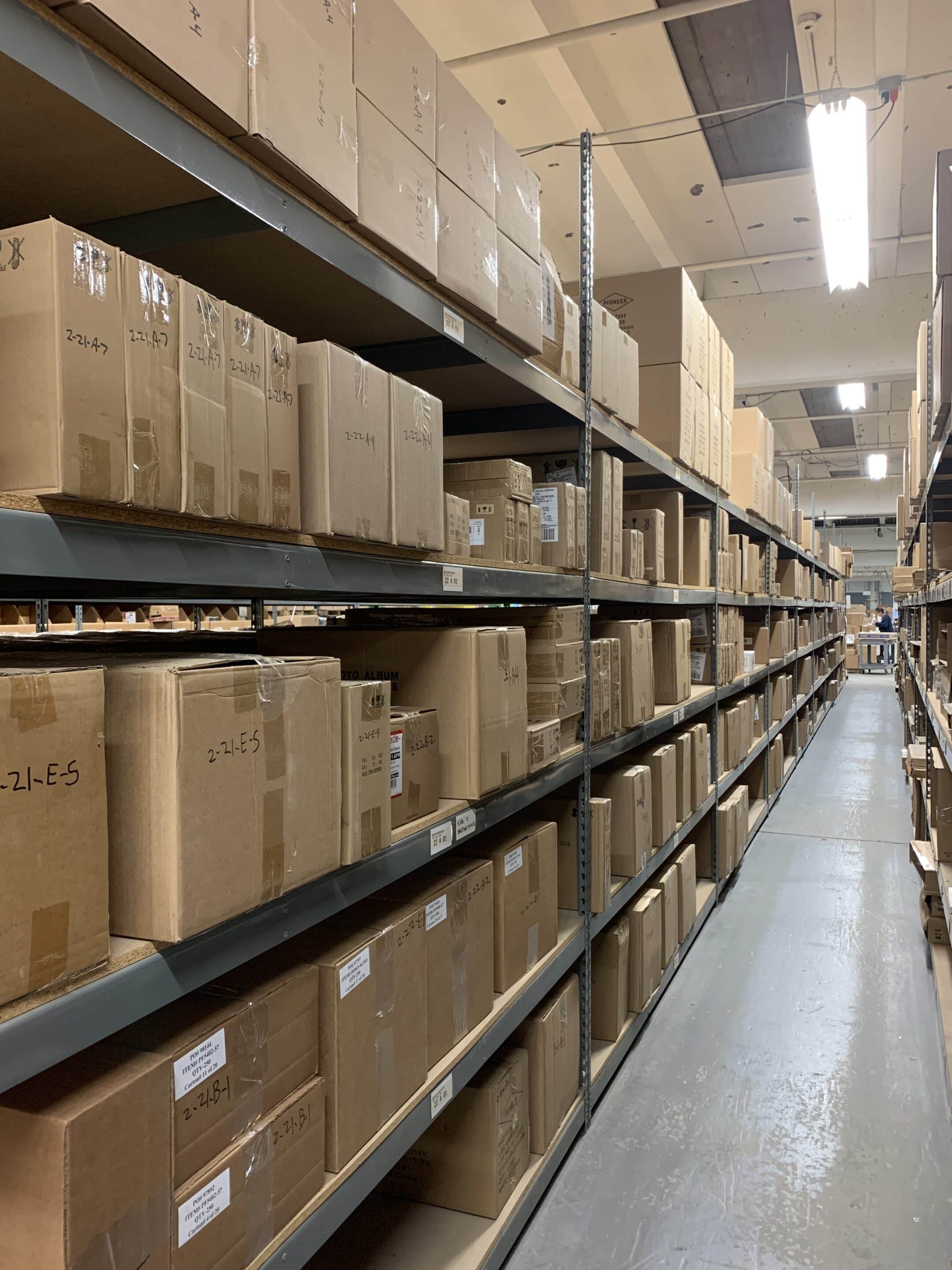 Dimensional Weight—What is the Cheapest Way to Ship Large, Light Packages for a Small Business?
If you're shipping light, bulky packages, more than likely you're getting charged for shipping via dimensional weight vs. actual weight. In this case, it's important to compare shipping fulfillment services to find the best small business shipping discounts for dimensional weight packages.
Many fulfillment centers get DIM weight shipping discounts, but they don't pass along the savings to their clients, small businesses that don't have the massive order volume required to get such discounts.
eFulfillment Service is different—we offer dimensional shipping weight discounts, which is rare for a 3PL, by passing along our DIM weight divisor so our clients benefit from our volume discounts. This means significant savings for our clients. Learn more and try out our Dimensional Weight Shipping Calculator to see how much you could save on shipping using eFulfillment Service.
Ecommerce Definition: Kickstarter Fulfillment
The definition of kickstarter fulfillment or crowdfunding fulfillment is the process of packaging the funded product and shipping it to the backers, or customers. Often overlooked during the initial planning stage, kickstarter fulfillment costs should be considered as part of the estimated manufacturing process. Crowdfunders should seek out fulfillment centers with experience in managing the special needs of kickstarter projects. For example, it may be faster and less expensive to kit the products that are included in a reward tier ahead of packing, instead of picking and packing orders on the fulfillment production line.
In Addition to Small Business Shipping Discounts, Consider Time-Saving Benefits Like Streamlined Tech Integrations …
On top of small business shipping discounts, fulfillment centers can also provide technology that has the ability to simplify fulfillment for small businesses. For instance, many small businesses that process their own orders waste a lot of time working through manual processes because of a lack of integration of systems. Time saved can range from time spent pulling orders from your shopping cart to input them into another system so you can print shipping labels to emailing tracking information to customers since your systems aren't fully integrated.
All of this takes an enormous amount of time and energy and not to mention there's a lot of room for error along the way. 
On the other hand, a fulfillment center like eFulfillment Service could benefit you because we know how to easily integrate your shopping cart and marketplace so that everything is automatically taken care of when your customers place their orders, which will save you valuable time and money that could be invested in other areas of your business.
Consider all the benefits that can accompany partnering with a 3PL that understands the unique needs of small business fulfillment. Here are some items to put on your checklist when looking for small business fulfillment services that can benefit your operations:
No setup fees
No integration fees
No hidden fees
No order minimums
Pay as you go (no long-term contracts)
Flexibility
Easy onboarding
Free shopping cart integration
Trustworthy technology
Fast order processing
High accuracy rates
Responsive/knowledgeable support
Ecommerce Definition: Shipping Discounts:
In ecommerce, the definition of shipping discounts applies to any shipping fee that is reduced based on an expected volume of orders shipped. Most fulfillment centers negotiate volume discounts with the U.S. Postal Service, FedEx, UPS, DHL or other parcel carriers. In addition to reduced shipping fees, some third-party logistics companies or 3PLs will negotiate for better dimensional or volumetric weight rates. Not every fulfillment center will pass discounts to small, growing or launching ecommerce merchants. To get shipping discounts, internet retailers should work with fulfillment centers that value small and medium sized businesses, entrepreneurs and international companie launching in the U.S.
Learn More About Online Order Fulfillment For Small Business
How to Find Online Order Fulfillment that Scales with Growth
Questions Growing Online Retailers Should Ask About Shipping Fees, DIM Weight, Order Volume & More