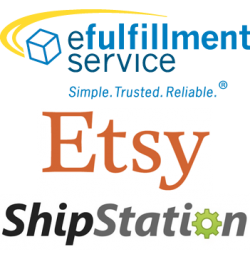 eFulfillment Service (EFS), one of the nation's most trusted and reliable order fulfillment providers, is pleased to announce new integrations with Etsy and ShipStation.

"EFS has a reputation for being an extremely dependable, straightforward order fulfillment partner," says Steve Bulger, Sales & Marketing Manager at eFulfillment Service. "Maintaining that reputation means we not only need to consistently get the right packages in the hands of the right customers, we also need to make it an effortless process for our ecommerce clients."

With the new Etsy and ShipStation integrations, which were developed and are supported by eFulfillment Service's internal IT group, EFS is able to automatically retrieve orders from both platforms. Once retrieved, orders then enter into the EFS web-based Fulfillment Control Panel, in which EFS clients have ongoing visibility over their orders, inventory, and ship history. Orders are then quickly processed and shipped from the eFulfillment Service warehouse, before inventory and tracking numbers are automatically sent back to Etsy and ShipStation.

"We're very pleased to offer these two new integrations," adds Bulger. "Etsy is a growing marketplace that we're seeing a lot of merchants adding to their multi-channel sales strategy. We've handled order fulfillment for Etsy sellers for years, and we're now able to automate it for them.

"ShipStation is a great system that specializes in managing inventory and orders for merchants that sell on multiple channels, such as Amazon, eBay, as well as through their own ecommerce store. So now, rather than doing separate integrations with each of those channels, we can simply do one integration if our clients are using ShipStation, and make it even more streamlined. If our client is not using ShipStation, however, and wants us to integrate directly with Amazon, eBay, Etsy and/or their own store, we've got them covered there, too."

By adding Etsy and ShipStation, eFulfillment Service now bolsters a list of nearly 40 integrations, which also includes Amazon, eBay, Shopify, Magento, Bigcommerce, 3dcart, Volusion, PrestaShop, WooCommerce, TradeGecko, and many more. Click here for a full list of order fulfillment integrations.