Meet Heather Deegan!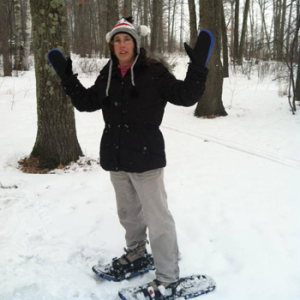 Heather has been part of the eFulfillment Service (EFS) family since September of 2011. In that time with our order fulfillment company, Heather has excelled in multiple departments. Starting out in Pick/Pack on our main shipping line, Heather transitioned to Inventory Control two years ago.

Heather grew up in Lombard, Illinois; a suburb of Chicago. She had a typical middle class upbringing. Her mom was a nurse and her father was a manager at a manufacturing plant that made aftermarket automotive parts. She has one brother who lives in California with his wife and two children, where he is a Professional Musician playing the viola!

Music was not only a big part of her brother's life, but Heather's as well. She started playing the flute in fourth grade and then switched to the bassoon in high school. When asked, "Why the bassoon?", Heather answered, "Because I wanted to be different." One of Heather's biggest achievements was being a part of the All State High School Band.

Heather stepped away from music for about 10 years but got back into it when she took a summer job at the Interlochen Arts Academy (about 10 miles from Traverse City, Michigan, the home of EFS) working in the campus store. She continues that job today. When asked what she loves most about working there, she replied, "The kids! I love seeing them as goofy teenagers on campus and then serious and talented musicians on stage." Heather now plays in the Benzie Area Symphony, Benzie Community Band, and with the NMC Band.

Heather was a high-energy child whose favorite childhood memories were family camping trips out West. Her love for travel and the outdoors has been a common theme throughout Heather's life. She spent a year in Lubeck, Germany as a foreign exchange student while in high school. The culture difference and homesickness made this a challenge, and she credits this experience for really understanding and appreciating her country.

This high school experience, along with her love of family adventures, helped her to choose her academic focus. Heather attended the College of DuPage where she received her Associates Degree in Travel & Tourism. She transferred to Northern Illinois University where she received her Bachelor's Degree in German, and graduating from college is something Heather is extremely proud of.

Heather followed her parents to Northern Michigan who retired here after vacationing in the area for several years. Heather met and married her husband, Tim, through a mutual friend, and the two have been married for almost 10 years. Other than her parents, her husband has had the most influence on her life because he has such a positive attitude. Tim and Heather love to hike, ski, canoe and go on adventures exploring Northern Michigan. They also love spending time with their 12 nieces and nephews and their 2 cats, Cappuccino and Kitty.

A little-known fact about Heather is that she has a passion for writing poetry and short stories; she calls it her "therapy."

Heather enjoys working at eFulfillment Service because of the variety and the daily challenges. Her favorite part of her day is working with our order fulfillment clients. She loves the challenges associated with customer service, and she hopes to continue growing with the company and could see herself eventually moving into a client service role.

Heather is a joy to have as part of our EFS team; she is quiet yet has an infectious laugh that brings a smile to all of our faces. Heather said her best qualities are being hardworking and dependable. We definitely agree! And we'd also add that Heather is a team player and a creative thinker. She is also witty and has a goofy sense of humor, which makes her a real joy to be around!