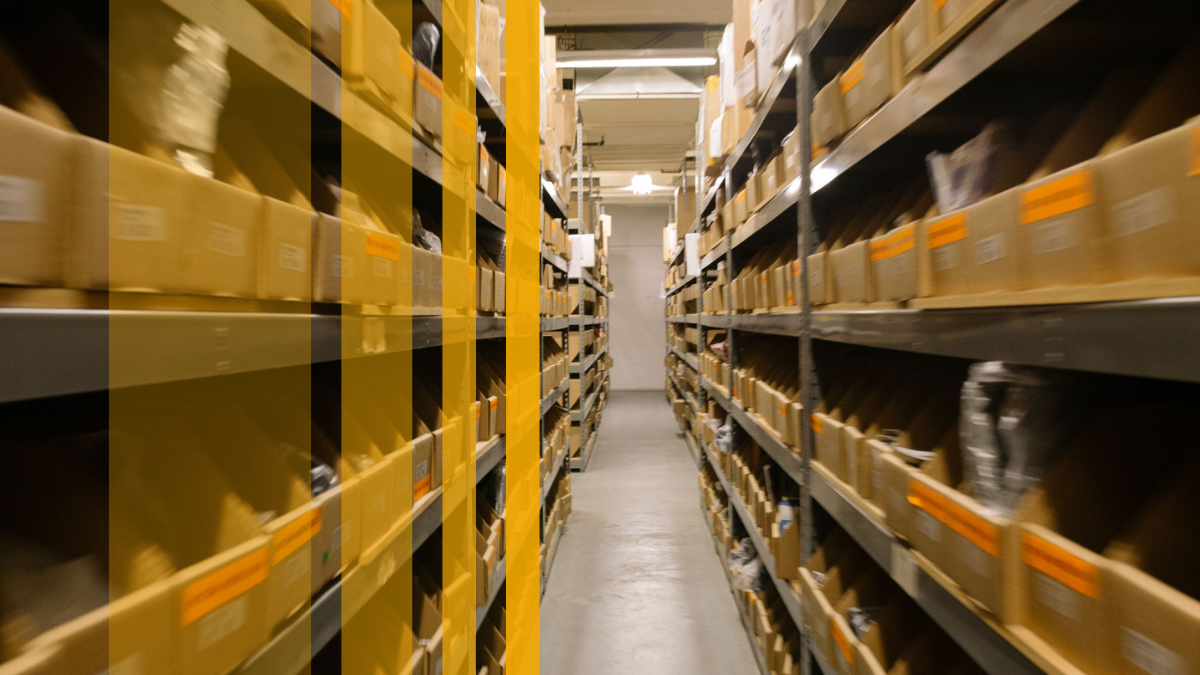 The type, quality, and cost of warehouse and fulfillment services can either make or break ecommerce retailers. It's important to understand what a warehouse and fulfillment center can offer and when to use each. On top of that, there are many types of ecommerce fulfillment services available to online merchants to help make operations more efficient and successful in the long run. Knowing which practices to seek out and which to avoid when partnering with a third party logistics (3PL) provider is essential. Read on to learn more about the ins and outs of warehouse and fulfillment in the USA.
What is the Difference Between Warehouse and Fulfillment?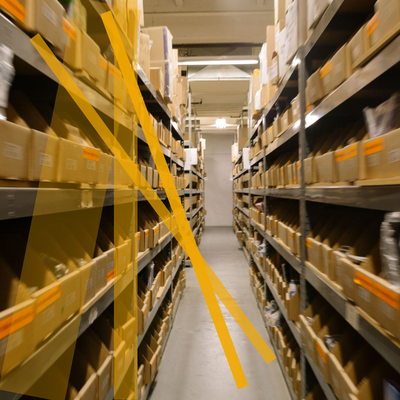 While warehouse and fulfillment are related terms, there are differences between the two that are helpful for ecommerce merchants to understand. 
A warehouse is a large building or space that is intended to store product inventory in bulk. Warehouses are used for both short-term and long-term storage depending on the needs of the business storing products. Most companies choose to rent space in warehouses to store their products. However, there are some companies that own and run their own warehouses.
On the other hand, while ecommerce fulfillment does involve warehousing products for businesses, it encompasses much more than that. Business fulfillment is the process of handling ecommerce orders from beginning to end and involves all aspects of receiving, preparing, and delivering customer orders. Ecommerce fulfillment companies tend to offer a variety of order fulfillment services which can include the following:
Fulfillment Inventory

receiving, management, and warehousing

SKU labeling and bagging

Pick and pack 

Kitting and assembly

FBA Prep services

Custom IT projects

Product photography, marketing inserts, etc.

Shipping fulfillment services

 

Returns processing

Customer support
Warehouse vs. Fulfillment Center
Oftentimes people use the terms warehouse and fulfillment center in the same ways. While they are similar, there are differences between them. 
Warehouses have one main purpose: they are used to store products (typically in large quantities) for businesses. Inventory is received at a warehouse, placed on shelves, moved around when necessary, and then shipped out when needed. 
Warehouse fees are simple because the only service a warehouse offers is storage space. So the they may charge for receiving, shipping and storage by volume of space occupied.
People often ask, what is a fulfillment center? Similar to a warehouse, fulfillment centers receive and move around inventory in their storage areas, but they also provide additional fulfillment services that are especially important to ecommerce companies. For instance, fulfillment centers also process and ship customer orders as well as deal with customer service needs and product returns. Typically fulfillment centers are more focused on short-term storage and moving inventory as quickly as possible to meet the needs of customers. 
While fulfillment centers can store products for extended periods, they offer more sophisticated services, and have many fees for those services, different than warehouses whose only function is storing product inventory. For example, a fulfillment center typically inspects the quality of 10-20% of every SKU that is received. A warehouse probably may not be opening the cartons to inspect or sort SKUs, but rather moves inventory off a truck onto a shelf, in the carton it came in.
The most important service difference that turns a warehouse into a fulfillment center is technology. Fulfillment centers offer technology that integrates with ecommerce shopping carts, like Shopify and WooCommerce;  marketplace technology, like Amazon and Walmart and with multiple shipping carriers, like FedEx and the U.S. Postal Service. And second to that, is that relationship with multiple shipping carriers, at a volume that results in lower shipping rates for clients—and with eFulfillment Service, the added benefit of savings on shipments plagued by dimensional weight. With technology and better shipping rates on small parcels, a fulfillment center is able to facilitate the following: 
Choose the appropriate shipping carrier and service based on the necessary time of delivery, size and weight of the package, distance traveled and price. 

Generate tracking information and share with consumers.

Provide detailed information to ecommerce clients for each shipment. 

Provide real-time inventory tracking, despite selling on several platforms. 

Types of Warehousing and Fulfillment Centers + What They Do
There are many different types of warehouses that businesses use. Below are some of the most common types of warehouses and their purposes.
Customs Bonded Warehouse
This type of warehouse is used for imported products. These imported goods may be stored, manipulated, or undergo manufacturing processes free of duty payments for up to five years once received at the warehouse.
Smart Warehouse
Smart warehouses most notably utilize technology and computer systems to manage regular warehouse operations. Smart warehouses store inventory for business purposes, but use machines and automation to complete tasks that would normally be performed by human beings. Most fulfillment warehouses use forms of automation to speed the work of humans including scanners, conveyor belts, dunnage and tape machines, autobaggers and even robots.
Distribution Center
Distribution center can be used in a cavalier way to describe nearly any type of facility that is storing goods for shipment. Prior to ecommerce, distribution centers didn't ship directly to consumers (DTC). In its most traditional, technical sense, the expression distribution warehouse or distribution center applies to business-to-business (B2B) transfers of inventory. Oftentimes, inventory would change the mode of transportation at a distribution center, coming off a railway or a ship, and being transferred onto trucks. Or, if not changing the type of transportation, inventory was shifting to a lower level in the supply chain, where shipments would be divided up at the distribution center to go to retail locations. Insider terms for this kind of distribution is called a back-door delivery, meaning that products were delivered to the back-door of a retailer. 
With the influx of ecommerce, distribution centers have taken on a broader meaning, now representing hubs of direct to consumer distribution. Like a fulfillment warehouse for Amazon (also called an Amazon distribution center), where online orders are fulfilled directly to customers, an ecommerce distribution center is a type of fulfillment warehouse that typically moves ready-to-go inventory fast. Hybrid distribution centers also exist, fulfilling and ship orders to retail businesses and customers. Oftentimes, fulfillment distribution centers are strategically located to help fulfill orders quickly and efficiently while keeping costs low.
On-demand warehousing is one way that ecommerce fulfillment companies are expanding geographically without the burden of real estate expenses and management costs, using the staff and space of these warehouses in their network. Fulfillment network and warehouse network are other terms that apply to the strategy of using storage and staff owned and operated by other companies.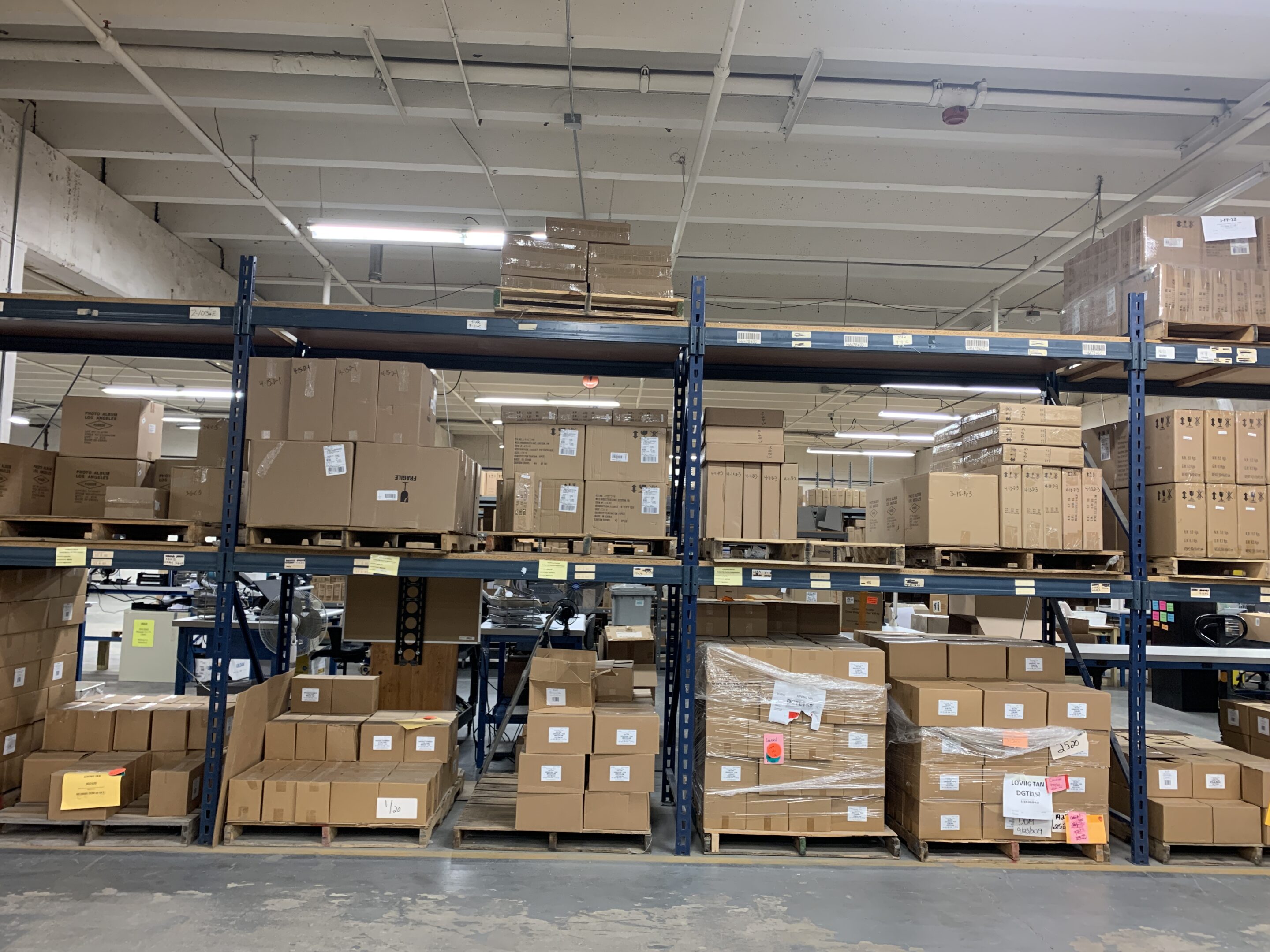 On-Demand Warehouse
On-demand warehousing brings together companies looking to store inventory and fulfill orders temporarily with warehouses that happen to have excess inventory space. The seller leases space from the warehouse, and sometimes uses the facilities personnel to perform the inventory management, picking and packing. The downside of on-demand teams is the disparity between service quality, software integration, available packing options and environment controls. 
On-demand warehousing is one way that ecommerce fulfillment companies are expanding geographically without the burden of real estate expenses and management costs, using the staff and space of these warehouses in their network. Fulfillment network and warehouse network are other terms that apply to the strategy of using storage and staff owned and operated by other companies.
Pick, Pack, and Ship Warehouse
This type of ecommerce fulfillment warehouse stores, packages, and ships inventory directly to consumers for businesses. Once a customer places an order, the warehouse will pick the fulfillment products from inventory, package them accordingly, and then ship them to the end customer. eFulfillment Service is a great example of this type of setup.
Another expression for pick, pack and ship warehouse is the commonly used expression: fulfillment center. Fulfillment centers range in specialty and target clients. Some, like eFulfillment Service, are designed to be fulfillment centers for small businesses, entrepreneurs, crowdfunders, kickstarters and startups as well as for medium-sized merchants and enterprise-level retailers.
Climate-Controlled Warehouse
Climate-controlled warehouses are used when merchants need to store inventory at specific temperatures. These warehouses vary by specialty, but can include humidity control as well as temperature control (i.e. freezing temperatures to store frozen goods).
Third Party Fulfillment Company or 3PL
How does the expression third-party fulfillment company or 3PL fit into these discussions? The primary distinction of a 3PL is that it's not owned by the sellers moving the product; a 3PL warehouse is owned by a company that provides logistics services to its clients, which are merchants and manufacturers.
For internet sellers, the most common fulfillment solutions are with a 3PL, because it is economical and convenient for ecommerce merchants. Internet retailers get the benefits of a tried and tested solution (including the team and technology) that it takes to store, pack and ship online orders for delivery to consumers.
And when a 3PL is using an on-demand warehouse or network of warehouses, those companies that are working with the 3PL are actually fourth-party logistics providers or 4PLs.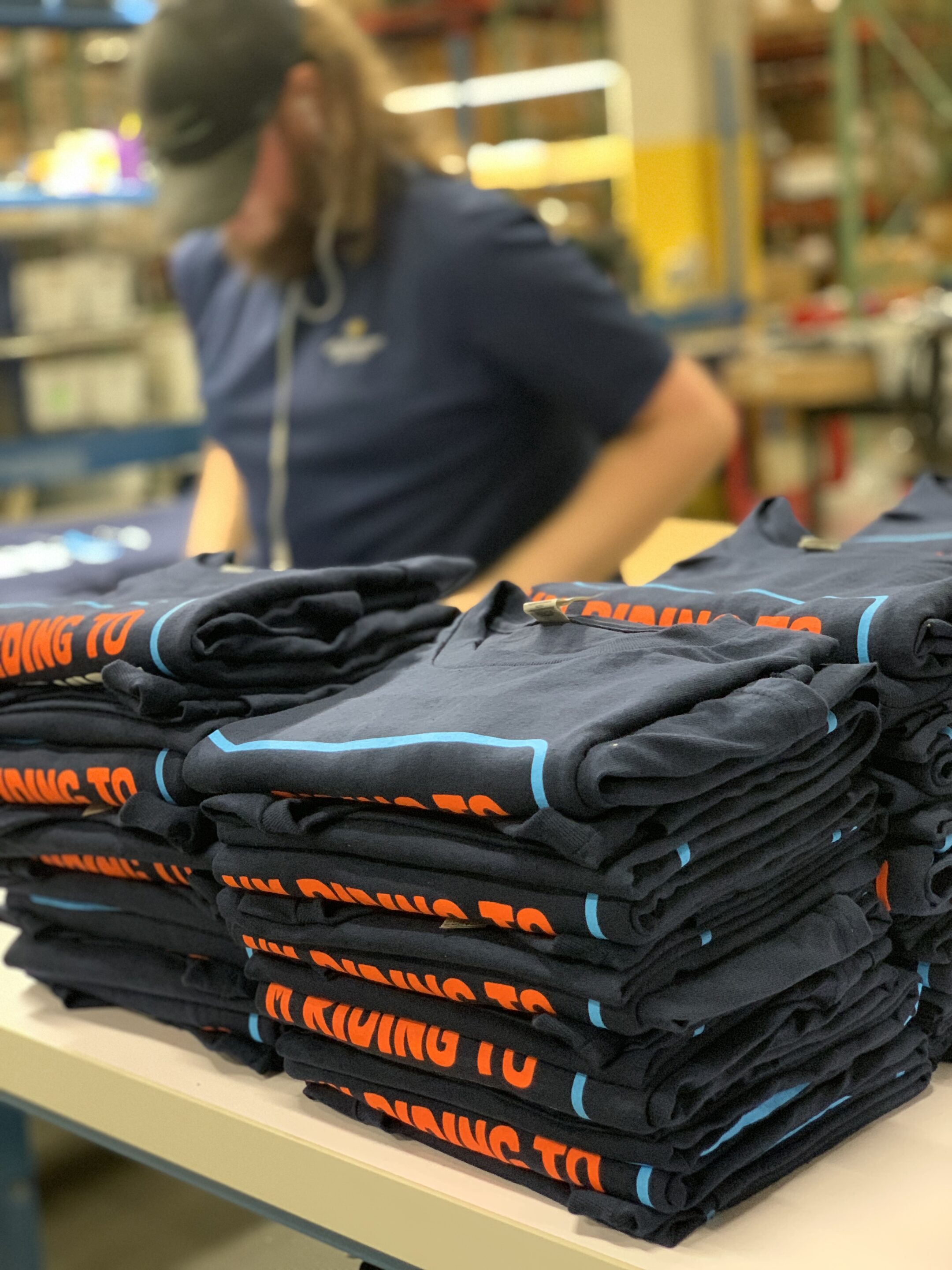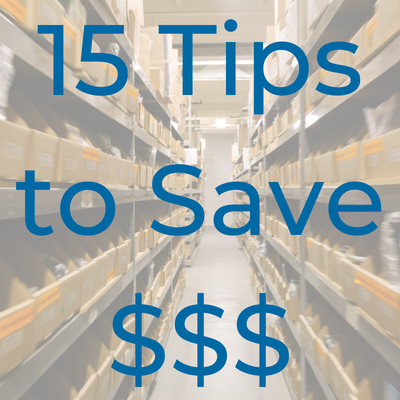 Fulfillment and Warehousing: 15 Tips to Save Online Merchants Money!
When searching for a third party fulfillment (3PL) partner, it's important to thoroughly research and vet each company being considered. Evaluating each ecommerce fulfillment center's processes and pricing will help internet sellers select the best option for their business needs.
Below are some potentially costly practices to watch out for and some beneficial practices ecommerce merchants should seek out when looking to partner with the right 3PL warehouse and fulfillment solution for their business.
Tip #1: SEEK OUT Low Shipping Rates + Discounts
Low shipping rates and discounts are a great way to reduce fulfillment costs. A 3PL that offers a variety of shipping options and allows their clients to take advantage of established shipping partnerships is part of the reason to outsource fulfillment to a fulfillment center. Discounted services to look for are dimensional weight discounts, reduced-cost packaging, discounted shipping surcharges and inbound freight discounts.
Tip #2: AVOID SKU Maximums
Some 3rd party fulfillment companies enforce SKU maximums which can limit the number of SKUs ecommerce merchants are allowed. Depending on a merchant's business needs, avoiding a partner with SKU maximums could help prevent future headaches.
* What is a SKU? SKU is an abbreviation for stock keeping unit. SKUs are the codes used to identify and track one product from another. (It's pronounced skew) For example, a seller may sell t-shirts in red and blue in three sizes, small, medium and large. That retailer will have 6 SKUs for that one design, one for each size and color combination. The red small t-shirt is one SKU, and the red medium t-shirt is another SKU.
Tip #3: AVOID Order Minimums
It's common practice for many companies offering product fulfillment services for ecommerce to require order minimums. For instance, a fulfillment house may require its clients to ship a minimum of 500 orders per month (or even more). And when clients don't reach that threshold, there's a penalty. This can become quite costly, so it's important for internet retailers to understand what they're signing up for.
Tip #4: AVOID Invoice Minimums
Many fulfillment centers have invoice minimums in place that require clients to meet a certain dollar amount each month. When clients don't meet that amount, they're expected to make up the difference. 
For example, consider a fulfillment center that requires an invoice minimum of $5k/month. If a client's invoices only total $2k for the month, then their fulfillment center expects them to pay $3k to bring their total up to the $5k required amount.
Tip #5: SEEK OUT Dependable Technology
Locating an order fulfillment company that offers reliable technology is crucial to an ecommerce company's success. Internet merchants need a partner that can easily integrate with their specific shopping cart and ecommerce platform. They also need access to technology that can correctly manage their inventory to ensure the ecommerce order fulfillment process runs smoothly. Errors due to tech mistakes can be costly, having the right partner with the right tech offerings will save merchants money.
Tip #6: AVOID Discount Shipping Rate Bait
Does this advice undo tip #1? Not really, we are suggesting that retailers take time to look over the full financial impact of a partnership with a third-partly logistics company. Some fulfillment companies will offer deep shipping discounts to hook clients. However, be aware that sometimes those deep discounts can come with poor service and hidden fees which can lead to higher costs and headaches in the long run. It's best to thoroughly research top fulfillment companies and their rates to ensure everything is legit.
Ecommerce Definition: Order Fulfillment Center
The definition of an order fulfillment center is a service business that uses warehouses to store products sold by ecommerce merchants, then packs that inventory and ships it to consumers from orders that come in from online shopping carts and marketplaces. Sometimes called third-party logistics (3PL) companies, these centers are designed to economically and efficiently handle the storage, processing, and shipping of products, making them vital to internet retailing. The best fulfillment centers use sophisticated software and technology to manage inventory, track shipments, integrate with shopping carts, marketplaces and shipping carriers. By outsourcing fulfillment to a 3PL, merchants can focus on other operations to grow their business, while ensuring timely and accurate delivery of their products. With the growing complexity of ecommerce fulfillment, fulfillment centers have become increasingly important for sellers looking to meet the demands of online shoppers.
Tip #7: SEEK OUT Right-Sized Services Depending Upon Business Size
Finding an ecommerce fulfillment company that offers a variety of scalable services is key to a successful future.  Look for a distribution center that can serve small to medium-sized businesses, where they are at now, and also serves medium and enterprise-level businesses, where they intend to be in the future as they grow. 
In addition to avoiding those heavy invoice minimums, merchants should look for companies that offer scalable ways to customize packages, including kitting, inserting marketing materials and using custom boxes.
Tip #8: SEEK OUT Low Storage Fees
Look for low storage fees charged by the cubic foot. Low storage fees will help ecommerce businesses keep costs low and save money over the long term.
Watch for fulfillment centers that figure storage rates based on full pallets, even if you're only storing part of a pallet. At eFulfillment Service you only pay for the space your products occupy. And we update our inventory weekly, so you don't pay for storing items that shipped at the beginning of the month, until the end of the month.
Tip #9: SEEK OUT Regular Inventory Updates
It's important for online sellers to know where they stand at all times with their inventory. Professional fulfillment houses will make it a point to keep their clients updated regularly, often providing real-time inventory reporting. Knowing and staying on top of this information will allow merchants to make the best decisions for their business thus saving them from costly mistakes.
Tip #10: SEEK OUT Free OR Low Packaging Costs
This one is pretty obvious. Finding a top fulfillment company that can offer free or low packaging costs is good for business. It will keep overall costs down for online sellers and help better set them up for success and higher profits. 
If you can ship your products in polybags, a reputable fulfillment company like eFulfillment Service will cover the cost of that bag. And box fees should be less than you're able to purchase boxes, because the fulfillment center is buying at volume rates and passing along savings.
Tip #11: AVOID Long-Term Contracts
Be mindful of the length of a contract before signing anything. While it may be enticing to sign a long-term contract to lock in a lower rate, keep in mind that it can become a nightmare if the fulfillment business doesn't meet expectations. Also look to see if discounts are based on volume—if your business takes time to build, you could be locked into paying penalties for not hitting those targets. Consider seeking out shorter contract lengths or try negotiating the terms (including any penalties for breaking the contract).
Tip #12: SEEK OUT High Accuracy Rates
Having a fulfillment partner that can stand behind the work they do is important. If a fulfillment center constantly makes mistakes that's bad for business. Inaccurate orders lead to unhappy customers which ultimately can hurt a business's bottom line. Plus, sellers pay to ship returns and replacement orders. It's best to look for a partner that has a proven track record with high accuracy rates to ensure customer satisfaction and retention.
Ecommerce Definition: Fulfillment Setup Fee:
The definition of a fulfillment setup fee in ecommerce is the one-time charge that a third-party logistics provider or a fulfillment center may require to onboard and integrate a new client into their order processing and shipping systems. Oftentimes a burden to smaller businesses, these fees may be desinged to discourage accounts with low or startup order volumes. Start-up or onboarding costs may be fashioned to cover the cost of software configuration, inventory setup, training, and other service expenses.
Tip #13: AVOID Do-It-Yourself (DIY) Onboarding
DIY onboarding usually is a red flag that the fulfillment center offering the services probably won't be of much help when issues are encountered. It's best to avoid order fulfillment companies with DIY onboarding and keep an eye out for a company that offers dedicated help and quality service throughout the onboarding process (as most businesses will need it). Rare ones, like eFulfillment Service will integrate your shopping cart with their software for you.
Tip #14: SEEK OUT Responsive Customer Service
One terrible situation merchants run into is when they have a pressing issue they need help resolving, but their fulfillment center support team is nowhere to be found. The best fulfillment companies will respond quickly and communicate regular status updates to ensure they're working towards a resolution. Slow response times can prove costly for ecommerce companies. From technical problems to expediting orders to dealing with customer issues, having a responsive customer service team to help when needed is truly a money-saving benefit online sellers should seek out.
Tip #15: AVOID Setup Fees
Setup fees can really add up, so it's best to avoid partnering with an ecommerce fulfillment provider that charges for set up. Keep in mind many reputable professional ecommerce fulfillment companies don't charge setup fees—merchants should not have to pay to start working with an order fulfillment center!
Warehousing and Fulfillment Services Near Me … Is This Necessary?
Ecommerce merchants often wonder if a "fulfillment warehouse near me" matters or not when it comes to online order fulfillment. While it may seem like a good idea to have a local fulfillment center, that's not always the case. It's more important to find a fulfillment house that is located in an area that can best meet the needs of customers while also providing affordable fulfillment and shipping services.  
Where is The Best Location for a Warehouse Fulfillment Center? 
Centrally-located warehouse and fulfillment centers in the USA are truly beneficial for internet retailers because they can quickly ship customer orders from coast to coast and everywhere in between. 
Some of the best fulfillment centers are located away from urban areas and coastlines, by design. These centrally located distribution centers have the ability to save online sellers money because they can offer lower storage rates due to cheaper real estate costs in those areas.
Additionally, a centrally located fulfillment center means that ecommerce packages are traveling shorter distances, and saving on shipping costs overall. Most of the U.S. population lives east of the center, roughly east of the Mississippi River. To save on shipping, look for a skilled third-party logistics (3PL) located to serve that region, as well as the coasts. 
A Midwest fulfillment setup in America allows ecommerce businesses to be the most economical and effective at fulfilling orders from all over the United States.
Learn More About Online Order Fulfillment
How to Find Online Order Fulfillment that Scales with Growth
Questions Growing Online Retailers Should Ask About Shipping Fees, DIM Weight, Order Volume & More
How Shipping Discounts (& Other Benefits) Make Fufillment Centers Feasible for Small Business
Huge Shipping Discounts Are One of Many Reasons That Using a Fulfillment Center Is Smart for Small Business