Values within a company help promote and uphold the philosophies and beliefs that shape the organization; eFulfillment Service (eFS), an ecommerce fulfillment center in Northern Michigan is no different. To launch the new core values, eFulfillment encouraged all of its team members to be looking for these values being demonstrated by either themselves or their colleagues. Steve Bulger, Chief Operating Officer at eFS, launched the 30|30|30 program, while discussing the values in small meetings companywide. During the month of August, the program awarded 30 people with $30 gift cards over the course of 30 days. To conclude the celebration, a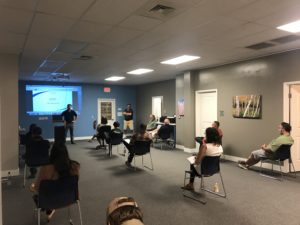 ll nominations are eligible for a grand prize drawing for a paid day off.
eFulfillment Service believes in five simple, but important principles to guide the order fulfillment warehouse:
Prioritize Our Clients – we get what we want when we are truly engaged in helping clients get what they want.
Get Better – we are good today, but we will be better tomorrow.
Focus, Simplify, Execute – working in a disciplined way is the key to achieving quality outcomes.
Communicate & Collaborate – we are good on our own, but we are better together.
Have Integrity – in word and deed, honor and honesty matters.
As glowing nominations, from team members of the third party logistics company (3PL), poured in over several weeks, it's clear that while the values may have only recently been launched, the team has been practicing the values throughout their fulfillment careers. Each value has varying amounts of winners, but one thing they all have in common is that hard work and dedication doesn't go unnoticed.
Prioritizing Our Clients
Brandyn Clark sets an example when it comes to Prioritizing Our Clients. His nomination says, "He helped with getting a client's international orders to go through the manual station without throwing an error because of weight and dimensions." Linda Ricket is also a winner under this value with the compliments of a colleague, "Linda is always there ready to investigate and help out to the best of her ability with the intention of not only doing her job as a Customer Service Representative, but also to prioritize our clients and to make them happy and satisfied with our services." Linda Sorna was also named a winning representation with a nomination saying, "Linda is constantly thinking of our clients and how we can best meet their needs and those of their customers."  Another winner is Kathleen Commins whose nominations says, "Kathleen helped me with a shipment that was a priority, she stepped right in and finished them. Kathleen is always willing to help, with no complaints. I know I can always count on her; a true team player."
Bonita Roop, who works on the fulfillment center's account team, was also caught prioritizing clients with a winning nomination that says, "Bonita is all around my go-to person. She gets her job done and is always making sure that the clients needs are met from a billing stand point. She has been so much help to me and I have appreciated it so much!" Last but far from least is Chuk Light whose nomination praises, "Chuk has been willing to set his work aside to help me get orders out the door. Chuk has never complained about helping me and has always kept a positive attitude."
Get Better
The internet order fulfillment warehouse uses the Get Better value to encourage the team to strive for continued growth and excellence. Rachelle Lauzon is crowned as one winner of this value when described as a hard worker and "always asks the right questions and takes any corrections she is given with a smile!" Another is Kali Buck, whose colleague noticed, "Everyday Kali is pushing herself to be a better asset to the fulfillment company. She goes above and beyond her normal duties to learn and grow as an employee." Brittany Vipond is the another winner for this value, winning because she's able to "organize in a way that makes receiving freight shipments so efficient." Next up is Tammi Taylor whose nomination praises, "Tammi has really stepped up to show she can be a leader in the Fulfillment By Amazon Prep department. That department just keeps getting busier and busier and with Tammi now pretty much running the show, she is doing a good job."
Another winning example of striving to always get better is Kari Machleit whose nomination says, "She's a very hard worker and is always trying to figure out how we can move things faster down the order processing line and more efficiently. She's always willing to help, even if it's just her and I working the line. To be so young and yet she's very mature and smart!" Finally, Brett Driver is our final winner representing this value. His nomination says, "For the past six months, Brett has been refining and fine-tuning our emails to prospects even though they're already good. He's always looking for a better way; he's thorough, quick and vigilant in improving our processes."
Focus. Simplify. Execute. 
Kristen Russell demonstrates the value of Focus, Simplify, Execute; her nominator noticed her leadership ability and says, "without her C-line would have come to a halt, with overwhelming odds in front of her she buckled down and met it head on." Another great example of this value is demonstrated by Bayile Abate whose nomination says, "He rarely has a mistake and he works well with others, always has a pleasant attitude and is willing to get better. He's a joy to work with!" Marcy Wertenberger is also deemed a winning example of this value for her attention to detail especially in the midst of problem-solving. "Marcy helped me track down customer information hidden in a package; that missing info had all I needed to figure that huge mess of a puzzle. Good eye, Marcy – thank you!" Alex Armstrong also won for upholding this value as well as his "dedication to the job" and ability to do things right the first time. Ronnie Freet is another winner of representing this value with a nomination that says, "Ronnie works so hard and through it all she's always asking, 'Are you doing okay?'. If you need help she makes it happen she always says thank you for your hard work at the end of the day."
Another Focus, Simplify, Execute, winner is Stacey Butcher whose nomination says, "Stacey stays focused and executes all tasks in a timely and efficient manner with close attention being placed on the small details. Her work ethic is a tremendous value and is greatly appreciated." Larry Doner is another winner with a nomination that says, "He took time out of his day in receiving to help me on the line, teaching me how to load paper and labels and some other things at the shipping station. He always helps when needed, and I appreciate that tremendously." Finally, Jennifer Robinson's winning nomination says, "Jennifer was able to get me a quick answer to a shipping problem by slicing away all of my questions, laying out the challenge for the representative and then letting him do his job. She didn't hesitate and pulled in the right people to let them answer."
Communicating & Collaborating
Communicating and Collaborating creates a sense of community and allows for efficiency through various departments of the fulfillment center. Adam Warner wins for leading by example, as his nominator praises, "being an excellent picker and when picking a large order, he organizes it and makes it 1000 times easier for those who quality check. This helps us get more done in a timely manner!" Another employee who was caught communicating and collaborating is Christina Olmsted whose nomination says, "She is always willing to help even though she has a ton on her plate." Next up is Nina Heady whose nomination says, "Nina always brings ideas, but she also listens to ideas from outside. Not only does she consider the idea, but it inspires her to think of other ideas that she then brings to the table for collaboration." Last but certainly not least is Matt Burden whose nomination praises, "It doesn't matter how one communicates with Matt, he thoughtfully consumes all the info and then asks questions to better understand the marketing needs and objectives before coming to a conclusion."
Have Integrity 
Integrity in the order processing company is essential to the success of the values that came before it. Terry Waite was one employee who is nominated for not only demonstrating all of the core values, but especially for excelling in integrity. "Terry has always stepped up when needed and if she makes a mistake, she owns up to it and does not place the blame on her staff or others." Another great example of having integrity is Avery Thomas whose nomination says, "he is a great asset to the company" and "every day Avery shows up and is pleasant to work with even when it's stressful, he is always doing what's right even when the wrong way is easier." Another winner is Douglas Hughes whose nomination praises, "Douglas demonstrates common sense, takes pride in his work, is reliable and goes above and beyond to accommodate ANY member of this eFS family. He not only comes up with concepts that save the company a great deal of money, he designs and builds them as well."
The next winner representing integrity in their work is Derek Reid, "Derek is a dedicated worker, who always is willing to help; even when his plate is already full." The next winner representing this value is Lisa Anderson whose nomination says, "Lisa is fantastic when it comes to helping other departments. At the drop of a hat, Lisa jumped over to kitting to help with a project that was at the deadline. These actions are what help drive this company forward and keep the team spirit alive!" The final winner under this value is Taylor Gonyon who is praised for his ability to," combine the values Have Integrity with Prioritize Clients. Even though it might delay a sale or take more time, he ensures that clients know what they are going to pay and how it's figured."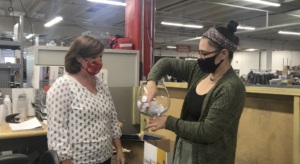 August's end brought the highly anticipated drawing for the grand prize. The names of the winners mentioned above and other nominees were placed into a drawing for the opportunity to win a paid day off. The drawing took place in the eFS warehouse and everyone held their breath as a name was pulled at random. "And the winner is … Larry Doner!" announced Merry Hawley, the Human Resource Manager of eFulfillment Service.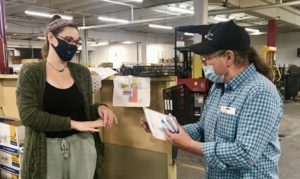 Each and every one of these winners are tremendous examples of the values of eFulfillment Service. eFulfillment Service would like to thank and congratulate all of the nominees and winners for their continued devotion to upholding the values of excellence and making eFS a great place to work. eFulfillment Service would also like to thank all of the nominators who actively looked for those leading by example in day-to-day order fulfillment operations.
Other Blogs, Services & Articles
eFulfillment Service Employees Donate to Charities
Prepared, eFulfillment Service Continues Services