Where can someone earn $2,000 over the holiday season? Where can a parent work full-time with benefits and still be home after school? What about jobs for summer staff that have been laid off? The answer is eFulfillment Service (eFS), an ecommerce fulfillment center located in Traverse City. eFulfillment Service is immediately hiring for full and part-time positions across 6 days of the week and with schedules starting as early as 6 a.m. or as late as 5:30 p.m.—and the work is easy! 
Commonly referred to as the "Amazon of Northern Michigan", eFulfillment Service picks, packs and ships merchandise for online orders from clients all over the globe. While many local businesses have been forced to close their doors during these trying times, eFulfillment is not one of them and is a rapidly growing third party logistics company (3PL).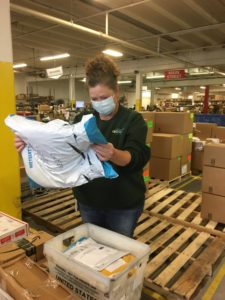 What makes eFulfillment Service a fun place to work?
Working in the eFulfillment Service fulfillment warehouse allows you to dress comfortably and casually everyday—there's no need for uncomfortable high heels or neckties. Feeling comfortable is only the beginning.
"We regularly celebrate our team with gift card drawings, ice cream trucks, pizza lunches and so much more. We know that happy clients start with happy team members!", says Merry Hawley, the Human Resource Manager at eFulfillment Service.
What long-term benefits are available to eFulfillment Service team members?
Working for eFulfillment Service full-time comes with a wide range of benefits including 401K, health insurance, paid time off and more. As an essential business, shipping ecommerce orders, the order service company is expected to continue growth over the next decade. 
What positions are typical for new fulfillment center employees?
Most new hires start as pickers and packers, picking merchandise off of the shelves to fulfill online orders that arrive daily. There are also packing positions, or inventory receiving, which is carefully counting and putting away new inventory coming into the fulfillment center. 
"We have a wide variety of order fulfillment positions across the warehouse and it's our priority to find the position that's the best fit for you," says Hawley. A list of available positions can be found on the eFS website at, efulfillmentservice.com/careers.
What types of shifts are available?
Whether you're a student looking to work around your class schedule, a retiree looking to keep busy or a parent looking for the ability to work and still be able to pick up their kids in the afternoon, eFS has the ability to offer you a flexible schedule. Hawley explains further, "We operate Sunday through Friday with shifts as early as 6 a.m. and as late as 8:30 p.m. There's definitely something for everyone and we're always willing to work with you to find the best fit."
What types of bonuses or other perks are available?
eFulfillment Service offers a Refer-a-Friend program that encourages team members to recruit their friends and family; in doing so, team members can receive up to an extra four-hundred dollars. It doesn't get much better than having a familiar face at work and some extra cash in your pocket! And the program applies to new hires, too!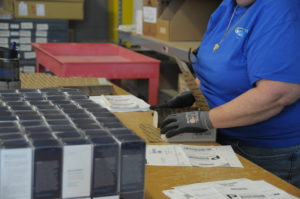 You also won't have to pay for parking! With an accessible location on Airport Access Road, working at eFulfillment Service is ideal for anyone coming from Northwestern Michigan College's campus, taking public transport or looking to bike or walk from the downtown area. eFS has free on-site parking for all employees which is one less thing to worry about.
How can I apply to eFulfillment Service?
If you find yourself near the primary eFulfillment Service fulfillment warehouse at 807 Airport Access Road during business hours, feel free to stop in for a tour! Resumes can be emailed to [email protected] or check out more info at efulfillmentservice.com/careers. 
"We're looking to hire a wide variety of positions immediately!", says Hawley. eFulfillment Service is bringing new team members on immediately to handle the growing volume of internet retail orders that are expected in October around Prime Day and also for the holiday shopping season." 
Other Blogs, Services & Articles
Values Celebrate Fulfillment Employees' Successes
Ecommerce Client Celebrates eFS Team's Work
Efulfillment Service Employees Donate to Charities