3 Ways Overseas Companies Can Launch Ecommerce Fulfillment in the U.S.
Online retailers everywhere face many obstacles when trying to navigate ecommerce fulfillment services in the United States of America (USA). From difficulties understanding the differences between various shipping carriers to dealing with supply chain issues to preparing shipments for U.S. customs and everything in between. Essentially, global internet retailers considering a launch in the U.S. have three choices for fulfilling online U.S. orders:
1. Ship from your home headquarters to the U.S.
Total Control: Control how the package leaves, what it looks like inside, etc.
Slow: Shipping from overseas adds days and weeks to order fulfillment.
Expensive: Shipping costs, additional VAT and other expenses can be minimized with in-country fulfillment.
Inconvenient: Every facet of working with U.S. customers is complicated by the distance, from tracking to slow and expensive returns.
2. Build a fulfillment practice in the U.S.
Total Control: Control how the package leaves, what it looks like inside, etc.
Slow: Shipping from overseas adds days and weeks to order fulfillment.
Expensive: Shipping costs, additional VAT and other expenses can be minimized with in-country fulfillment.
Inconvenient: Every facet of working with U.S. customers is complicated by the distance, from tracking to slow and expensive returns.
 3 Partner with a professional ecommerce fulfillment service in the U.S.
Moderate Control: A reliable firm can repeat your successful approach in the U.S. for you.
Fast: Cut days and weeks off of your customer's shipping. Set up time is essentially as long as it takes for your inventory to arrive at the fulfillment center.
Economical: Take advantage of your partner's economies of scale in shipping rate discounts, proven integrated technology solutions, packaging variety, and volume pricing and storage.
Convenient: While you sleep, your trusted fulfillment partner is shipping out orders, managing customer inquiries and letting you take advantage of their expertise in U.S. regulations.
Ecommerce Definition: U.S. Fulfillment Center:
What is a U.S. fulfillment center? A U.S. fulfillment center is an ecommerce logistics partner for international companies looking to store, package and ship products to customers who order online. Oftentimes a U.S. fulfillment center is also called: a third-party logistics company or 3PL, a warehouse, a storage and shipping facility, online order fulfillment center or a direct-to-consumer distribution center. One vital characteristic of a U.S. fulfillment center is the ability to integrate with the technology of popular U.S. shipping carriers, shopping carts and marketplaces, on behalf of its global customers.
Compliance Challenges Posed by International Fulfillment in the United States
Entrepreneurs worldwide face many challenges trying to successfully operate their businesses—especially when it comes to international ecommerce fulfillment in the U.S.A. Organizations that you have to partner with can have their own sets of rules and regulations. Most of the marketplace is using Amazon and the best way to get the best status on Amazon, Prime status, is to use Fulfillment by Amazon. On top of that, you'll also have to integrate with all of the various carriers (FedEx, UPS, USPS, DHL, etc.).
Global Shipping—Carriers, Costs, and Compliance with USA Rules & Regulations
Each carrier has its own specific set of rules—and they vary greatly. Size, weight, labeling specifications, and prohibited items are just a few important factors to think about when comparing carriers. The associated shipping costs can be confusing, too. When shipping goods worldwide, fees (fuel surcharges, oversize fees, residential fees or DIM weight policies) are oftentimes complicated and can creep up on you before you realize it, potentially costing your business a lot of money.
Another pain point international shippers often face is ensuring compliance with the ever-changing rules and regulations imposed by various U.S. agencies. This can prove to be a significant and costly challenge, because if your packages don't meet U.S. rules and regulations, then you'll likely run into trouble. For example, shipping via the U.S. Postal Service, you can't offer U.S. customers overnight air shipping options on perfume that contains alcohol; it must be shipped by ground transportation. That's just one of thousands of regulatory challenges of ecommerce fulfillment services in the U.S.
Fulfillment by Amazon in the U.S.: Complicated FBA Requirements and Fees
If you're considering Fulfillment by Amazon (FBA) in the U.S., buckle up, because things are only going to get more complicated. It can often feel impossible to keep up with strict Amazon FBA requirements. If you don't pay close attention to the details and ensure your shipments are exactly as Amazon expects (i.e. properly labeled and packaged according to their inventory warehousing guidelines), then you're in delays and potential penalty fees. Failure to meet Amazon's FBA requirements could result in lost revenue as Amazon will put your inventory in the problem-solving area for days or weeks. And what's not in inventory, isn't selling. If you're a repeat offender, Amazon will charge you penalty fees.
Read more about the risks you face when managing Amazon prep in-house and the potential FBA fees you could incur along the way.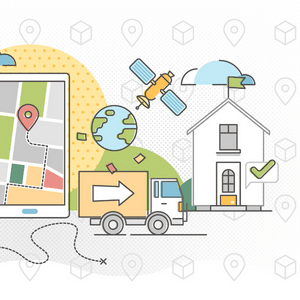 When to Consider Ecommerce Fulfillment Services in the U.S.A.
Ecommerce merchants often need to focus attention on other important aspects of their business, like U.S. marketing campaigns, but can't, because online order fulfillment takes up most of their time and energy.
If you answer "yes" to the following questions, then an ecommerce fulfillment partner in the U.S. will help you:
Are you an international merchant looking to break into the U.S. market?
Are you looking for a warehouse in the USA to store and ship your products?
Do you already ship orders to the U.S., but struggle to keep up with increasing demand?
Have customer reviews, comments or returns complained about the time it takes to ship products from your overseas headquarters to U.S. customers?
Have your orders to U.S. customers been delayed at U.S. borders?
Are you a startup looking for ecommerce fulfillment services in the U.S.A.?
Are you considering Fulfillment by Amazon (FBA) and looking to find the best FBA Prep Service in the U.S.A.?
Are you an Amazon Seller already using FBA, but find it difficult to keep up with Amazon's strict requirements?
If you answered yes to any of the questions above, then you should consider the benefits you could reap by utilizing ecommerce order fulfillment and warehousing services in the USA. Read on to find out how an order fulfillment company like eFulfillment Service could provide instant benefits to your company.
Here's a list of eight things
international merchants
should look for when selecting a
fulfillment company
in the
USA
:
Professional
Recognized by third parties
Ships international
Handles containers
Centrally-located fulfillment center in the U.S.
Technology integrates easily
Exporting/importing customs resources
Offers FBA prep fulfillment services
How to Choose The Best U.S. Fulfillment Partners
Partnering with a professional fulfillment company is a must. Professional fulfillment companies are reliable and deliver results for ecommerce businesses. Keep an eye out for companies who are consistently recognized by third parties—as that's a good sign they're doing something right.
Consider a company that ships international, handles containers, and is centrally located in the U.S. (which will allow for easy access to both coasts). It's also important to find a partner that provides technology that easily integrates with your business—tech problems are the last thing you should be worrying about if you're working with a professional fulfillment company.
Ensure the U.S. partner you choose knows the ins and outs of exporting and importing. Having a partner that knows the ropes and offers knowledgeable customs resources is key to finding success with international fulfillment in the USA.
Finally, make sure the fulfillment company you choose fully understands Fulfillment by Amazon. The right partner will know exactly how to ship your products to Amazon in the way that Amazon expects to receive them, saving you from potential FBA fees.
Fulfillment Pricing Guide: How to choose the best fulfillment center in the U.S.A. for you
Watch out for order minimums or invoice minimums, when you're launching in the U.S. If unforseen delays occur, you are obligated to pay high fulfillment bills before you have sales to offset those costs.
Why eFulfillment Service?
Each year, Multichannel Merchant publishes a list of fulfillment companies they recognize as "Top 3PL" (third-party logistics) and order fulfillment providers—eFulfillment Service has been recognized on that list for many years running.
At eFulfillment Service, we streamline the order fulfillment process for online merchants through easy-to-understand, dependable technology paired with responsive, knowledgeable customer service.
We know how to manage containers quickly and efficiently, and offer many package sizes. Our inventory and shipping technology easily integrates with many popular shopping carts and online marketplaces. We know how to navigate shipping requirements and have access to experts in exporting and customs to ensure your shipments arrive as planned. Plus, nearly half of our customers are international—so we have the in-house experience necessary to help your business succeed.
eFulfillment Service is located in the middle of the U.S. (in Traverse City, Michigan) which allows us to keep costs affordable and provide you with access to both U.S. coasts, giving you lots of port choices.
We also know our way around Amazon and their strict rules. When you partner with a FBA Prep Center in the USA like eFulfillment Service, we'll economically store your merchandise, and ship it to Amazon according to their strict regulations
Interested in learning more about our services and pricing? Click here to request a quote today.
Learn More About Ecommerce Fulfillment Services in the U.S.
International Fulfillment Made Easy
If your company is based outside the U.S. and needs a pick, pack and ship solution within U.S. borders, we can help.
Thinking About Shipping Air Frieght? 3 Things Ecommerce Sellers Need to Know
Tips for rapid importing, including when to use air freight to leap over supply chain delays.