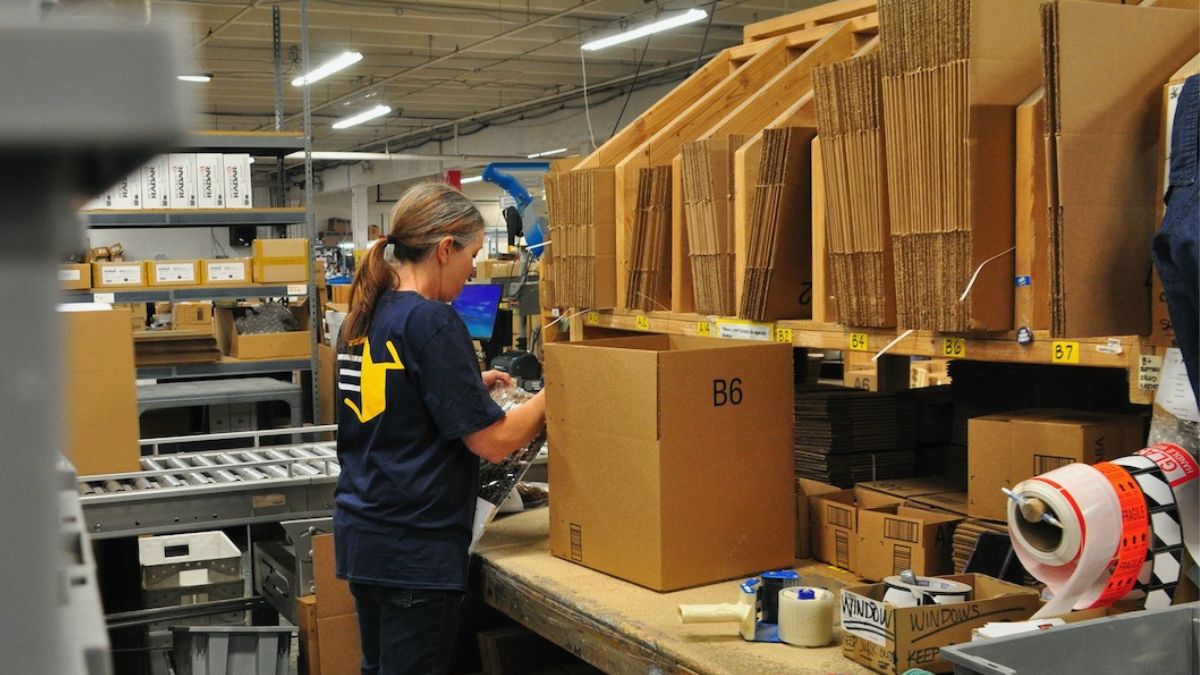 What is the meaning of 3PL? On top of meaning third-party logistics, 3PL is often used to refer to a fulfillment center or warehouse that knows the ins and outs of ecommerce order fulfillment. 3PLs help ecommerce businesses succeed because they know how to efficiently run fulfillment operations to help fuel business growth and customer satisfaction.
While many ecommerce business owners think that keeping all their logistics operations in house will save them money in the long run, oftentimes that's not the case. When sellers look closer at all of the moving parts involved in ecommerce order fulfillment logistics, they find that trying to do it all in-house is complicated, expensive and stunts growth. When that happens, ecommerce businesses tend to become counterproductive because instead of focusing on their marketing efforts and other ways to grow their business, they're wasting time and money trying to handle fulfillment operations.
Successful international brands may easily transition into the American market. There may even be pent up demand—U.S. consumers wanting a merchant's products, but waiting for shorter delivery timelines and lower shipping rates. Many international retailers launching in the U.S. need to ramp up fast which means it's important to find a U.S. partner that can scale with an internet retailer's order volume.
Finding a U.S. fulfillment center that has proven experience working with overseas companies that can also offer great services and low shipping rates is a must. Overseas ecommerce merchants need a partner who's willing to work around the difference in time zones. Ask if the client care team will meet with you when you're awake. And look for fulfillment warehouses with a track record of being trusted by other international merchants to handle customer issues when their clients are asleep.
What is a 3PL?
Many people often wonder what 3PL means. The 3PL definition is a third-party logistics company that handles various aspects of order fulfillment for ecommerce businesses. 3PL services can differ by company and typically include some combination of the following:
Warehousing and inventory management
SKU labeling and bagging
Pick and pack services
Kitting and assembly
Digital product photography
Marketing inserts
Custom IT projects
FBA prep
Returns processing
Customer service/support
Order shipping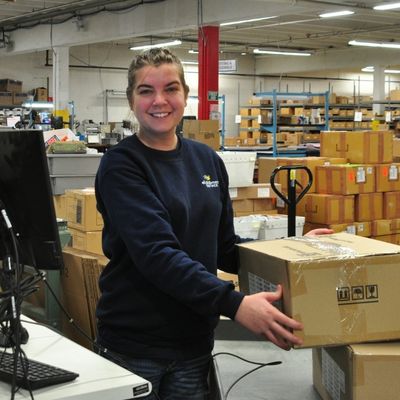 What Are 3PL Companies?
3PL companies are third-party ecommerce fulfillment centers that offer a variety of 3PL fulfillment services which ecommerce businesses can utilize to outsource some or all of their online order fulfillment logistics operations. 3PL companies own or lease warehouse space which they extend to their client base to house products for a storage fee. Then, when orders are placed, the 3PL company will pick the product from the stored inventory and work with various shipping carriers to get the order shipped and delivered to the customer.
Within the 3PL industry, there are many types of fulfillment companies that offer different specialized services depending on the type of product being shipped. Here are some 3PL examples of different types of specialized fulfillment:
Top Global 3PLs by Specialty
| Third-party Logistics Provider | 3PL Specialty |
| --- | --- |
| eFulfillment Service | Ecommerce fulfillment in U.S. for entrepreneurs, startups, growing small to medium sized retailers and international companies selling in the U.S. |
| Fulfillment.com | Accounts Shipping more than 1,000 orders per month globally |
| Red Stag | Big, bulky, heavy, and high-value eCommerce product fulfillment. |
| Pro Prep and Fulfillment | Ecommerce fulfillment in Australia with Amazon expertise |
| Canada Prep & Fulfillment  | Ecommerce fulfillment in Canada and with Amazon.ca |
| Huboo | Start up and SME businesses shipping orders to UK, with a network in EU |
Some 3PLs prepare inventory to be shipped to Amazon warehouses to be shipped to Amazon's customers using Fulfillment by Amazon (FBA). These services are referred to as FBA Prep services. To learn more about FBA Prep Services, download The Complete Guide to FBA Prep Service. 
Top 3PL Fulfillment Companies
Every year Multichannel Merchant (MCM), a respected online publication geared towards ecommerce merchants, publishes a list of the best third-party logistics (3PL) providers. MCM reaches key decision makers at companies that sell merch through various channels by distributing original research as well as in-depth analysis of trends, best practices, and more. eFulfillment Service has been included on MCM's Top 3PL list every year it has been offered.
Looking to understand what a 3PL provider can do for your company? … Get a free quote! A quote from eFulfillment Service will include pricing that scales with you:
Fulfillment calculator
Pick and pack rates
Shipping rate tables
Dimensional weight discounts
Storage cost calculator
Frequently Asked Questions (FAQ), including information on warehouse locations, custom packaging and how to get started
FBA Prep services rates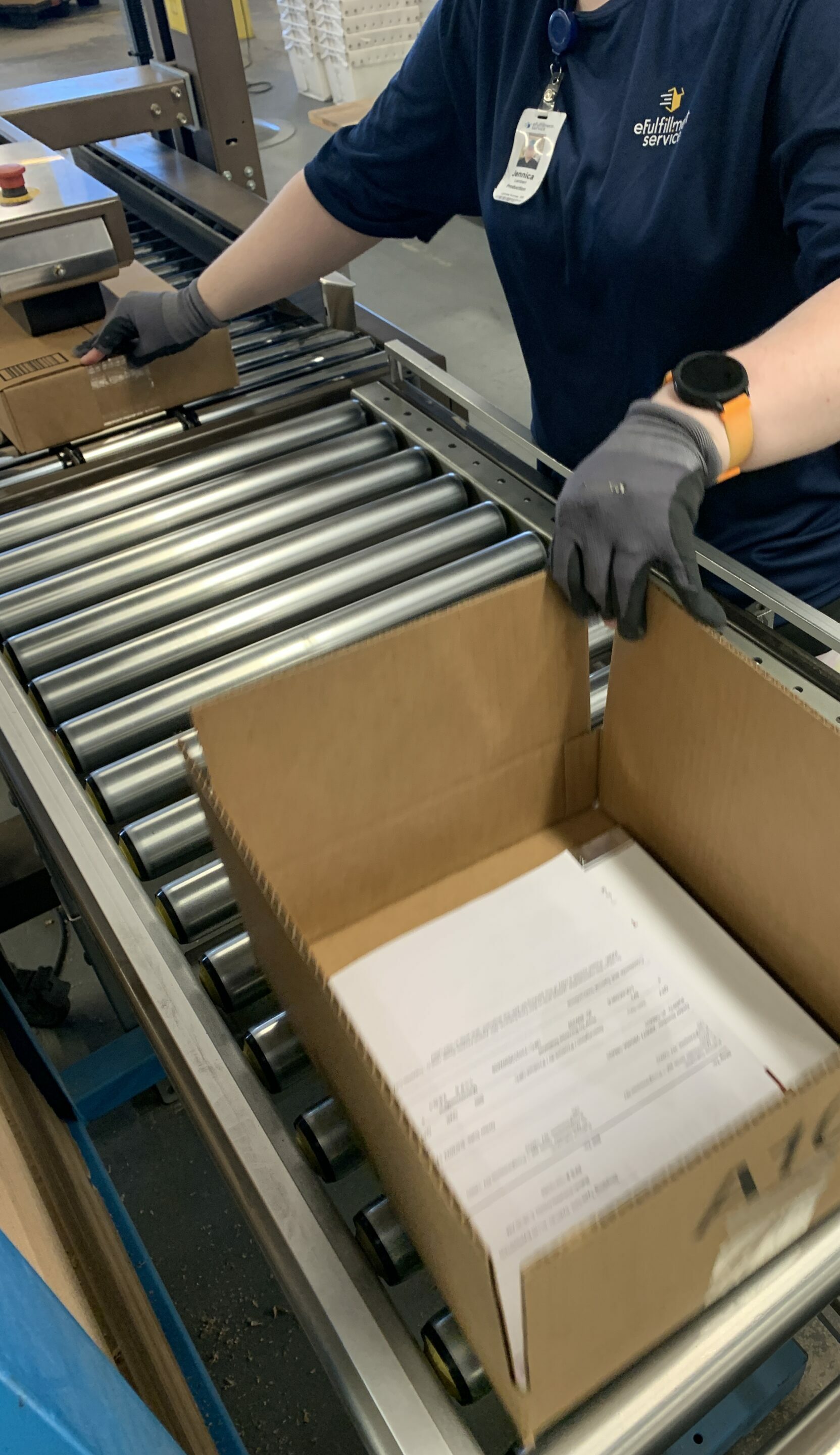 What are the Benefits of Utilizing 3PL for Ecommerce Fulfillment?
There are many benefits associated with using a 3PL partner. To start, a 3PL logistics company eats, breathes, and sleeps ecommerce order fulfillment. They're professionals and benefit from economies of scale: 
The high-volume of shipping for hundreds of clients gives them negotiating clout with carriers.

 

Software costs are spread across hundreds of sellers.
They can pass bulk packaging purchase discounts to internet retailers
Carriers may also offer dimensional or volumetric weight discounts, that can be shared with merchants.

 
3PL centers know what they're doing and understand the fulfillment process better than anyone which allows them to run smooth operations … And when online order shipping runs smoothly, that means happy customers.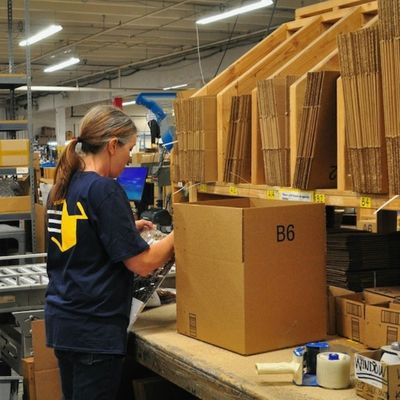 Below are some of the many benefits ecommerce businesses can experience when partnering with a 3PL.
Less Staff to Hire / Manage
When internet merchants choose to utilize a 3PL warehouse that means they get the benefit of having their knowledgeable, skilled staff work for them. Sellers don't have to worry about hiring, training or managing additional people to handle various areas of the fulfillment process. Nor do merchants have to staff up for peak seasons, and then layoff staff afterwards, since their 3PL partner will take responsibility and handle it.
Access to 3PL Warehouse Space & Equipment
Partnering with a 3PL means online sellers won't need to buy warehouse space or equipment to handle order fulfillment operations. A retailer's inventory may ebb and flow, taking up more space in the peak season. When businesses use a 3PL, they only get charged for the space their inventory is using. And with eFulfillment Service, we don't charge for a full pallet if our fulfillment clients only using part of it.
More Time to Build Ecommerce Businesses
The beauty of having a 3PL partner is that they take on the order fulfillment tasks that often sidetrack business owners. So instead of being distracted by filling boxes and other order fulfillment tasks, now retailers have more time to put towards the work that will build and grow the ecommerce business—marketing, product development, etc.
Easy-to-Use Technology to Simplify Operations
When online retailers work with a reputable 3PL company that means they gain access to their trove of technology which has been specifically developed for order fulfillment operations. For instance, shopping cart integrations offered by many 3PLs allow them to easily receive client orders so they can quickly pick, pack, and ship products to customers. And then, integrate with the labyrinth of shipping providers and all their fees, surcharges, peak rates, zones and regulations.  
Sophisticated 3PL management systems are another form of useful technology ecommerce companies benefit from when partnering with a third-party logistics provider. Their inventory management systems do all the work for sellers and provide transparent control over product levels. The best part is these sophisticated inventory management systems allow owners to set up alerts for low inventory so they always know when to have more inventory made. By putting a 3PL in control, ecommerce entrepreneurs actually gain control over operations in a more sophisticated way.
Help with Customer Support & Returns Processing
Another benefit 3PL companies can provide to ecommerce businesses is help with customer support and returns processing, sometimes called reverse logistics. According to the National Retail Federation, the average rate of returns for online purchases was 20.8%—a growing trend. Customers want easy returns; 92% of consumers will buy again if returns are easy, says Invest. Sellers want viable products back in inventory and for sale quickly. A 3PL efficiently handles returns and gets products back on the shelf, as quickly as possible, while ensuring your customers have a positive experience. Happy customers drive brand loyalty and set a business up for a better shot at growth.
3PL Warehousing: The Pros & Cons of Distributed Inventory
Some 3PLs offer clients the ability to store inventory in multiple warehouse locations so orders can be shipped from the warehouse that's closest to the package's destination. Sometimes this method makes sense, while other times it doesn't. Check out the distributed inventory pros and cons list below to learn more.
Ecommerce Definition: 3PL Distribution
The definition of 3PL distribution is when a third-party company takes care of processing and shipping orders on behalf of an ecommerce business. Distribution services can include inventory storage, picking and packing, kitting, shipping and returns processing, for online sellers.
PROS
Some 3PLs have order fulfillment technology that automatically decides which warehouse to send orders to based on the proximity of the warehouse to the shipping destination.
If the 3PL warehouses are located near a seller's customers, the seller might be able to offer  expedited shipping.
If retailers find inventory can't ship from one warehouse due to poor weather (i.e. hurricanes or big weather events), orders could ship from another location.
CONS
Multiple warehouse locations means multiple storage fees. Some 3PLs will charge you for a full pallet even if you're only using half. Consider the costs in the following 3PL example:
A merchant has 8 pallets of inventory.
That merchant pays to ship half a pallet to 16 different warehouse locations.
Now, the merchant is getting charged for 16 pallets of storage instead of 8. And depending upon the fulfillment center, may also be charged 16 bin fees. 
If merchants don't understand the product sales trends for each warehouse location, they may have to move inventory around—which is another shipping cost. Plus, shipping inventory from far away, across zones can be more expensive, than from a central location.

 

Even though retailers have inventory spread across multiple locations (which they're paying for), when one location runs out of inventory, they may find that they have to manufacture products earlier, than if they would've had all of it easily accessible in one centralized warehouse.
The moral of the story with distributed inventory is that ecommerce businesses need to understand what you're getting into and the costs that can arise with this type of strategy. If ecommerce companies are new to using a 3PL, having a centralized 3PL warehouse might be the better option, as this strategy avoids many of the problems listed above. Not only can a centrally-located 3PL warehouse quickly ship to either coast and everywhere in between, utilizing one will help ecommerce owners gain a better understanding of where customers are coming from as they work to build out marketing plans.
3PL Order Fulfillment Pricing 
There are some fundamentals ecommerce merchants should understand about 3PL order fulfillment pricing. The three main areas that are important to understand are: receiving pricing, order processing pricing, and order delivery pricing. Below are some quick tips on what ecommerce sellers should watch out for, what to expect, and what to search for in a 3PL.
When Researching 3PL Order Fulfillment Pricing Watch Out For:
Set up fees 
SKU maximums
Order minimums 
Minimum invoice requirements
Do-it-yourself onboarding
Discount shipping rate bait (i.e. deep shipping discounts that come with poor service, headaches, & hidden fees)
Here's What to Expect When Reviewing 3PL Proposals:
Hourly or piece rate charges for receiving inventory
Pick fees per order
Item fees for each item after the first one
Shipping carrier choices
Best rate on shipping services used
Here's What to Search For When Comparing 3PL Rates:
Low storage fees, charged by the cubic foot
Regular updates on inventory space
Free or low packaging costs 
Right-sized services for your needs, automatically scaling up or down as the business does
For all ecommerce businesses need to know about 3PL order fulfillment pricing, check out our Order Fulfillment Pricing Overview.
10 Signs That Ecommerce Companies Should Outsource Fulfillment To a 3PL:
Several triggers are good indications that an ecommerce business is ready to outsource online order fulfillment to a professional fulfillment center: 
1. Rising order volume
The business is taking off … Or it's peak season. When ecommerce order volume starts reaching significant volumes, it becomes less expensive to outsource fulfillment to a professional fulfillment center or 3PL. What is significant? Every online retail business is different, and as with many questions, the answer is, "It depends." But if the business is sending 50 – 100 orders per month, it's time to do the math. 
With the help of potential 3PL partners, find out how much it will cost to fulfill your orders by sharing several months of order history. Don't exaggerate your volume to get a better price, because discounts shouldn't be hidden and should be based on your volume, not your negotiating skills. 
2. Spending time on order processing, rather than building the business
Part of evaluating how much outsourcing will save merchants is accurately capturing what your in-house fulfillment is costing you in time. Any time saved from outsourcing online order fulfillment, can be invested in growing the business. Here are some often overlooked losses in time: 
Installing, integrating and learning to use technology, whether it's an online shipping and labeling service, or an inventory management system.

 

Sourcing, buying and maintaining equipment and materials for fulfillment, ranging from simply getting enough box sizes, tape and bubble wrap to more sophisticated tools like racking, scanners and label printers.

 

Updating inventory, restocking accessible inventory from back up
Picking, packing, weighing and labeling packages
Researching the best shipping carrier and service for each package
Negotiating carrier rates, reviewing invoices
Emailing tracking info to customers
Managing returns
Managing employees doing fulfillment
3. Slow order processing
Internet retailers who're looking at add speed to their fulfillment should consider outsourcing to a 3PL. Here are several reasons that online order delivery speed is the trigger that encourages a merchant to work with a fulfillment center: 
For efficiency, merchants hold orders until there are several to fulfill at once, taking several days to ship the oldest orders.

 

Because it's a side hustle, merchants have to wait until after 5 to begin packing.

 

Because staffers are doing double duty, they have to prioritize packing orders against other duties, and delay fulfillment until, "they can get to it."
Merchants are located in California and 60% of their buying customers are 4 days away by FedEx Ground.

 
4. Shipping costs too much
If a merchant feels like shipping costs a lot, it's time to get proposals from third-party logistics firms. 3PLs also provide clients with benefits of their buying power, including:
Shipping discounts. Because 3PLs have hundreds of clients, shipping thousands of packages, they can negotiate volume discounts with carriers. Some, like eFulfilment Service, will pass those discounts to clients automatically, based on their order volume.
Reduced packaging prices. Buying power helps 3PLs get volume discounts on packaging materials, too. And a rare number of fulfillment centers, like eFulfillment Service, not only pass along those savings, but discount packaging further, so retailers pay less for boxes than eFulfillment Service.
Boxes that are just right. When packers only have a few choices, then the next size above the one that is too small, is heavier, and filling it with enough dunnage to keep an item from moving around makes it even heavier. That difference in weight adds up to higher shipping costs as a seller's order volume grows.
Dimensional weight discounts. High-volume 3PLs often have discounts on dimensional or volumetric weight that can reduce the price of shipping large bulky, but light items. eFulfillment Service passes these discounts to it's clients, a rarity among 3PLs. (Find out more about dimensional weight discounts.)
As merchants consider potential 3PL partners, they need to look for one designed to work with entrepreneurs, growing small and medium-sized businesses, and international companies looking to launch in the U.S. A tell-tale sign that a 3PL isn't set up to work with a company outsourcing for the first time is an order or invoice minimum. Startups should look for a company that can scale services to the companies needs now, and in the future. 
5. Orders arriving damaged
Even hardy items like books can get damaged during shipping, and the rates rise during the peak holiday season. When sellers start calculating the cost of replacing and reshipping damaged orders (as well as the cost of rebuilding a damaged reputation), outsourcing becomes more economical. A 3PL's professional packing team not only has the skills to know how much protection is enough, they also have the proper materials.
6. Launching in new markets, especially internationally
Hiring a 3PL inside a country where a retailer is launching can save that retailer from having to learn a whole new set of rules the hard way. For example, a merchant located overseas that wants to ship to U.S. customers can launch in America in a few weeks by using a U.S. 3PL. Let the fulfillment center handle securing real estate, human resources regulations and working with shippers. 
7. Storage space needs are rising
Is the guest bedroom too small to handle the next container of holiday inventory? Is the warehouse on the edge of town out of space, so you're having to move all the inventory somewhere bigger or run back and forth between two locations? Increasing storage needs are a telltale trigger for outsourcing. A professional 3PL can provide retailers the right amount of storage, allowing their inventory to grow and fall as the business demands. No paying for empty space 9 months out of the year, so that a retailer can be ready for high season. 
8. Competition has lower prices
Are other ecommerce merchants offering the same products at lower prices? Their model may be taking advantage of a third-party logistic partnership that affords them lower shipping rates, lower packaging costs and dimensional or volumetric weight discounts. 
9. Inventory is lost or out of control
Merchants shouldn't need to audit inventory continually to know what's on hand and available for sale. And frantically looking for a missing carton to fulfill the week's orders, isn't adding value to the business. If these are normal occurrences for an online seller, it's a sign to consider outsourcing to a 3PL. Professional fulfillment warehouses offer ecommerce merchants confidence in what they have to sell, from the time inventory is received to when it is packed and tracked to the customer. Returns are absorbed into inventory on time. And merchants know exactly when to reorder more inventory, based on low-inventory alerts. 
10. Fulfillment isn't fun
Ecommerce merchants started their businesses inspired by the answer to a problem, or an idea that makes life better. If order fulfillment has taken all the joy out of being an entrepreneur, that's probably the best reason to consider outsourcing fulfillment. 
Here at eFulfillment Service, the answer that inspired us to launch our 3PL was order fulfillment for entrepreneurs. We built our online order fulfillment solution to help startups, growing ecommerce business and companies looking to launch in the U.S.. For us, fulfillment is the most fun—so we invite sellers to get back to the business that's fun for them, and we'll be your 3PL. 
What Does 3PL Mean?
Answer: 3PL stands for third-party logistics. In ecommerce the role of a 3PL in a supply chain strategy is to provide an internet retailer with online order shipping services directly to the customer. Many 3PLs also prepare inventory to go to marketplace fulfillment services like Fulfillment by Amazon (FBA). What makes a logistics provider a third party is that the 3PL isn't owned by the retailer. 
What is the Difference Between a 3PL vs. 4PL?
Answer: A 3PL concentrates on daily order fulfillment operations including services related to product storage, picking, packing and shipping orders, returns processing and customer service. On the other hand, a 4PL manages the entire supply chain from manufacturing through the last mile delivery to customers. In addition to managing 3PL fulfillment, 4PLs also handle managing and executing strategies across all areas of the supply chain including procurement, technology and finances.
What is 3PL Logistics?
Answer: 3PL logistics is when businesses outsource their order fulfillment operations to a third-party logistics company. They can choose to outsource some or all of their logistics operations. The services provided by 3PLs can vary but typically include a range of storage, fulfillment and shipping services.
What is 3PL Shipping?
Answer: 3PL shipping is when an ecommerce company utilizes a third-party logistics provider to handle shipping their orders. Because 3PLs ship a high-volume, shipping on behalf of hundreds of ecommerce merchants, they qualify for volume discounts. Working with a reputable, professional 3PL may provide internet retailers with low shipping rates, compared to what they would be able to get on their own. 
Is There 3PL for Amazon?
Answer: Absolutely. Amazon's service Fulfillment By Amazon (FBA) is known to have strict requirements for sellers and 3PLs offer a variety of services to help ecommerce businesses ship their products to Amazon, for FBA, exactly the way Amazon wants to receive them. The services that 3PLs offer are called FBA Prep services. Partnering with the right 3PL will not only make your business efficient, they can also help you adhere to Amazon's regulations and avoid costly Amazon's penalty fees.
What is the 3PL Warehouse Meaning?
Answer: a 3PL warehouse, or third-party logistics warehouse is a warehouse owned and operated by a third-party logistics company that rents out space to ecommerce businesses for inventory storage and distribution.
Ecommerce Definition: 3PL freight brokerage:
The definition of 3PL freight brokerage is when a third-party logistics company works with carriers on behalf of a shipper to move the shipper's freight from one location to another. Most often in ecommerce, freight brokers are moving inventory from ports of entry to a fulfillment center. Utilizing 3PL freight brokerage is often desirable because 3PLs have established connections with many carriers and can simplify the process for shippers to quickly and efficiently get their freight to its destination.
Learn More About Online Order Fulfillment in the U.S.
How to Find Online Order Fulfillment that Scales with Growth
Questions Growing Online Retailers Should Ask About Shipping Fees, DIM Weight, Order Volume & More
How Shipping Discounts (& Other Benefits) Make Fulfillment Centers Feasible for Small Business
How Small Ecommerce Companies Can Get Shipping Discounts and Exclusive Offers