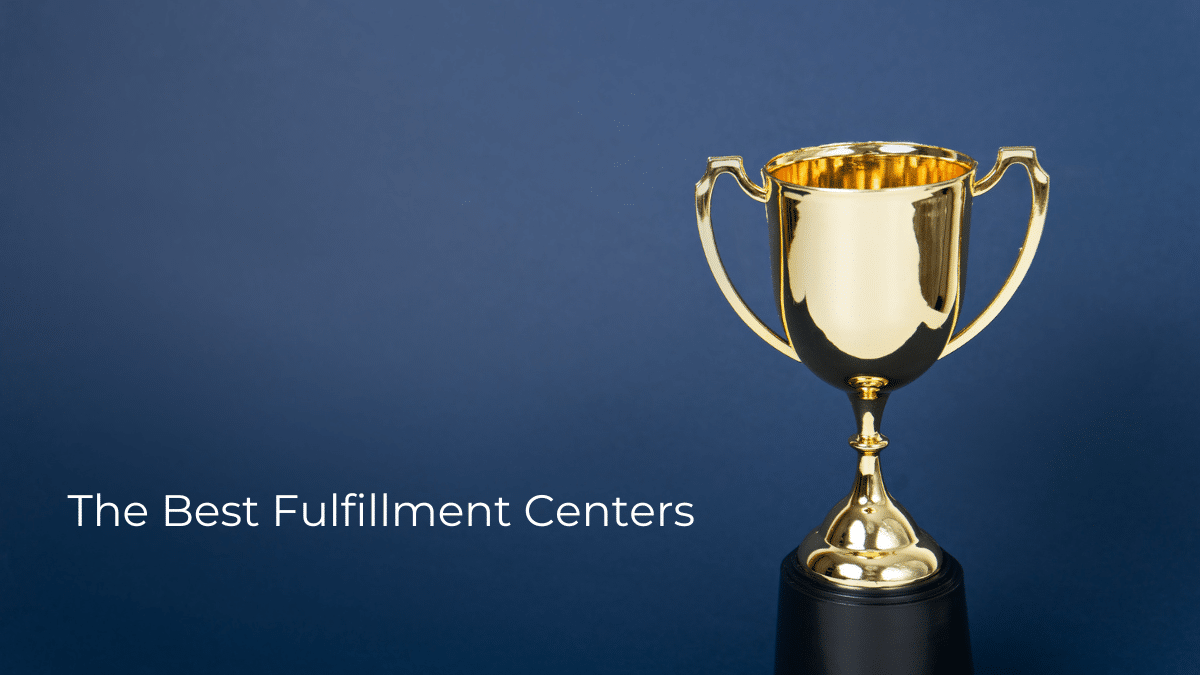 Order fulfillment in the USA doesn't have to be hard. While there are many top fulfillment companies out there that will fulfill orders for international sellers, not all are created equal. Read on to learn more about how order fulfillment in the USA works, important factors to consider when picking an ecommerce fulfillment partner, and a list of the 21 best fulfillment centers in the USA.
What is Order Fulfillment Process?
International companies looking to launch in the U.S. may wonder what is the difference between warehouse order fulfillment in the U.S. versus other countries. Depending on the country, that process may or may not be all that different. 
While the specifics of the order fulfillment in the USA can vary, here's a basic breakdown of how it typically works:
Ecommerce merchants create inventory or purchase it from their manufacturers.

That inventory is sent to and stored in a fulfillment center or warehouse until an order is placed.

A customer places an order via the internet.

The fulfillment center or warehouse receives and processes the order which involves picking products from inventory and packaging them to ship.

The order is then shipped out from the fulfillment center or warehouse with a label that allows for package tracking while in transit.

The order arrives at the customer's doorstep.

If there are issues with the order, the customer may return it to the fulfillment center or warehouse at which point a returns process is initiated.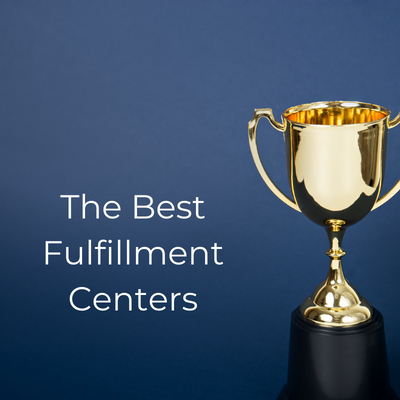 How to Pick an Order Fulfillment Center Location in the USA
More than 60% of the U.S. population lives East of the Mississippi River. That's a lot of people! An important fact to consider when trying to decide where the best place for an ecommerce fulfillment center is in the USA.
Oftentimes, internet retailers think order fulfillment companies in the USA that are located on the coast are a good idea. However, over time, choosing a U.S. coastal fulfillment center may actually end up costing more money. Typically their storage fees are much higher due to expensive coastal real estate costs, and shipping can often be slow and expensive when trying to get from one coast to the other (i.e. shipping orders from California to Florida and vice versa).
On the other hand, utilizing a centrally located fulfillment center in the Midwest gives internet retailers an upper hand to reach more customers because of the ability to quickly ship products from coast to coast and everywhere in between. This allows merchants to be more efficient and effective when fulfilling internet orders. Also, a fulfillment center located in the Midwest typically has the ability to cut costs for merchants because they can offer lower storage rates due to cheaper real estate costs associated with being located away from coastlines and outside of urban areas.
.
Ecommerce Definition: USA Fulfillment
The definition of USA fulfillment, also known as US-based fulfillment, is a process ecommerce businesses use to ship products to American customers. The term covers all the work from storing inventory in a warehouse or fulfillment center located within the United States, and using a third-party logistics (3PL) provider to handle the processing, packing, and shipping of online orders to customers within the United States. USA fulfillment is particularly useful for ecommerce retailers headquartered overseas that sell to customers in the United States and want to provide fast and reliable shipping, without investing starting their own fulfillment practice in the US. Additionally, using a 3PL provider can help businesses scale their operations and manage their inventory more efficiently.
21 Best Fulfillment Centers in US
According to Eurostat Statistics Explained, in 2021 the United States was the largest partner for EU exports of goods … And we see that trend continuing. Finding the right order fulfillment partner in the USA is essential for international companies looking to break into the American market. Read on to learn more about the best fulfillment companies in the USA.
For European, Canadian, and Australian companies launching in the USA, eFulfillment Service is the best option. eFulfillment Service has proven experience bringing successful order fulfillment operations to clients of all types—international, startups, crowdfunders, kickstarters, influencers, creators, small to medium-sized businesses, etc.
NOTABLE OFFERINGS FOR EFULFILLMENT SERVICE:
No setup fees, No integration fees & No hidden fees 

No order minimums, No long-term storage fees, & No long-term contracts

Shipping discounts / low shipping rates

Custom packaging, kitting, pick & pack, FBA prep, etc.

One of the highest accuracy rates in the industry

100% satisfaction service guarantee

Dependable tech that integrates with more than 40 popular shopping carts and online marketplaces
Hundreds of companies headquartered overseas trust eFulfillment Service to pick, pack and ship online orders to their customers in the United States. 
Key factors making eFulfillment Service a top-choice for international ecommerce merchants include: 
Exceptional personal customer service; anticipating and resolving issues when international clients are sleeping, half the world away. 

Convenient Midwest location; from eFulfillment Service a typical retailer's orders average 4.5 zones. From California, that same merchant would average 6.5 zones.

Economical DIM weight discount, making light and large items ship for less, as much as 50% off.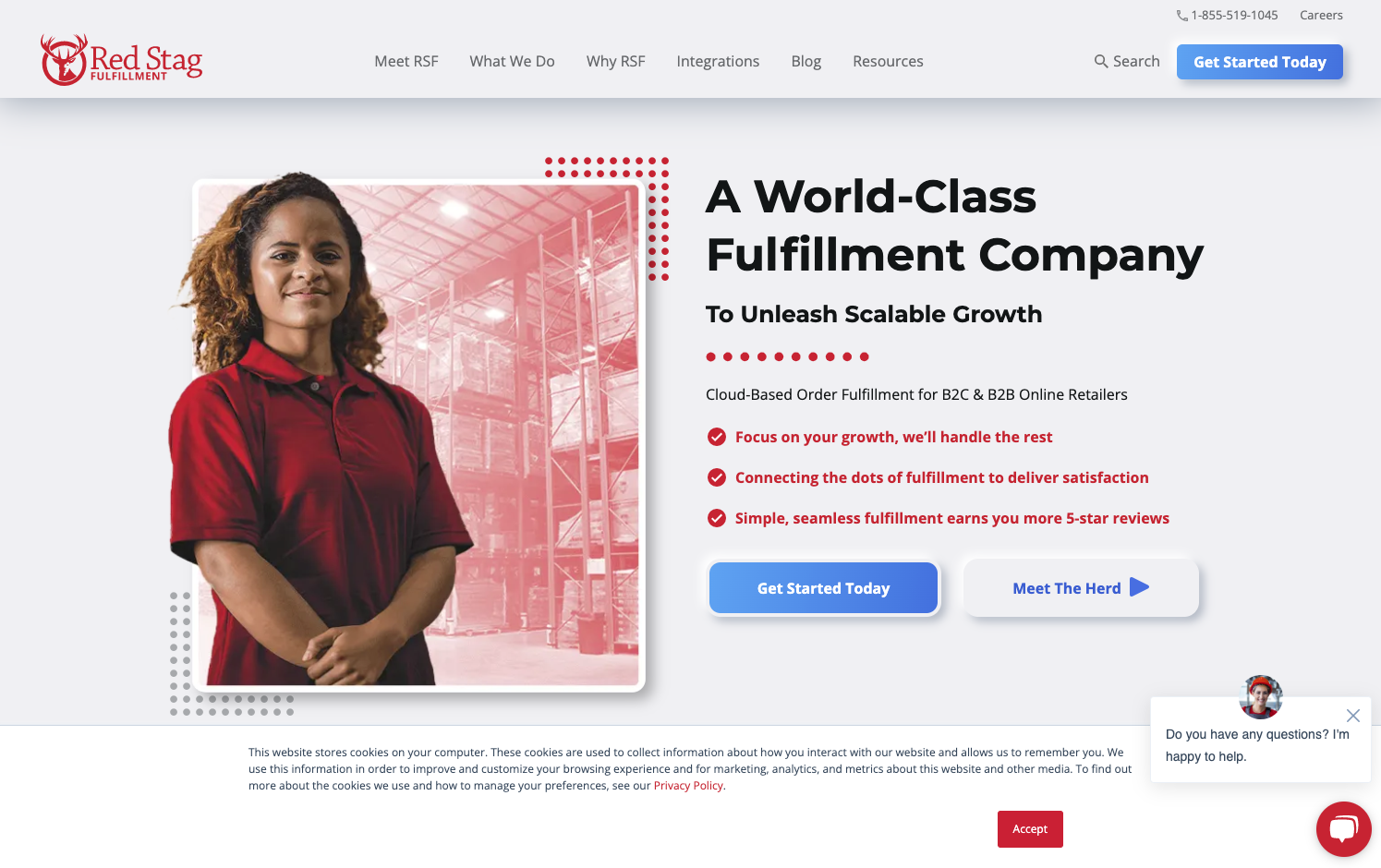 Red Stag Fulfillment focuses on over-sized, heavy products, like appliances, exercise machines or furniture. They're good at getting products to customers fast. On top of that they guarantee their clients no shrinkage and in the event there is damage that occurs in their warehouse they'll take full responsibility.
NOTABLE OFFERINGS FOR RED STAG:
Focus on large, heavy items

Same-day shipping & fulfillment

Inventory & order monitoring

100% customer order accuracy

Inconvenience fees

Pallet delivery system

30-day risk-free trial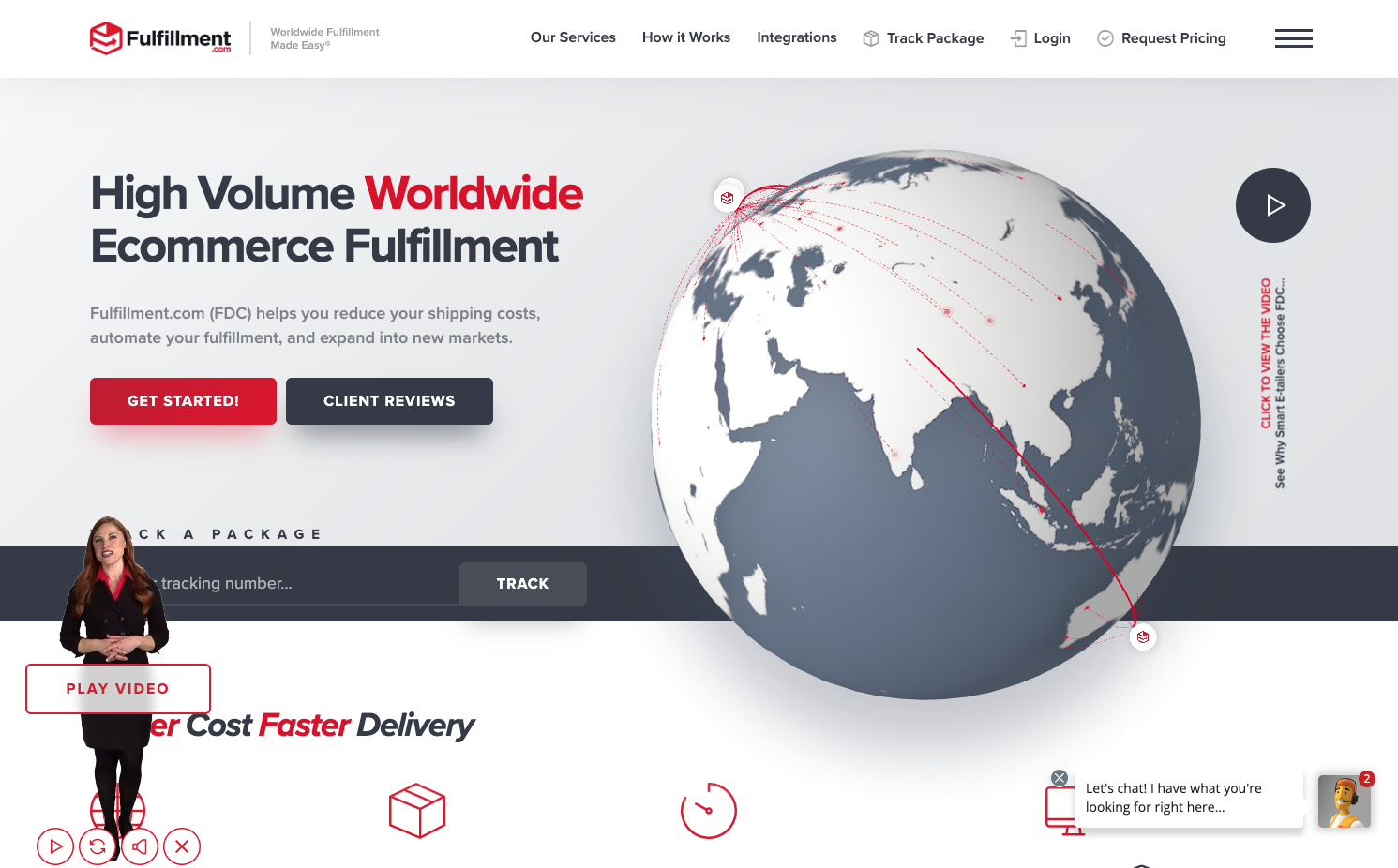 For online merchants with large quantities of orders, Fulfillment.com might be a good fit. They are a large provider that have the ability to handle the needs of businesses that require high-volume shipping, and maintain an invoice minimum to encourage only retailers with established volumes to inquire. 
NOTABLE OFFERINGS FOR FULFILLMENT.COM:
Cloud-based platform

Fulfillment houses

worldwide

Dedicated account managers

International shipping options

Many integrations

Claim to be less expensive than

order fulfillment by Amazon
ShipNetwork (Rakuten Super Logistics)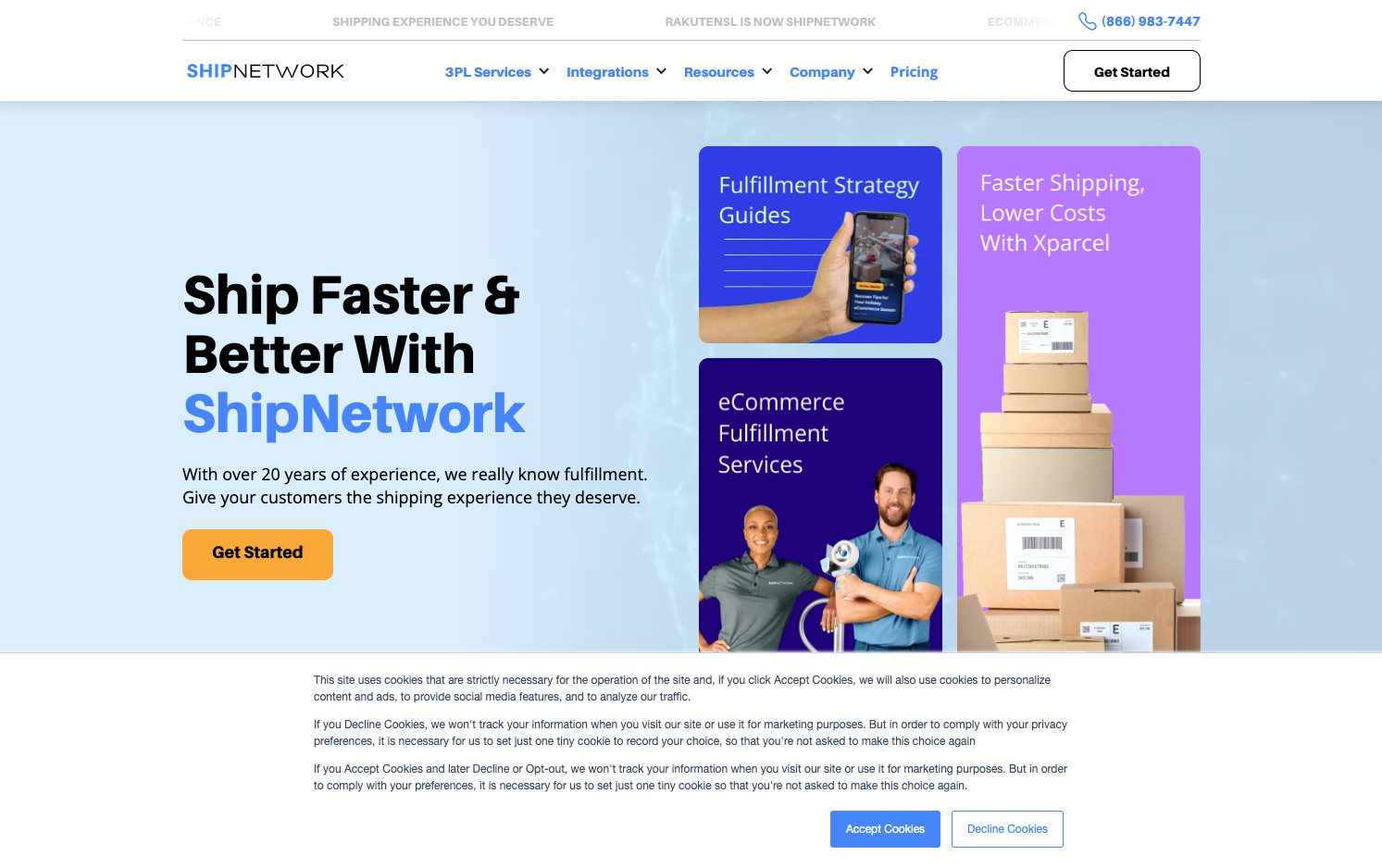 Known for being one of the better options for enterprise-level companies, Rakuten Super Logistics has rebranded to ShipNetwork, after management purchase. ShipNetwork  offers a variety of specialty fulfillment solutions to their clients. They have a large network with 15 warehouse fulfillment centers in the U.S. However, they do have an order volume minimum of 250 orders/month—so, not the best choice for smaller companies.
NOTABLE OFFERINGS FOR SHIPNETWORK (RAKUTEN):
Refrigerated facilities

Accepts a variety of products, including hazardous materials

Many integrations

100% next-day ship rate

Two-day ground shipping

100% order accuracy
Fulfillment by Amazon (FBA)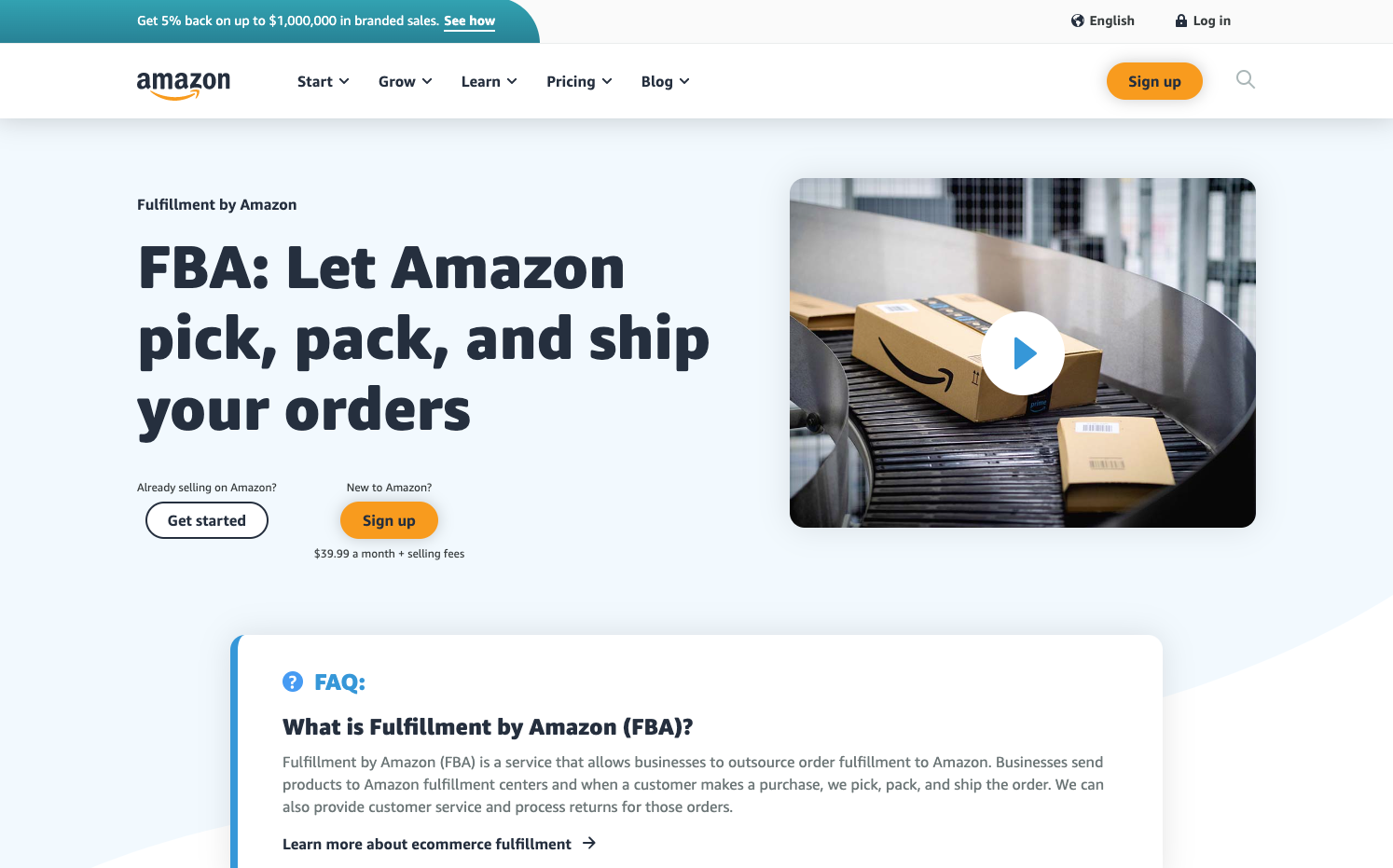 FBA is a great choice for fulfillment for Amazon sellers who sell high volumes of products with large margins. FBA sellers get access to Amazon's extensive network of warehouse and fulfillment centers and get to pass a lot of the fulfillment responsibilities off to Amazon. On top of that, Amazon sellers using FBA become Prime eligible which means their products are available to Prime members with free two-day shipping.
NOTABLE OFFERINGS FOR FULFILLMENT BY AMAZON:
Access to millions of Amazon Prime Members

Customer support 24/7

Handles returns

Fulfillment centers

worldwide

Prime products appear at the top of Amazon search results

Can handle a variety of products
Note: When working with Fulfillment By Amazon, it is recommended to have an additional fulfillment partner to prepare inventory to be shipped to Amazon. Amazon limits inventory to only 90-days of sales volume. Overflow inventory will need to be stored somewhere else to avoid hefty penalty storage fees from Amazon. 
Amazon Multi-Channel Fulfillment (MCF)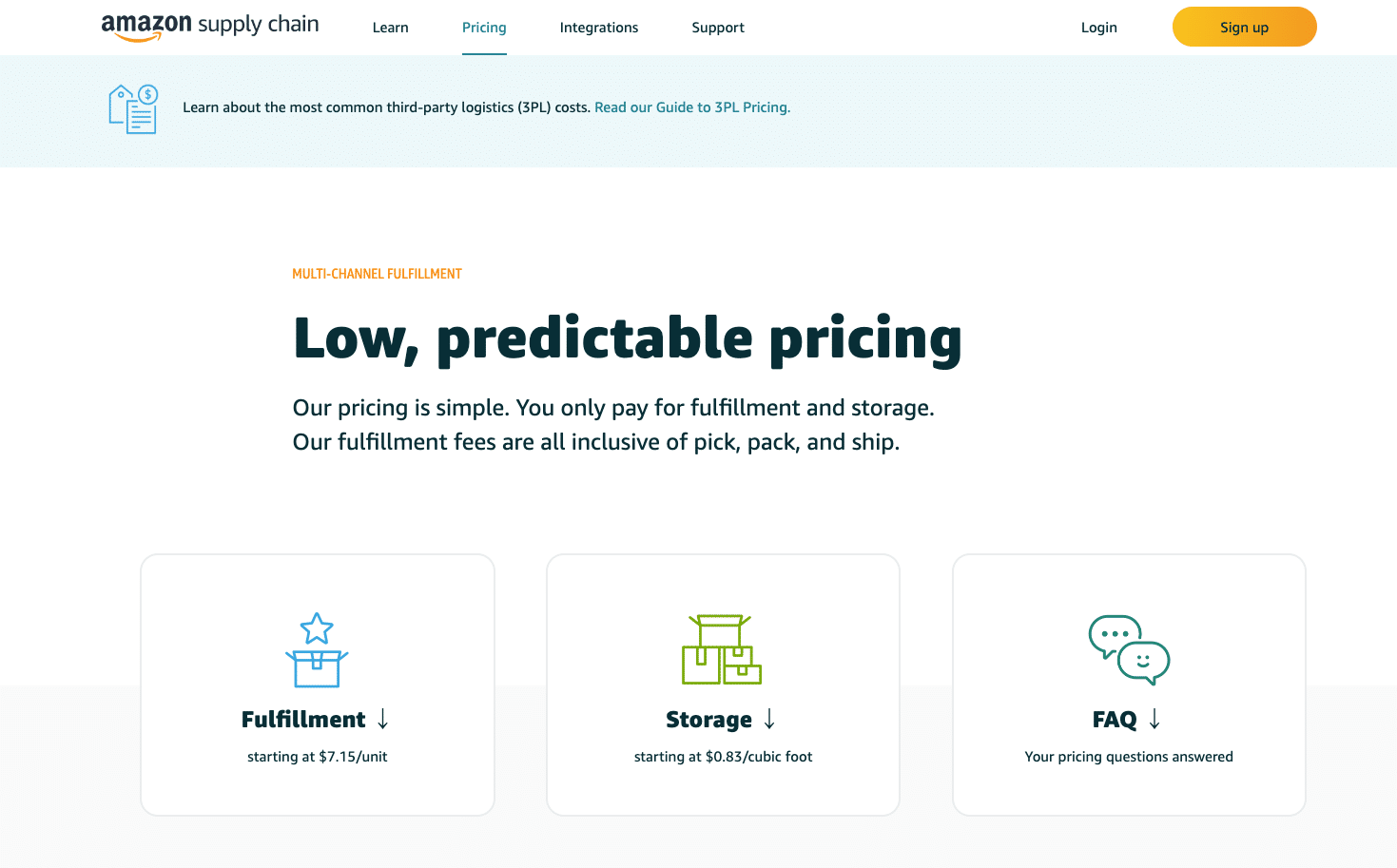 Amazon Multi-Channel Fulfillment is different from FBA in that it's designed for businesses that sell outside of the Amazon Marketplace. This service costs a bit more than FBA, but is known for reliable service and gives sellers access to a massive network of ecommerce fulfillment warehouses. However, beware, MCF has limitations on products and they don't work with a lot of platforms (i.e. Walmart, eBay, etc.).
NOTABLE OFFERINGS FOR AMAZON MULTI-CHANNEL FULFILLMENT (MCF):
Fast delivery

Established 

Lower short-term storage fees 

Lower fulfillment fees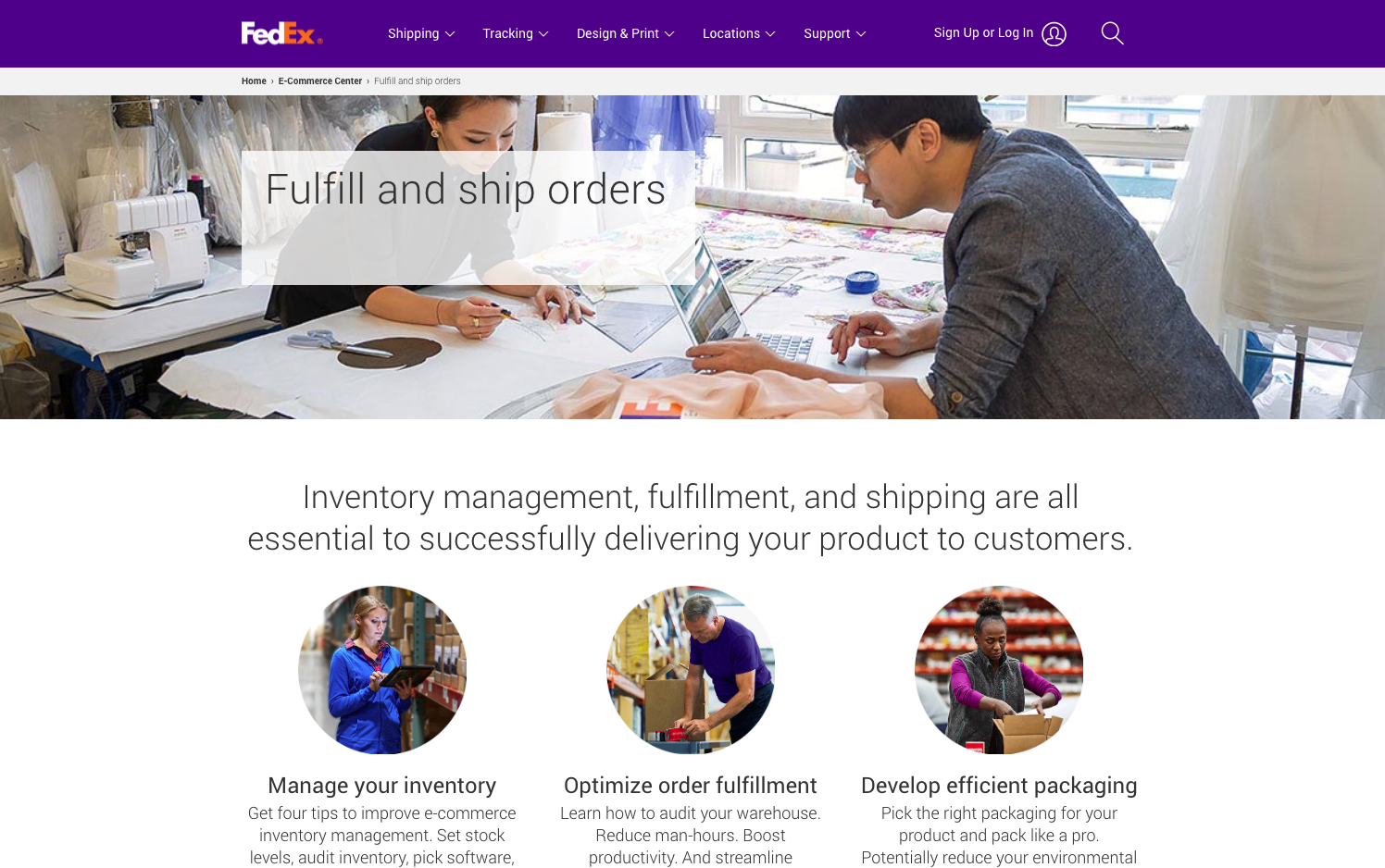 FedEx fulfillment is a good option for U.S. sellers shipping internationally as FedEx frequently ships international orders. Offering storage and fulfillment and shipping services to their clients, FedEx Fulfillment is a known provider that can offer industry knowledge. Keep in mind they don't integrate with Amazon and have limitations on the products they will handle.
NOTABLE OFFERINGS FOR FEDEX FULFILLMENT:
Easy international shipping for U.S. sellers

Established/well-known company

Variety of integrations

Extensive delivery network

Fast delivery

Product/order tracking technology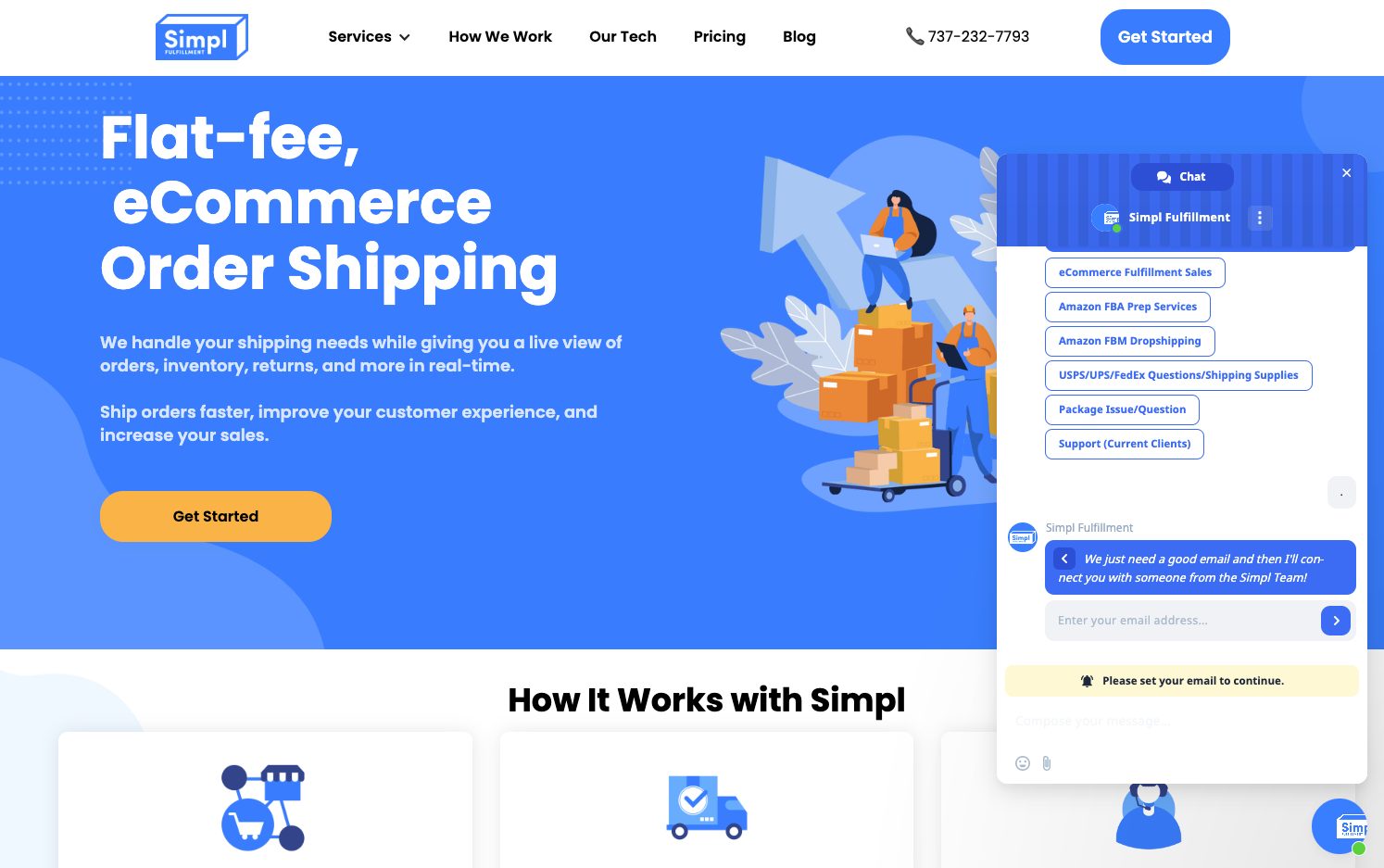 Based in Austin, Texas, Simpl Fulfillment has been around since 2014. While they ship a wide range of products, they are the best option for ecommerce merchants selling fragile or hazardous materials.
NOTABLE OFFERINGS FOR SIMPL FULFILLMENT:
Flat-fee pricing includes shipping, pick & pack per order based on weight, lightest packages start at $6 each

Climate-controlled warehouses

Real-time management software

Seamless returns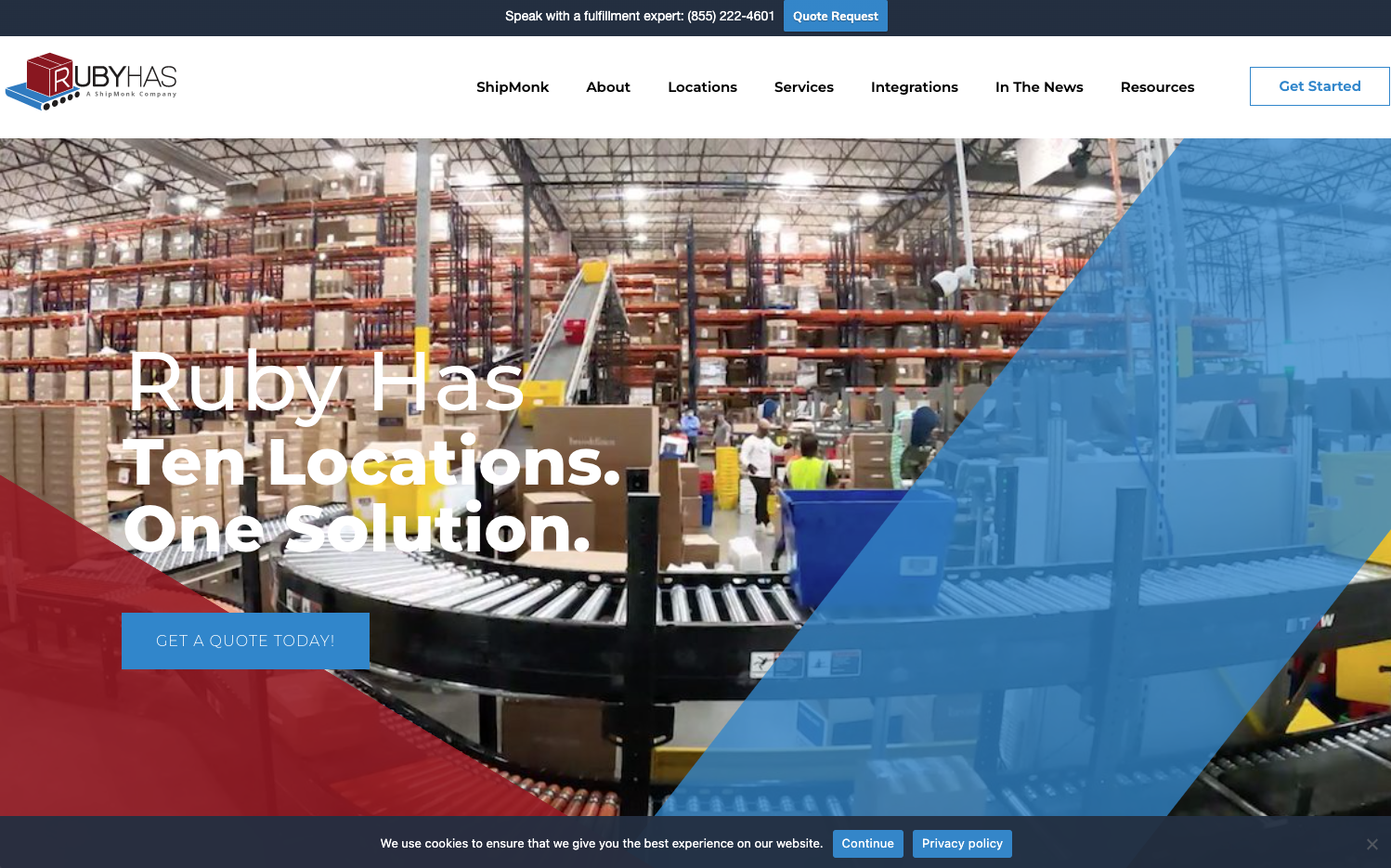 Founded in 2011 by a New York based ecommerce entrepreneur, Ruby Has Fulfillment best serves medium to large operations. They have multiple ecommerce distribution centers located in the U.S., Canada, and the UK. However, if you are a startup or a business that needs reliable customer support, Ruby Has may not be the best fit, as it's been reported that they lack quality customer service.
NOTABLE OFFERINGS FOR RUBY HAS:
Many integrations

Pick & pack services

Inventory management

Easy returns

99.97% on-time shipping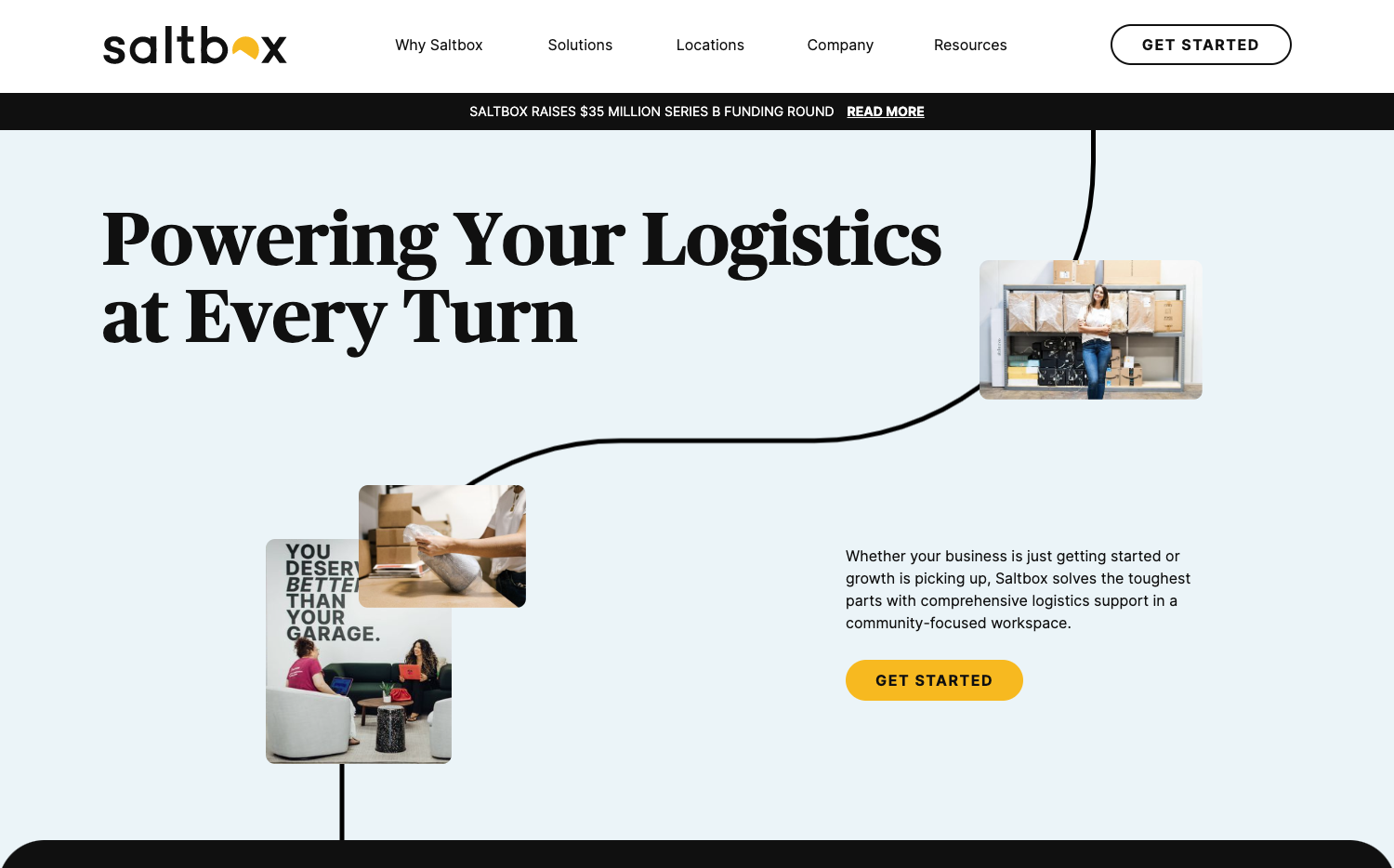 Saltbox offers an interesting solution to ecommerce merchants looking to find the right combination of workspaces and fulfillment services to help grow their business. From warehouse and office suite rentals to fulfillment services, business owners can choose a custom set of warehousing and fulfillment services that work best for them.
NOTABLE OFFERINGS FOR SALTBOX:
$500 per month minimum invoice

While order minimums aren't required, the smallest pricing packages are based on 100 orders per month, so the economics are suited to those levels. 

Flexible services

Logistics-centered warehouse suites/private offices

No long-term contracts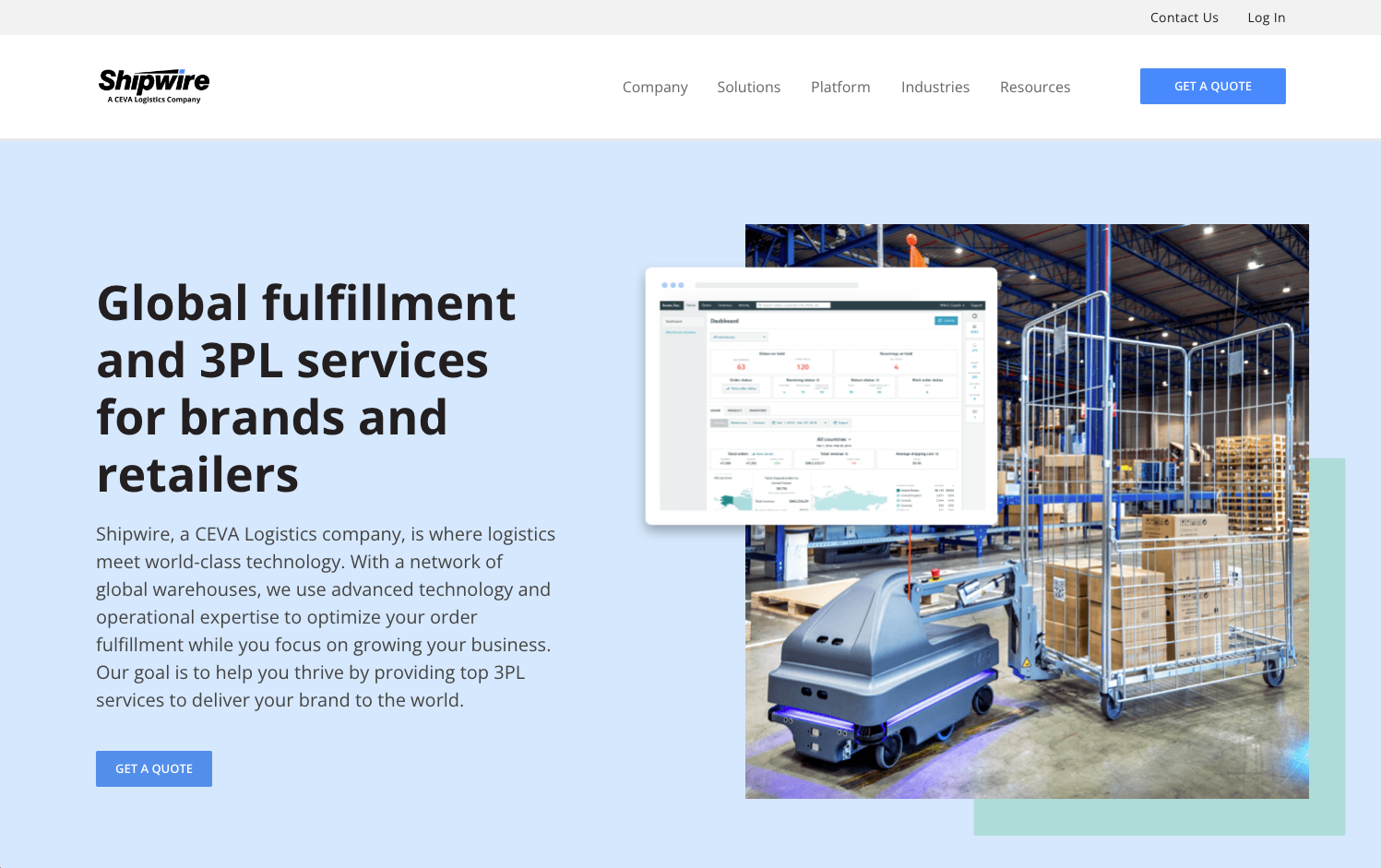 Known for national and global fulfillment, Shipwire best serves companies looking to ship goods worldwide. However, ecommerce merchants need to beware, as there have been reports that Shipwire's pricing is tricky and comes with hidden fees.
NOTABLE OFFERINGS FOR SHIPWIRE:
Many ecommerce integrations

Over 120 warehouses

Over 17 million sq ft fulfillment space

Export to 164 different countries

Omni-channel tech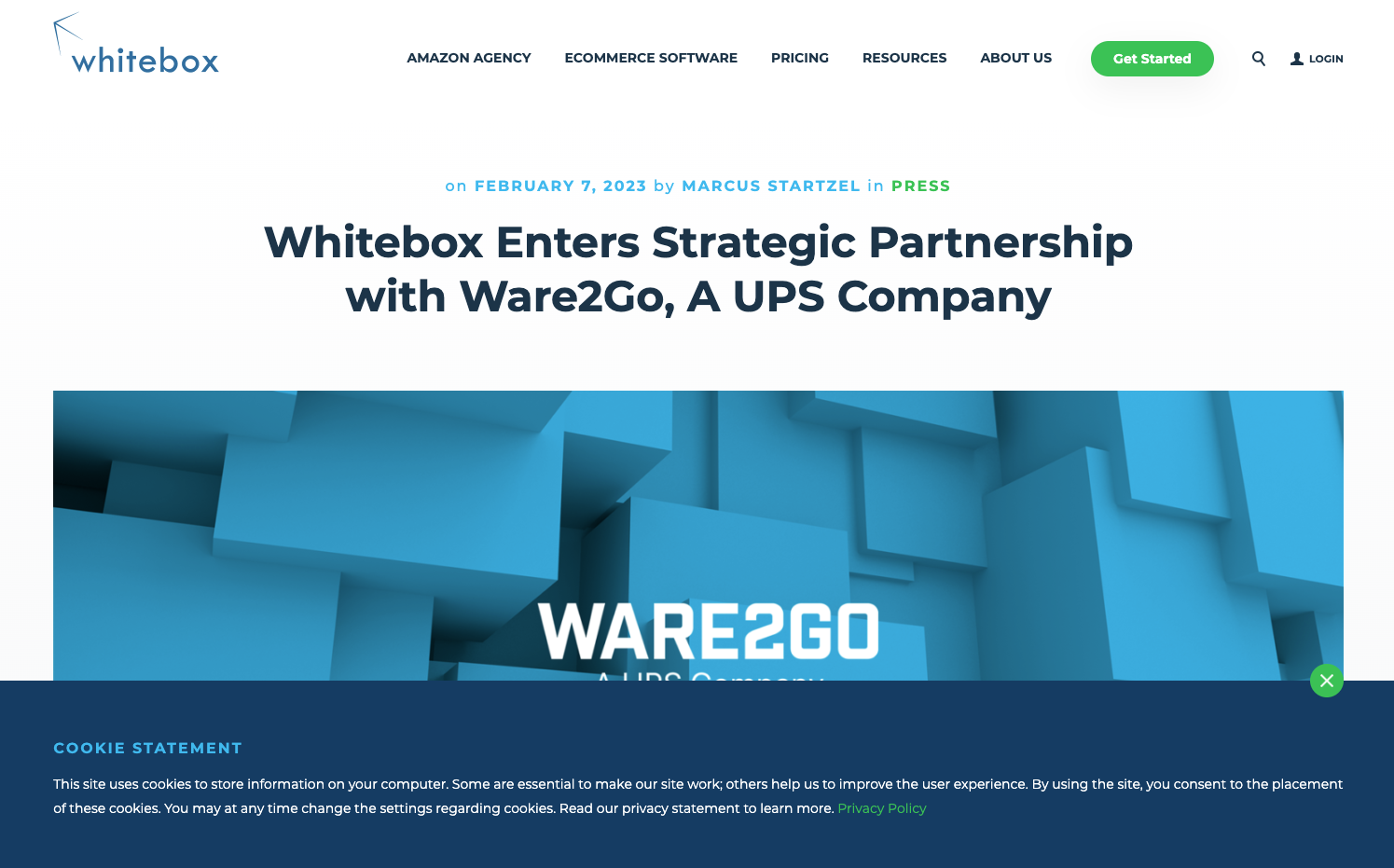 Whitebox offers an end-to-end solution for businesses looking to sell and fulfill products using one partner, with its primary benefit of being an Amazon agency. Whitebox has partnered with Ware2Go, a UPS company. Since Whitebox has fees that can add up and they require monthly order minimums, their services are best suited for manufacturers that make products with big markups.
NOTABLE OFFERINGS FOR WHITEBOX:
99.9% order accuracy

99.8% on-time shipping rate

Two-day shipping

Dropshipping fulfillment

Expedited onboarding
UPS Supply Chain Solutions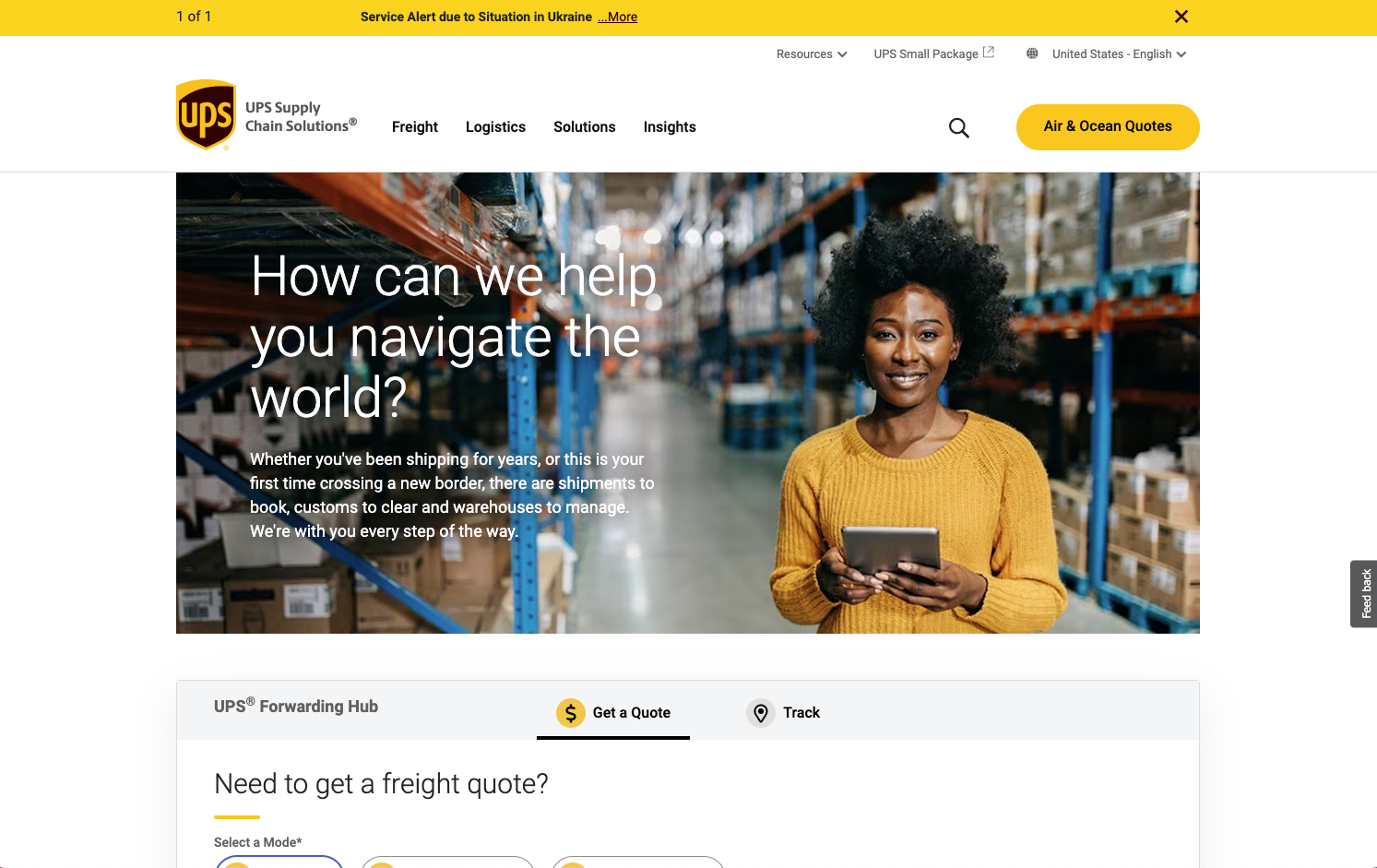 UPS Supply Chain Solutions is a well-known company that provides comprehensive fulfillment and warehousing solutions. They offer many shipping and transportation options to their clients, but tend to be more expensive and there have been quite a few reports of deliveries gone wrong.
NOTABLE OFFERINGS UPS SUPPLY CHAIN SOLUTIONS:
Sophisticated tracking

Many shipping options

Many transportation types

Global shipping

Fulfillment centers located worldwide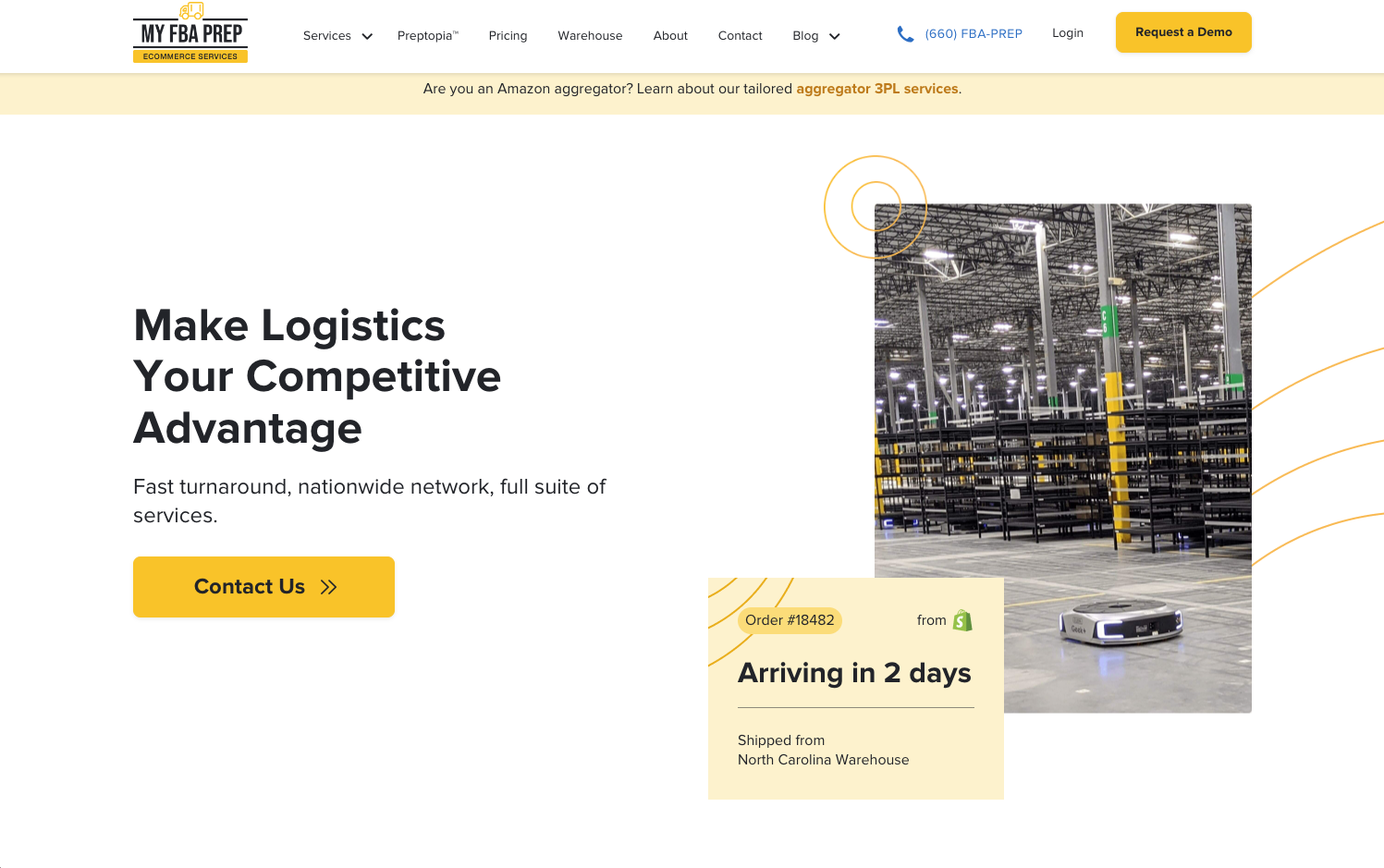 Founded by former Amazon employees, My FBA Prep is an ecommerce fulfillment company that knows the ins and outs of Amazon order fulfillment and how to navigate the strict requirements that come with using FBA. While they offer other services, they are best suited for Amazon sellers.
NOTABLE OFFERINGS FOR MY FBA PREP:
No hidden fees

Rapid turnaround

Dedicated account manager

Cold storage & refrigerated fulfillment

Amazon Fulfilled by Merchant

Amazon Seller Fulfilled Prime
Shopify Fulfillment Network (SFN)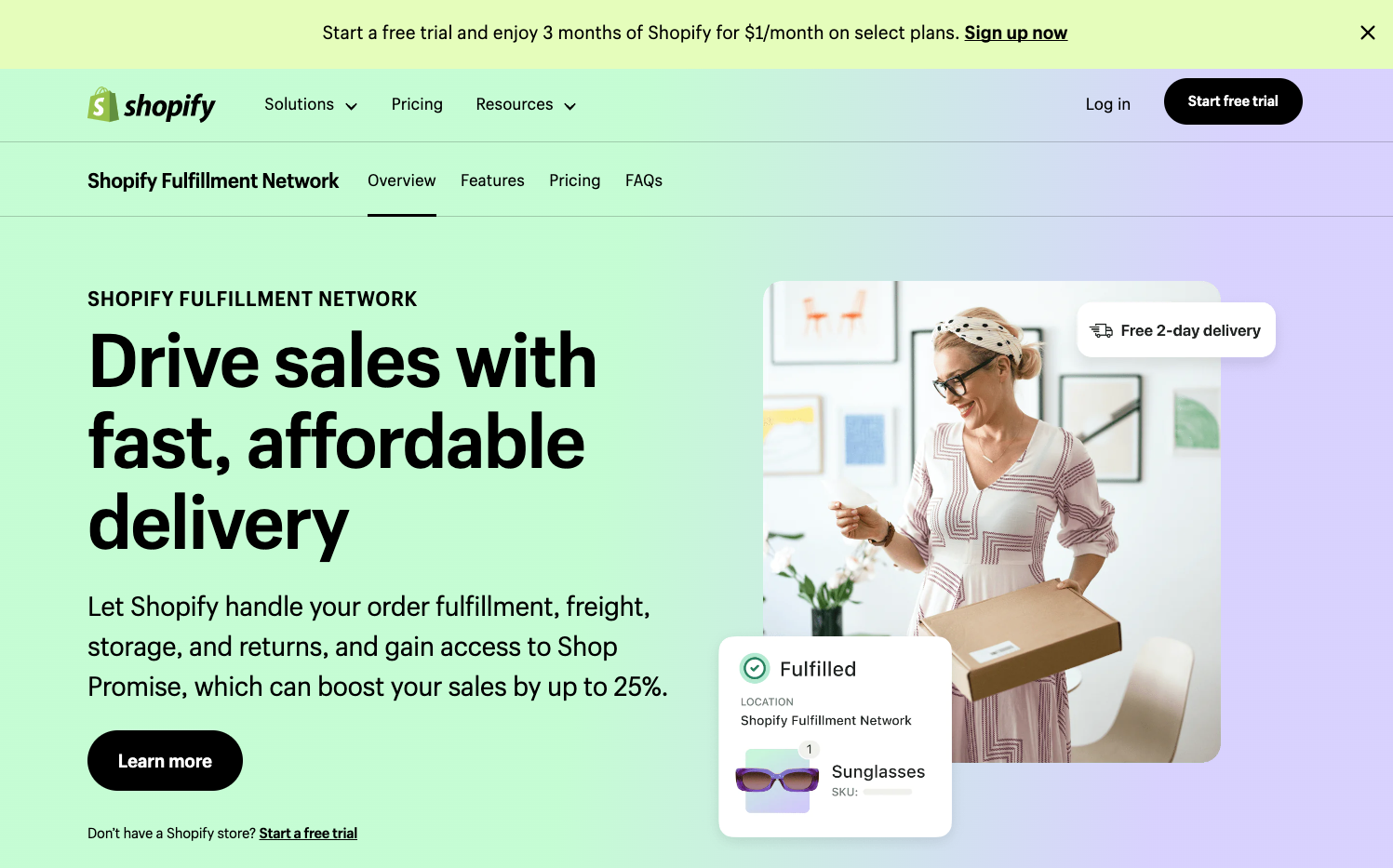 Another fulfillment center in the USA is Shopify. The Shopify Fulfillment Network may be a good option for ecommerce sellers who already have a Shopify store if looking to keep everything under one umbrella. Merchants only pay when inventory is sold and cost is based on the product's weight.
NOTABLE OFFERINGS FOR SHOPIFY FULFILLMENT NETWORK (SFN):
No upfront fees for first six months

Two-day shipping

Inventory management

Custom packing slips

No storage fees for first six months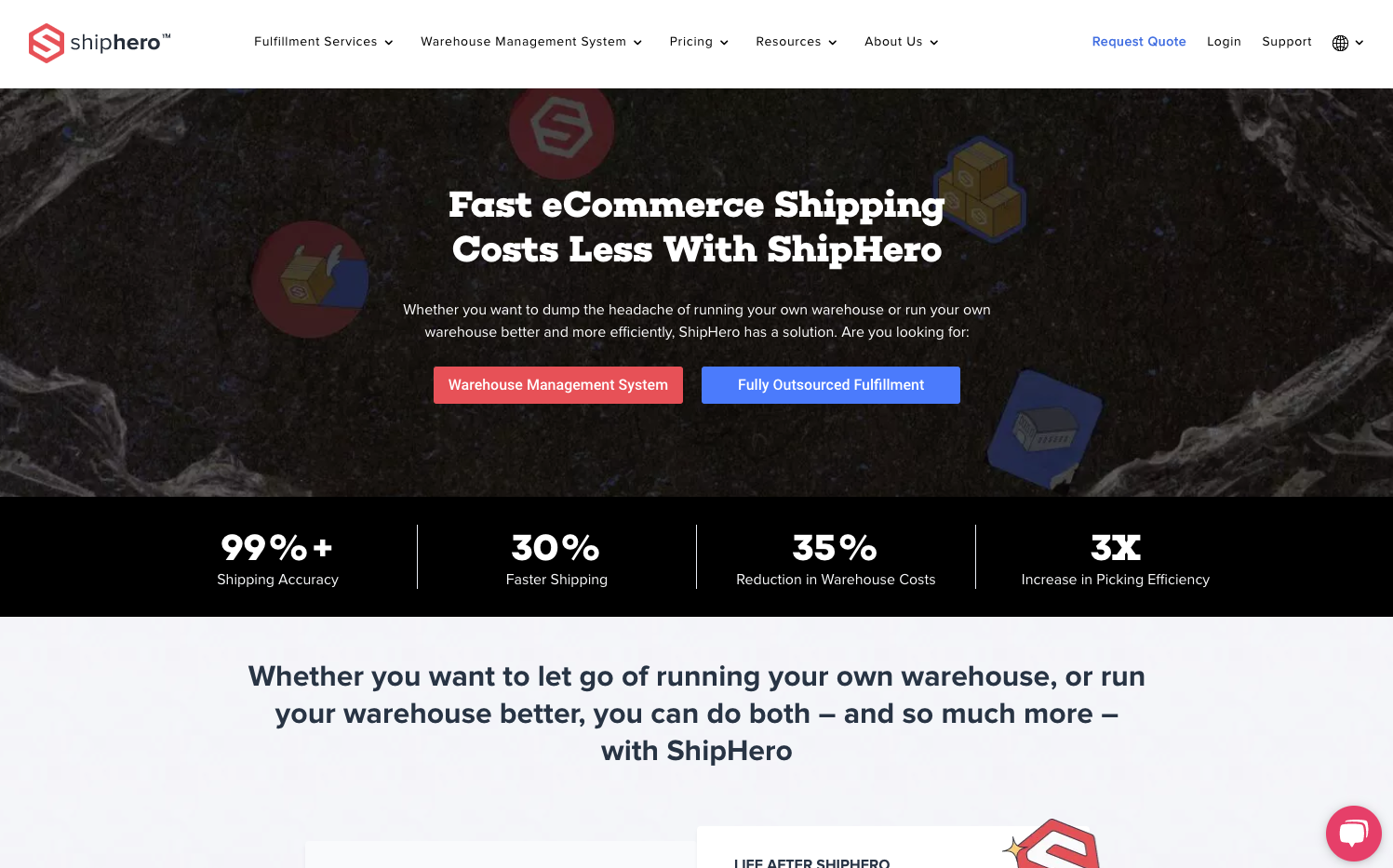 A partner of Shopify, ShipHero is known for software and reporting capabilities—but those come at an additional cost to their warehouse and fulfillment services. They offer seven warehouse locations and distribute merchant's inventory among those warehouses based on the location of their customers.
NOTABLE OFFERINGS FOR SHIPHERO FULFILLMENT:
User-friendly software

Flat rate pick, pack & ship pricing 

Robust reporting

Workflow automation

No minimum orders

International shipping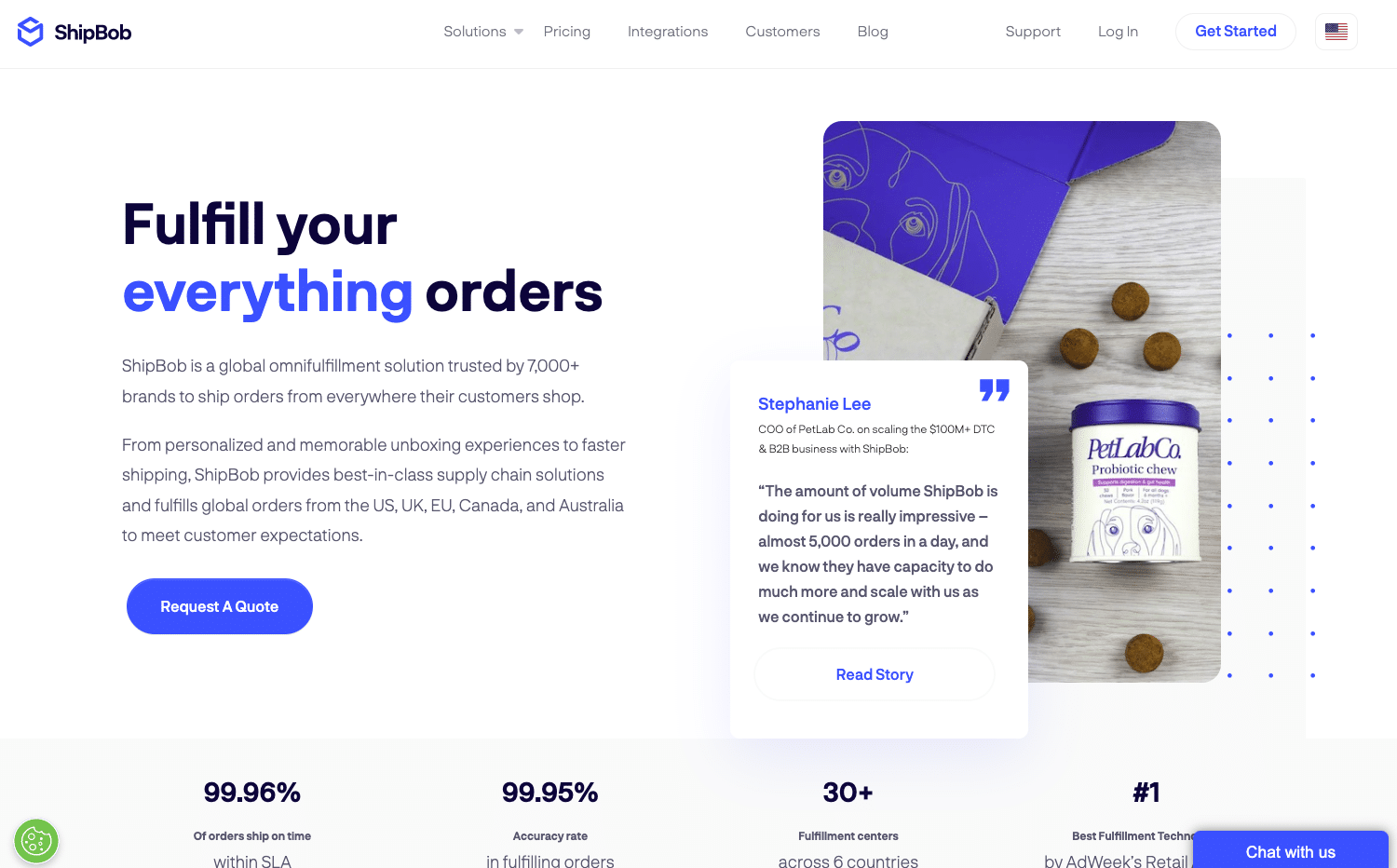 ShipBob is an ecommerce fulfillment company that was founded in 2014. They use a big fulfillment network, meaning that they contract with warehouses to fulfill orders for them. Challenge there is that the service of these 4th-party logistics (4PLs) companies varies and may be a key source of the service issues outlined in reviews and Better Business Bureau responses. They can ship orders within the U.S. and internationally. ShipBob works with DTC and B2B companies and is best suited for companies moving products quickly (due to high storage fees).
NOTABLE OFFERINGS FOR SHIPBOB:
Easy onboarding

Dropshipping

99.95% accuracy rate

99.96% of order ship on time

International shipping services

No order minimums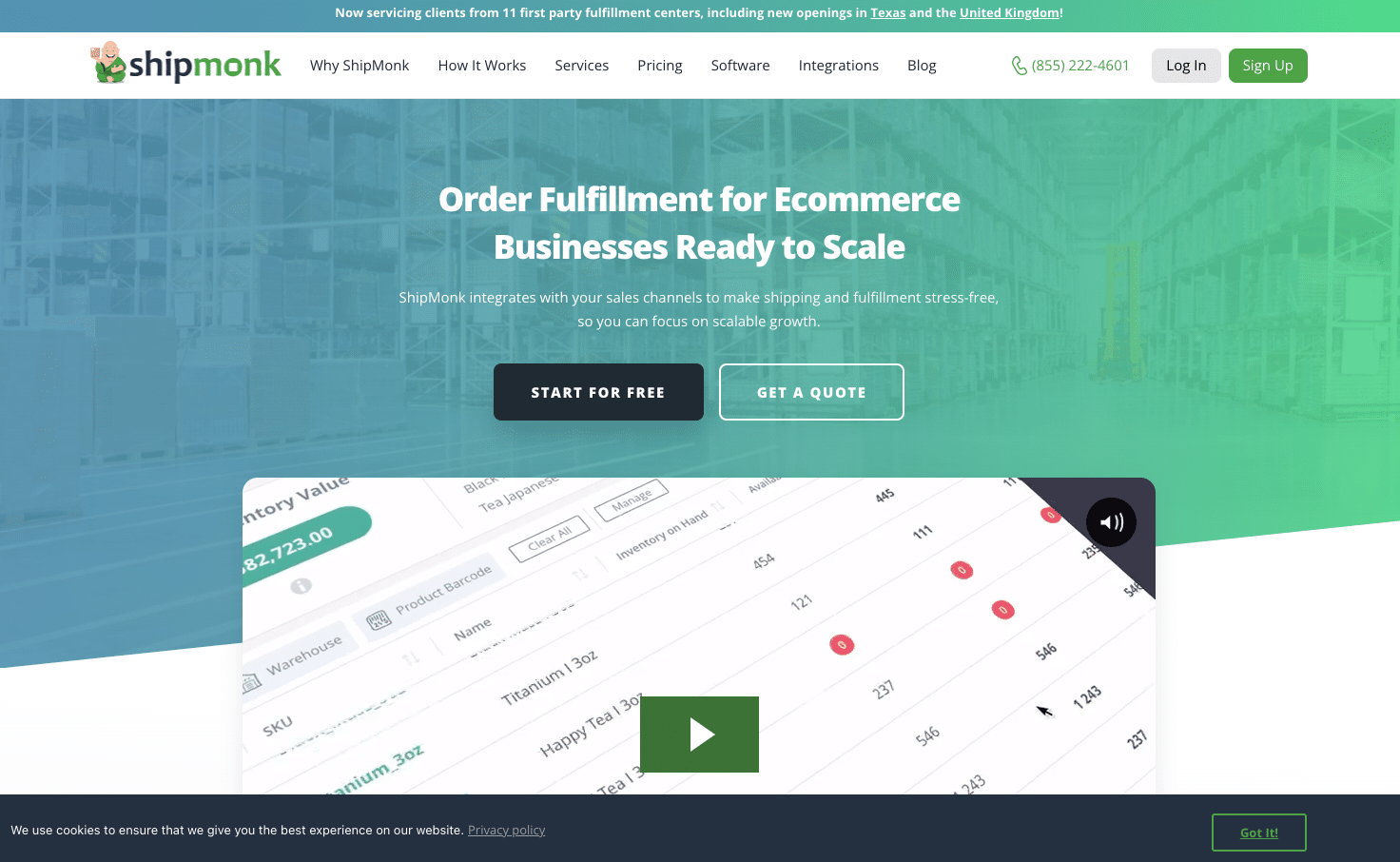 ShipMonk is known for their focus on customer service. While there aren't any monthly order minimums, ShipMonk does implement a $250 minimum pick & pack fee per month which is something to be aware of when comparing services.
NOTABLE OFFERINGS FOR SHIPMONK:
No minimum monthly orders

Ecommerce platform integrations

International shipping

Dedicated customer support

No setup fees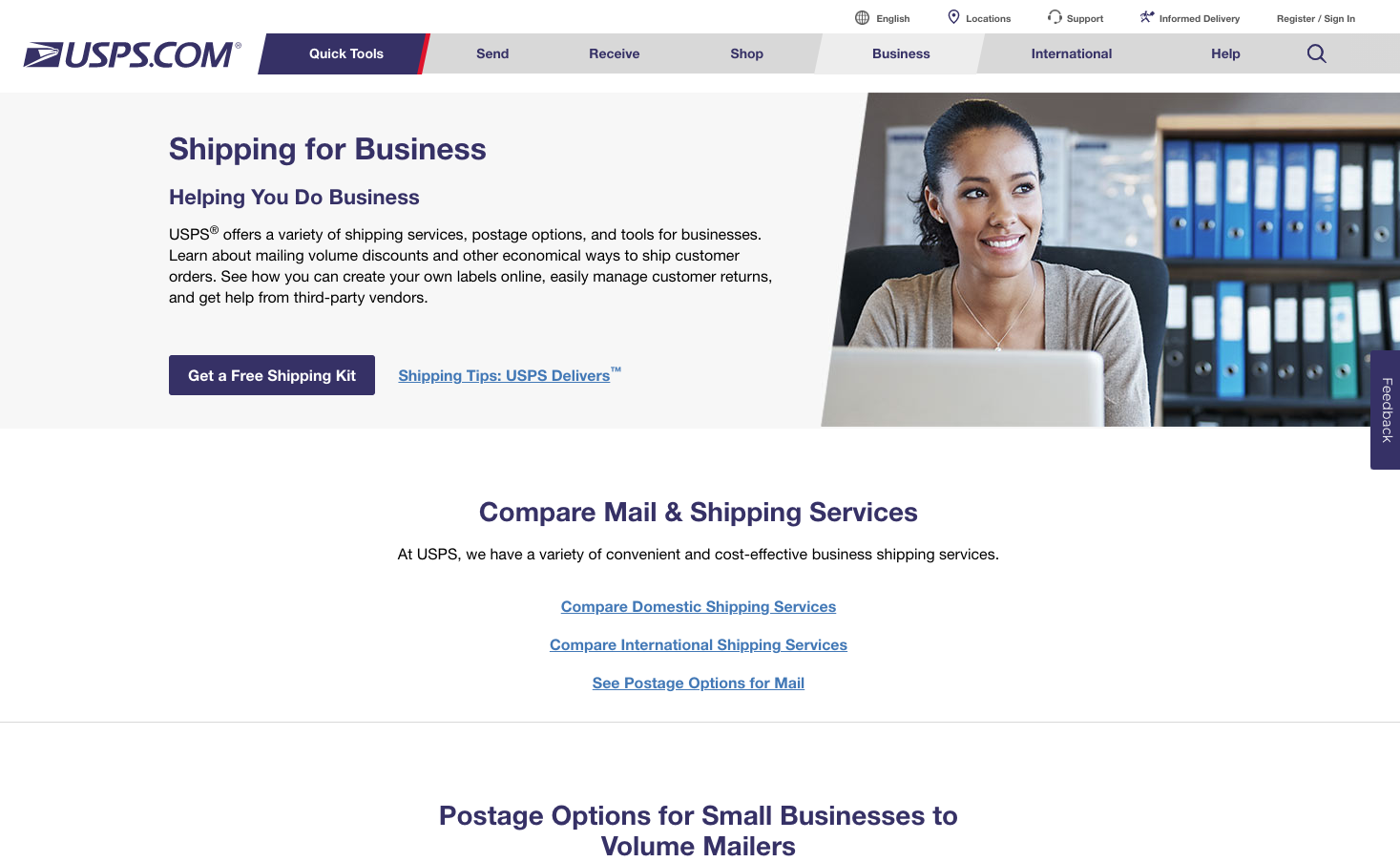 Offering a wide range of shipping services and postage options, USPS Business Shipping is able to offer clients great rates due to the fact that they have many branches and fulfillment centers across the country. Typically, they are best suited for businesses shipping lighter items or liquid items and aren't very reliable when it comes to international shipping.
NOTABLE OFFERINGS FOR USPS BUSINESS SHIPPING:
Affordable rates

Free pickups

Liquid items charged by volume (instead of weight)

Free tracking

Regular Saturday deliveries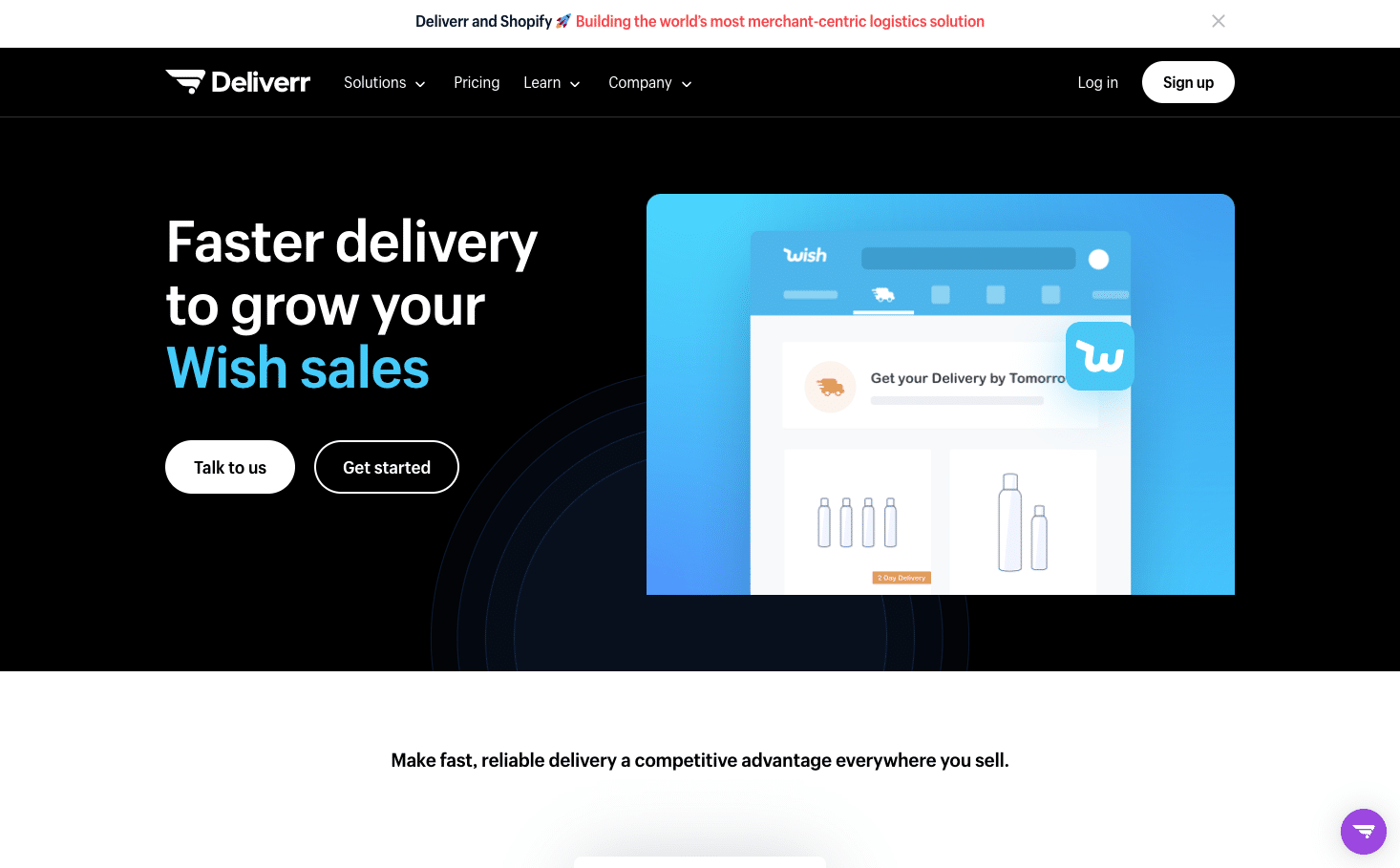 Deliverr hasn't been around as long as a lot of the other fulfillment houses on this list, but they do offer a transparent pricing structure. Known for their strategically placed warehouses, Deliverr offers some ecommerce fulfillment services in the USA, but they don't offer kitting for subscription boxes, don't handle returns, and have been reported to have poor customer service.
NOTABLE OFFERINGS FOR DELIVERR:
Big network of warehouses

95% of U.S. buyers qualify for two-day delivery

Many integrations

Straightforward pricing

Prime-like badging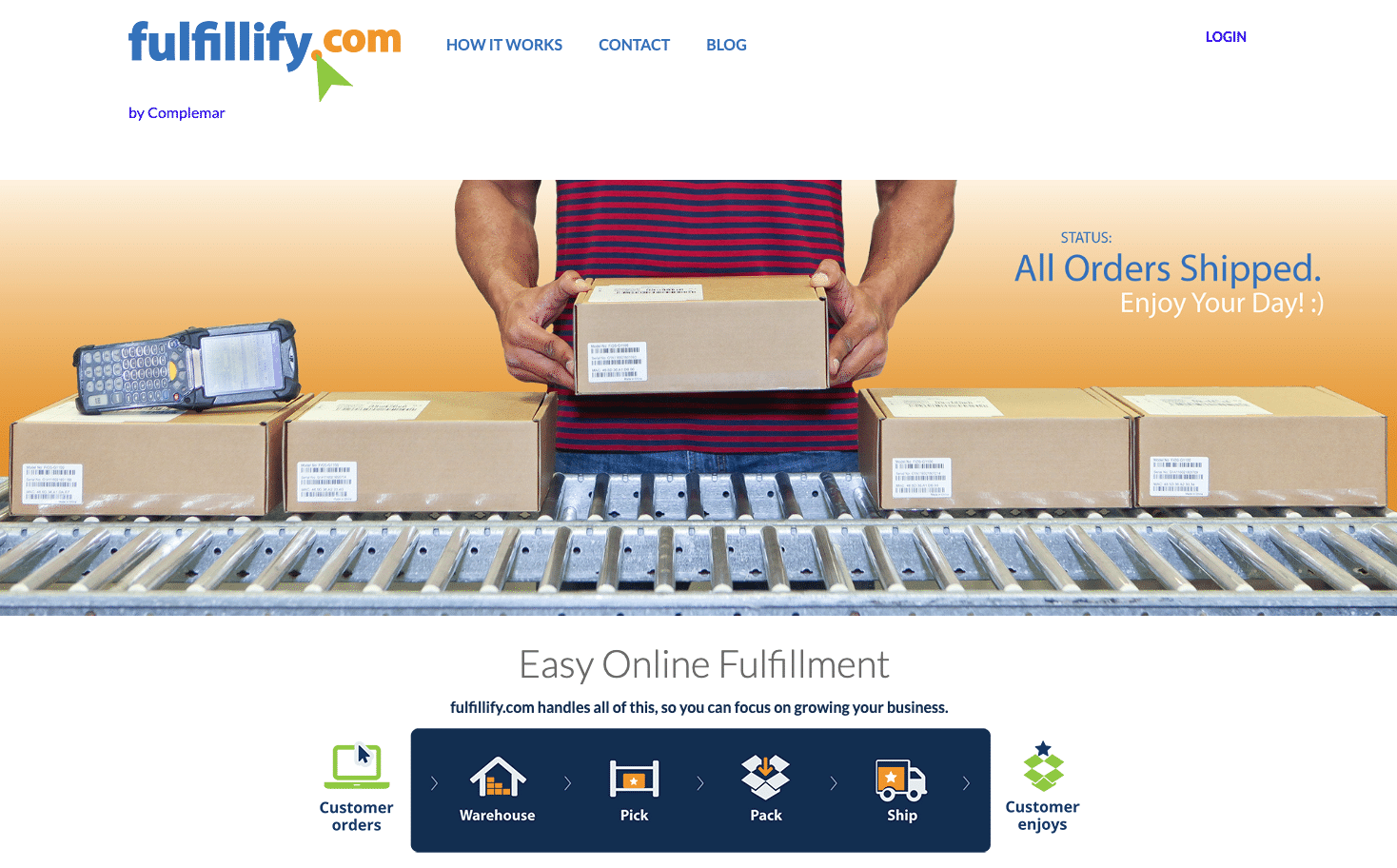 Fulfillify is best known for their software offering. They provide real-time reporting that helps ecommerce merchants keep track of their inventory, orders, shipment tracking, etc. However, it's been reported they are lacking when it comes to integrations.
NOTABLE OFFERINGS FOR FULFILLIFY:
Easy to cancel / month-to-month pricing

Real-time dashboards

One and two-day ground shipping

350,000+ sq ft of warehouse space

Simple to use software
SPOTLIGHT ON FULFILLMENT NETWORKS
USA Fulfillment Companies: eFulfillment Service vs. Shopify
Several companies in the fulfillment space are using networks to broaden the number of warehouse locations they can promote. It's a strategy that allows them to show off a lot of locations without buying or renting real estate, or a warehouse facility. Plus they don't have to hire, train and manage local staff. Instead, they provide an existing warehouse, owned and operated by someone else, with their software. The network fulfillment company, like Shopify, trusts that warehouse to fulfill the online orders that are assigned to it. The warehouse is a fourth-party logistics warehouse (4PL). Shopify Fulfillment Network is an example of a company using a fulfillment network.
Challenges in using a network include: 
Varying degrees of performance in getting orders picked, packed and shipped

Slower customer service response times, especially with inventory inquiries, canceled orders or special requests

Increased storage costs (i.e., bin costs at each facility)

Added shipping costs moving inventory to network locations
The table below provides a quick breakdown of some of the pros and cons between eFulfillment Service and the Shopify Fulfillment Network. (You may need to scroll to see additional rows.)
Comparing USA Fulfillment Companies: eFulfillment Service vs. Shopify Fulfillment Network
Fulfillment Practice
eFulfillment Service
Shopify Fulfillment Network
Order Minimums?
NO
NO … But Shopify recommends businesses reach a certain level of sales before joining their network to ensure a good fit.
Long-Term Storage Fees?
NO
YES ... Storage is free when inventory is sold within six months. After that, merchants have to pay monthly at the rate of $2.25 per cubic foot/30 days. 
Include Marketing Materials/Inserts During Packing Process?
YES
NO
Distributed Inventory?
NO … eFulfillment Service's centralized midwestern location helps to decrease costs and transit times when shipping across the U.S.
YES … Shopify has fulfillment centers in the USA and Canada. Inventory is distributed across warehouses which can lead to potential pain points like multiple storage fees, costs associated with moving inventory around, etc. 
Long-Term Contracts?
NO
NO … but sellers do need to provide 45 day's notice in order to cancel their contract.
SKU Maximums?
NO
YES ... Merchants can have a maximum of 2,000 SKUs.
Shipping Partners
• FedEx
• United Parcel Service (UPS)
• United States Postal Service (USPS)
• United Parcel Service (UPS)
• DHL
• United States Postal Service (USPS)
• Canada Post
What is Order Fulfillment Service?
Order fulfillment service is when ecommerce companies outsource some or all of their logistics operations to a third-party logistics (3PL) company. 3PL order fulfillment services in the USA can vary by company, but typically include some combo of the following services:
Inventory warehousing

Inventory management

SKU labeling & bagging

Kitting & assembly

Pick & pack 

Fulfillment by Amazon (FBA) prep

Marketing materials/inserts

Digital product photography

Custom IT projects

Order shipping

Customer support

Returns processing

Can Internet Retailers Use Custom Packaging for Order Fulfillment in the USA?
Absolutely.
The key is finding the right order fulfillment company in the USA that is willing to work with merchants on every aspect of the custom packaging in order to meet brand standards while creating a unique memorable experience for customers.
Merchants need an ecommerce fulfillment provider that will pay attention to the special needs of their custom box orders—whether tissue needs to be folded in an exact manner or a bow needs to look a certain way, there are 3rd party fulfillment companies in the U.S., like eFulfillment Service, that are willing to work hard on behalf of their clients.
eFulfillment Service Custom Packaging:
International ecommerce fulfillment companies, kickstarters, crowdfunders, small businesses and more choose eFulfillment Service for their custom box needs for many reasons … Here are a few:
We have proven experience fulfilling custom box online orders

We offer easy order fulfillment

We ship orders all over the world

We do custom integrations

We offer integrations with more than 35 sales platforms
To learn more about custom packaging or custom box fulfillment and how an ecommerce fulfillment warehouse in the USA can help, check out Fulfillment of a Custom Box for Packaging Online Orders.
 Learn more about …
How Shipping Discounts and Other Benefits Make Fulfillment Centers Feasible for Small Business …
Best Ecommerce Fulfillment Services in the USA—Special Needs to Consider …
From startups and entrepreneurs to creators looking for a custom brand experience to international companies looking to launch in the US, each requires special attention from their order fulfillment center to find success fulfilling customer orders. Read on to learn more about what to look for and what to watch out for in each of these unique scenarios.
Product Fulfillment Services for Small to Medium-Sized Businesses (SMBs)
Startups, crowdfunders, kickstarters and entrepreneurs all have a few things in common: Their business fulfillment needs are specific and finding the right small business fulfillment center that can meet their business needs is extremely important.
Here are some things small companies should consider when implementing an order fulfillment ecommerce strategy with a 3PL:
Scalable Services

—

Fulfillment services for startups

need to be flexible. Look for a

fulfillment house

that can scale services to meet current business needs now and also in the future.

Affordable Storage

— Look for

fulfillment centers for small businesses

that offer low rates and no long-term storage fees. Startups and entrepreneurs need a place where they can store inventory until they start selling.

Onboarding Process

— Avoid do-it-yourself (DIY) onboarding. SMBs are typically new to the fulfillment game and will need help and quality service along the way. DIY onboarding is a sign that the

fulfillment house

offering it won't be of much help.

Third-Party Fulfillment Companies Pricing

— Watch out for tricky pricing when partnering with a fulfillment company. Setup fees, order minimums, SKU maximums, and minimum invoice requirements can really add up to a big headache for

online merchants

.
Ecommerce Order Fulfillment for International Companies Launching in the U.S.
Oftentimes, companies outside of the U.S. are looking to break into the American market and need to do so fast. As an international merchant looking to launch in the United States it's important to consider a variety of factors when selecting the right fulfillment partner:
Experience

— Look for the

best fulfillment center in the USA

with proven experience working with international companies. International

merchants

need to seek out the

best fulfillment company

with a positive track record they can trust.

Discounts & Low Shipping Rates

— Find a U.S. fulfillment partner who offers discounts and low shipping rates, it will save overseas businesses a lot of money in the long run.

Support Availability

— Seek out a

fulfillment center in the U.S.

that has a client support team that will meet with merchants on their time, when they're awake. International sellers can't afford to sit around and wait when they need help just because there are time zone differences. 

Customs Knowledge

— Look for a

fulfillment house

in the U.S. that knows the ins and outs of the customs process. It's inevitable that international merchants will have to move goods through customs, having a qualified 3PL partner will minimize delays.
Ecommerce Definition: Shipping Discounts:
In ecommerce, the definition of shipping discounts applies to any shipping fee that is reduced based on an expected volume of orders shipped. Most fulfillment centers negotiate volume discounts with the U.S. Postal Service, FedEx, UPS, DHL or other parcel carriers. In addition to reduced shipping fees, some third-party logistics companies or 3PLs will negotiate for better dimensional or volumetric weight rates. Not every fulfillment center will pass discounts to small, growing or launching ecommerce merchants. To get shipping discounts, internet retailers should work with fulfillment centers that value small and medium sized businesses, entrepreneurs and international companies launching in the U.S.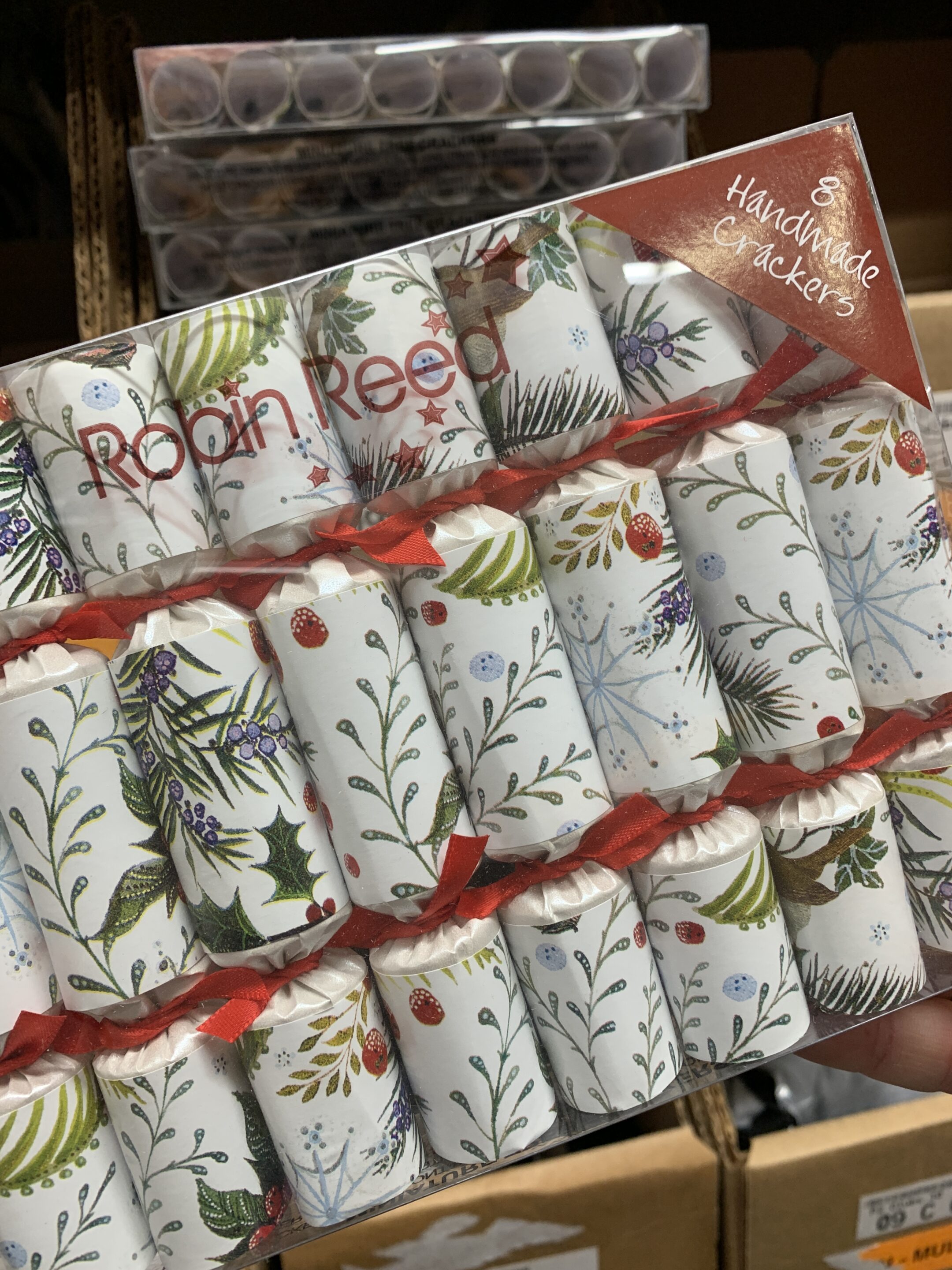 Launch Online Order Fulfillment In The US By Christmas
Custom Brand Experience Fulfillment Services for Ecommerce in the USA
Online retailers, influencers, creators, small businesses and even large corporations have all taken notice of the impacts custom packaging can have on a brand. When internet merchants use a custom box for packaging they set themselves apart from the competition by creating a full product experience for their customers—from the moment the package arrives to its anticipated product reveal, it's a memorable experience people like to share with others.
That's why it's important to find a U.S. fulfillment center that understands the specific needs associated with creating a consistent custom brand experience. Look for a fulfillment center in the USA that offers:
Attention to Detail

— From folding tissue in a special way to tying the ribbon exactly how it needs to be, finding a partner that will meet specific needs is essential to creating the perfect brand experience.

Easy Order Fulfillment

— A fulfillment partner should simplify life and make

order fulfillment in the USA

a breeze, not make it harder.

Straightforward Service & Pricing

— There shouldn't be any guesswork involved, look for a fulfillment center that is transparent about their services and costs.

Successful Track Record

— Look for an experienced

top fulfillment company

that holds an A+ rating with the U.S. Better Business Bureau (that's a good sign they're a reputable

fulfillment business

).

International Shipping

— Find a U.S. partner that can ship to consumers and businesses all over the globe to ensure all customers can be reached.
Learn More About Online Order Fulfillment in The US
How to Find Online Order Fulfillment that Scales with Growth
Questions Growing Online Retailers Should Ask About Shipping Fees, DIM Weight, Order Volume & More
What's the Best Timing for Launching Fulfillment in the U.S.?
For merchants headquartered outside of America, what's the best timing to launch online order fulfillment in the U.S.?
Managing Your FBA Prep In-House—Risks
9 Ways to Save Money, Time & Trouble by Outsourcing FBA Prep Fulfillment Work—